Tagged for Wine Country?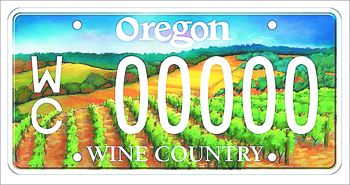 By Ossie Bladine
As of May 14, Oregon drivers can now purchase wine country license plates for an ongoing $30 surcharge.
The plates were approved during the state's 2011 legislative session under Senate Bill 442, brainchild of Angie Morris, CEO of Travel Salem. The request was made under the auspices of Cultivating Communities, a nonprofit Travel Salem arm created by Morris specifically for that purpose.
Drivers will be able to customize the wine country plate, which was designed by artist Judy Phipps. But no references to wine will be allowed, as the Oregon DMV prohibits allusions to sex, drugs, alcohol and bodily functions.
After the Oregon Department of Transportation deducts its administration fees, proceeds will go to Oregon Travel Commission. The commission will funnel the money into a pair of grant programs.
SB 442 stipulates that half the revenue be distributed to tourism agencies in the form of matching grants for the promotion of food and wine. It requires the Travel Commission to distribute the other half to tourism agencies representing the state's various regions.
While the latter will be divided based on the acreage each region has in wine production, it does not necessarily have to be spent on promotion of wining and dining opportunities, or anything having to do with wine. Anything qualifies in the broad area of tourism.
One of those regions is established within the legislation itself: the Mid-Willamette Valley Region, consisting of Marion, Polk and Yamhill counties. It's up to the Travel Commission to decide which agency will represent the Mid-Willamette Valley Region, which accounts for about half of the state's winegrape acreage. However, Morris' pivotal role is likely to make her Cultivating Communities the early favorite.
The bill also allows the commission to establish the other regions, as well as decide which agencies will represent them.
Todd Davidson, CEO of the Travel Commission's Travel Oregon branch, said it has not yet begun the process but said there is no hurry, because it will take some time to build up a meaningful amount of money.
Estimating the amount of revenue the plate might produce is challenging.
Oregon's Cultural Trust plate, unveiled in 2003, has generated $2.2 million for the Trust for Cultural Development. Its Crater Lake plate, launched in 2002, has generated more than $4.5 million for the National Parks Foundation.
Thanks to its much earlier start — 1998 — Oregon's salmon plate has brought in $7.7 million. That money is split between the Oregon Watershed Enhancement Board and State Parks and Recreation Department.