More at Maryhill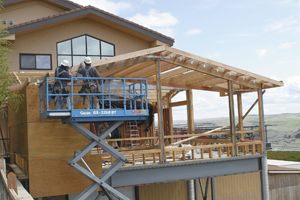 By Stu Watson
Maryhill Winery started big, expanded, and now it's getting larger still, with the addition of a 3,000-square-foot tasting room designed for reserve and library wines.
The expansion extends west of the existing tasting room at the popular winery just south of Washington State Route 14, about three miles west of U.S. 97.
Joe Garoutte, media and information director for Maryhill, says work on the Reserve Room started this spring and was finished in time for a Memorial Day opening.
Craig Leuthold, who founded the winery with his wife, Vicki, says they have set aside about five cases of every release dating from 1999. They'll showcase these and sell them — likely at a bit of a premium from their original price.
Leuthold says another purpose of the room is to feature special single-vineyard or vineyard-designated wines.
"We have been buying small lots from good vineyards, like Les Collines in the Walla Walla area, and we'll be doing a number of small-lot, single-vineyard varietals and blends," he said.
Winemaker Richard Batchelor plans to release the first of those sometime mid- to late-summer. First will probably be two blends, Sangiovese-Cabernet and Grenache-Syrah-Mourvedre.
Eventually, look for a marriage of Yakima Valley Counoise and Cinsault, and single-varietal bottlings of Cab, Merlot and Syrah from Les Collines, a Cab from Alder Ridge, and a Cab and a Syrah from Milbrandt vineyards.
The Leutholds launched Maryhill in 1999, and opened the winery and tasting room in May of 2001. It overlooks the well-regarded Gunkel Vineyard, one of Washington's oldest. The grounds also support a 4,000-seat amphitheater for summer concerts, plus picnic grounds and a bocce ball court.
Garoutte says admission to the Reserve Room is free for club members; non-members will pay a fee. Hours are noon to 5 p.m., Friday–Sunday, through Nov. 15. The space is available Monday–Thursday for meetings and special events. Call 877-627-9445 ext. 306 for more information.