Spring Forth, Foodies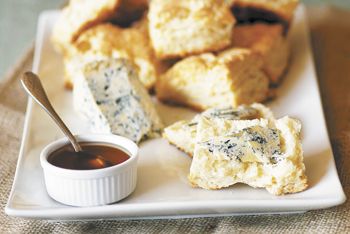 By Christine Hyatt
Warmer weather and longer days mean springtime has arrived, and with it, a promise of produce from local farms. There's just something about these first vegetables and berries of the season that call for simple, elegant recipes meant to savor and share.
Incorporating quality ingredients, from the best local honey to the freshest spinach, will delight your senses with light, bright flavors after the hearty meals of winter. Incorporating a bit of fine cheese elevates the dish yet another notch.
Enjoy these recipes at your Mother's Day brunch or your next potluck.
APRICOT AND GOLDEN RAISIN COMPOTE
This super easy fruit concoction is spiked with Bourbon and a hint of fresh basil. It's the perfect accompaniment to a range of cheeses, especially fresh goat cheese or a ripened cheese like Robiola. Keeps up to two weeks tightly covered in the fridge.
INGREDIENTS
1 cup dried apricots
1/3 cup golden raisins
1 cup water
2 tablespoons Bourbon (or Brandy)
2 teaspoons brown sugar
* pinch of cinnamon and salt
8 basil leaves, chopped
DIRECTIONS
1. Chop apricots to about 1/8-inch dice. In a small saucepan, combine apricots, raisins and water. Heat to boiling and reduce heat to a simmer. Cook five to eight minutes, stirring occasionally, until most of the water has been absorbed. 2. Add the Bourbon, sugar, cinnamon and salt. Cook for 1 minute, stirring constantly. Remove from heat and stir in the basil. Serve at room temperature with your favorite cheese. Makes 1½ cups.
CHEESE BISCUITS WITH HONEY AND BLUE
Light and savory biscuits assembled in a snap make a tasty addition to your Mother's Day brunch. Make the biscuit dough ahead of time and chill in the refrigerator for just-baked goodness, or cut and freeze biscuit dough in an airtight container for several weeks until ready to use.
INGREDIENTS
2 cups all-purpose flour (plus more for rolling)
¼ teaspoon salt
2 teaspoons sugar
* fresh black pepper, to taste
2 teaspoons baking powder (less than 6 months old)
7 tablespoons butter, cold
3½ ounces grated aged cheddar*
¾ cup buttermilk
1/3 cup honey
2 ounces thinly sliced blue cheese*
DIRECTIONS
1. Preheat oven to 425°F. Cut butter into small cubes and place in freezer for several minutes to chill. Cold butter means flaky biscuits. 2. Meanwhile, in a large bowl, combine dry ingredients and whisk to combine. Add chilled butter and coat with flour mixture. Hand mixing is recommended for the most tender biscuits. Add grated cheese and mix until combined. 3. Drizzle with buttermilk and continue to mix until just combined. You might not use all the buttermilk. Turn out dough a lightly floured surface and knead, being careful to not over-knead. 4. Roll dough into 9- by 9-inch square. Use a sharp knife to remove the outer edges of the square to ensure even rising. Cut the remaining square into eight equal squares. 5. Bake on baking sheet for 15 to 18 minutes, until golden brown. Serve warm with thin slices of blue cheese and drizzled with your favorite honey. Makes 8 servings. *This recipe was tested using TouVelle and Flora Nelle Blue Cheese from Rogue Creamery.
STRAWBERRY SPINACH SALAD WITH GOAT CHEESE
This bright, nutritious salad is accented by ripe strawberries, creamy goat cheese and a sweet and tangy balsamic vinaigrette. Top with candied pecans for a tasty crunch.
INGREDIENTS
1/3 cup balsamic vinegar
2 teaspoons brown sugar
½ teaspoon Dijon or yellow mustard
¼ teaspoon salt
1/3 cup extra virgin olive oil
6 cups fresh spinach, washed and coarsely torn
8 large strawberries, sliced
4 tablespoons candied pecans
2 ounces fresh, local goat cheese
* salt and fresh ground pepper, to taste
DIRECTIONS
1. In a small saucepan, heat balsamic vinegar to just boiling over medium heat. Reduce heat to simmer. Add brown sugar and salt; whisk to combine. Simmer 3 to 4 minutes, until slightly reduced. Whisk in mustard, and remove from heat and cool. Slowly drizzle in oil while whisking constantly. 2. Toss spinach with your preferred amount of dressing. Assemble on four plates. Top each salad with sliced berries, pecans and goat cheese. Serve immediately. Makes 4 servings.