A Swirl with Thirsty Girl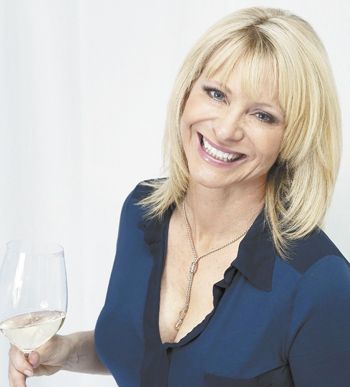 An award-winning author, speaker, wine consultant, television host and founder of the new multi-media company Thirsty Girl, Leslie Sbrocco's entertaining approach makes exploring wine, travel and food enjoyable.
Sbrocco's first book, "Wine for Women: A Guide to Buying, Pairing and Sharing Wine" has been excerpted by two national magazines — Redbook and Family Circle — and won the coveted Georges Duboeuf award for "Best Wine Book of the Year." Her second book, "The Simple & Savvy Wine Guide," was released to wide acclaim, and she is currently at work on her third book, "Adventures of a Thirsty Girl."
Her work has been published in outlets such as Epicurious.com, where she was the tasting notes columnist for five years, O: The Oprah Magazine, Coastal Living, Woman's Day, Good Housekeeping and Glamour, among others. Prior to completing "Wine for Women," Sbrocco was an online columnist for The New York Times and general manager/co-founder of WineToday.com, a site of The New York Times Company.
Sbrocco's current television project is as host of the PBS series "Check, Please!" for which she has won a coveted James Beard award, two Tasty Awards and three Emmys. She is also a featured judge on the PBS national series "The Winemakers" and a regular guest on NBC's "Today Show."
A sought-after speaker, Sbrocco has appeared at events ranging from O Magazine's "Hi Gorgeous" Tour to the American Dietetic Association national convention. She has been the keynote speaker at many wine events, including the Boston Wine Expo, Pinot Noir New Zealand and the Washington D.C. International Wine & Food Show.
Along with her many corporate clients — Cisco Systems, Southern Wine & Spirits, Target and more — she is also a wine educator for Crystal Cruises and Holland America Cruise Lines. Sbrocco has built wine programs for and consulted with companies such as Harry & David, the Kimpton Hotel Group and Virgin America Airlines.
Sbrocco is a respected judge at a number of the largest wine competitions, including the Concours Mondial, The Argentina Wine Awards, and San Francisco and Los Angeles International Wine & Spirits competitions.
OWP: How did you first get interested in wine?
LS: I grew up in the Midwest, and my father was an airline pilot. He drank wine, and I remember it being around the house. We would get little sips, but my real interest did not peak until I moved to California after college. Living in San Francisco, I was able to indulge my burgeoning love of wine by visiting wineries, working harvests and tasting as much as possible. That eventually led me to follow my passion and find a way to turn wine into a career.
OWP: What is your favorite wine region?
LS: There are so many amazing wine regions in the world, and I've been fortunate enough to visit many of them. It's difficult to narrow down, but some of my favorites include Alsace in France due to its unique architecture and hearty cuisine paired with the region's signature white wines. Central Otago in New Zealand is another because of its natural beauty perched high in the mountains of the country's south island. And, the grandeur of Rioja in Spain stands out with its remarkable combination of ancient varieties and rugged terrain accented by modern, showpiece wineries.
OWP: What is your impression of Oregon wine? Any producers/labels you like?
LS: Oregon wines are terrific. Being a Pinot Noir and aromatic white lover, I feel right at home. There are too many to name but Elk Cove, Soléna, Domaine Drouhin, Domaine Serene, WillaKenzie, Argyle, Sokol Blosser and King Estate come to mind.
OWP: What is your impression of Oregon as a wine country destination?
LS: I've visited the Willamette Valley numerous times, including twice as a speaker at the International Pinot Noir Celebration. The area is a treasure. There is no pretension when it comes to Oregon. From the food to the wines to the people, it's about authenticity and discovery.
OWP: If you were to open your own winery, where would it be located and what would be your flagship wine variety(s)?
LS: If money were no object, and I could make any wine I wanted, it would be bubbly. I adore sparkling wine — so much so that I have a tattoo of rosé Champagne on my leg! As long as I'm dreaming about it … I might as well go big and say the winery would be in Champagne.
OWP: You have worked in many different media and arenas — print, television, blog, public speaking — which one do you enjoy the most?
LS: I'm most comfortable as a communicator in person, so that's why I enjoy speaking. As an educator, when the light goes on for someone, and they get excited about wine, it's the most rewarding part of my career. I also find on-camera work exciting because I can reach so many people. Whether it's NBC's Today Show, my PBS show or other television outlets, it gives me an opportunity to share my passion with a large audience.
OWP: Any unique challenges when it comes to making your mark in this (mostly) male-dominated industry?
LS: Early on in my career — more than a decade ago — I encountered a few snide remarks about being a woman in wine, but it's never really been an issue personally. I wrote my first book, "Wine for Women," though, to address the fact that women are the majority of wine consumers despite their smaller numbers in the industry. I don't recommend different wines for men or women, but address wine from the perspective of how it integrates into our lives. The book won the Georges Duboeuf "Best Wine Book of the Year" award when it was released because women and men could learn about wine in a fun, entertaining way.