Of Wines and Canines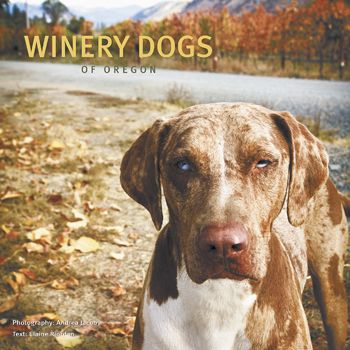 Review by Karl Klooster
This may be an old bone to pick, but I can't resist saying how "going to the dogs" took on an entirely new meaning when I recently picked up a coffee table tome titled "Winery Dogs of Oregon."
As someone who enjoys the welcoming barks and wagging tails of the dogs acting as unofficial greeters at many a local winery, my first reaction was one of delight at laying eyes on such a classy, hardbound, four-color, picture-laden publication on the subject.
And as someone who is more than a little familiar with the cost of production and printing, my second reaction was that this had to be a labor of love. I couldn't imagine black ink emerging on the bottom line from such a big-budget book.
I suppose I shouldn't have cared either way. After all, it was obvious that anyone who perused the book would find it enjoyable, and that dog lovers would be enthralled.
Still, curiosity got the better of me, so I contacted the primary person behind this creative foray into canis vinous publications. That would be dedicated dog-lover Andrea MacNamara Jacoby of Greenville, S.C., a speech therapist by vocation and photographer by avocation.
As it happens, she and her husband, Allen Jacoby, are also wine buffs. They met in California and spent a good deal of their getting-to-know-each-other time touring North Coast wineries.
When Andrea's urge to make a creative statement with her camera could no longer be contained, the couple combined the two. Voilà, a photo book on winery dogs emerged.
Allen's work dictated a move to South Carolina in 2004, which proved a boon in one respect. It gave them an excuse to return to California for a vacation, combining work and pleasure in goodly doses.
They headed off to the Napa Valley in 2005 for a month of snapping, sipping, supping and puppy petting. Later that year, "Winery Dogs of the Napa Valley" came off the presses, and it was heralded with toasts of top-tier Cabernet from Calistoga to Yountville and beyond.
Andrea's cousin, Elaine Riordan, and sister, Lillian MacNamara, assisted. Andrea acted as overall coordinator and lead photographer. Allen handled the interviewing. Elaine took the writing and editing lead. Lillian provided additional photography.
Having established Winery Dogs Publishing, they next brought out "Winery Dogs of Central California," followed by a remake of the Napa Valley book, which had sold out. Then came "Winery Dogs of New York," their fourth book in four years.
In the fall of 2009, they set their sights on Oregon.
The Jacobys used Salem and Grants Pass as home bases. They visited wineries, photographed their canine subjects and interviewed their human owners.
Lillian, living in Corvallis at the time, became the go-to person for "Winery Dogs of Oregon" when Andrea took a break to have her second child. Elaine, who lives in Seattle, took the writing lead again.
Almost two years passed before the Oregon book was finally published in October 2011. Its completion proved particularly rewarding for members of the family-owned company, as everyone had made a significant contribution to the final result.
This big, photo-filled volume is a delight both for the images, which capture the personalities of dozen of different breeds, to the descriptions of their daily lives among the vines.
From Heinz 57 to Havanese, Chihuahua to Chesapeake, Labrador to Labradoodle, Shepherd to Setter, a wide range of breeds are represented. As more than one winemaker said, "You've got to have a good dog around in order to make good wine."
The book features 112 dogs from 61 wineries in its 152 pages.
Only a few are represented here. To see more, visit www.winerydogs.com.
To see them all, and share them with your friends, place an order on the site. The book costs $36, which includes shipping.