Cache and Carry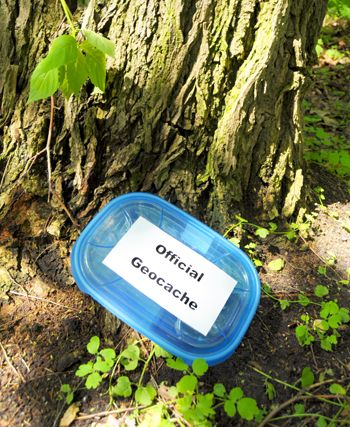 By Hilary Berg
Geocaching might be the most popular hobby most people have never heard of. If you have no clue what it is, it's time to bring you up to date and expose you to a world of fun.
Geocaching is an outdoor treasure hunting game using GPS-enabled devices. Participants navigate to a specific set of GPS coordinates and then attempt to find the geocache (or cache) hidden at that location.
To play, you must first register online with one of the many geocaching communities — such as www.geocaching.com or www.terracaching.com. After perusing the site, and finding a cache you'd like to find, enter the corresponding coordinates in a GPS device and you're on your way to finding the treasure — and most likely getting hooked in the process.
A typical cache is a waterproof container holding a logbook, in which the geocacher enters the date they found it and signs it with their established code name. The container often has items for trading, usually toys or trinkets of little value. If you take something out, you must put something in; and you must return the cache to its original position.
Similar to the 150-year-old game of letterboxing — which uses clues and references to landmarks embedded in stories — the modern sport of gecaching was conceived shortly after the removal of "selective availability" from GPS on May 2, 2000 — this improved accuracy of the system allowed for a small container to be specifically placed and located.
On May 3, 2000, the first documented GPS-located cache was placed by Dave Ulmer of Beavercreek, Ore. The location was posted on the Usenet newsgroup. By May 6, it had been found twice and logged once. According to Ulmer's message, the original stash was a black plastic bucket buried most of the way in the ground and contained software, videos, books, food, money and a slingshot.
Geocaches are currently placed in more than 100 countries around the world and on all continents, including Antarctica. After almost 12 years of activity there are more than 1,639,000 active geocaches published on various websites. It is estimated that there are more than 5 million geocachers worldwide.
Here in Oregon, in the Umpqua Valley, Syndi Henry Beavers, daughter of Henry Estate founder Calvin Scott Henry III, and her husband, Scott Beavers, can be counted among the millions of avid geocachers.
Syndi, who currently works as Henry Estate's office manager and event coordinator, first heard about geocaching when she attended a Roseburg Visitor & Convention Bureau meeting. A representative of the local forestry service stressed concern about an area of rare undergrowth that was being trampled by geocachers. At the time, Syndi had no idea such an activity existed and wanted to know more.
"It just so happened that my husband had just received a GPS device for his work, and so we thought we would give it a try," Syndi said. "Once we started doing it, we loved it."
Five years later, the Beavers have logged about 500 caches; this includes a road trip last year that took them to 13 states in 14 days with an ambitious goal to get a geocache from each one. "I would not necessarily recommend that to anyone," Syndi chuckled.
They enjoy the action of finding the treasure, but often it is the locale that makes the hunt worthwhile.
"You get to discover places you would have not found otherwise," Syndi said. "Some of the geocaches I have enjoyed the most are in old cemeteries. Once, we found a geocache in a cemetery that referenced a young man's headstone. In it there was a bag of sunstones with a note asking people to place a stone on his grave."
Like the sunstones, what's inside the geocache can be quite interesting, offering a number of messages via what geocaching communities call "trackables." Specifically, Travel Bugs, metal dog tags made by Groundspeak, the owners of www.geocaching.com, are some of the most popular.
Travel Bugs are meant to be moved from cache to cache — just remember to replace them with something of equal value. Each has a unique tracking number allowing its movements to be monitored online. Some are fastened to an object, known as a "hitchhiker," before they are placed into a cache. Missions like "to travel as far as possible" can be described on the tag and some involve more meaningful journeys.
Syndi's sister created a sentimental Travel Bug for their mother, who died in 2003. "She laminated a photo of our mother and attached a message of how she loved to travel and to please take her to great places in the world," Syndi said. "That Travel Bug has been all over the U.S., as well as England, Austria, and it is now in Russia."
There is no obligation to retrieve a Travel Bug from a cache. Geocachers can simply log it in as remaining in the current cache and choose not to move it on. Similar to a Travel Bug, a geocoin is a metal or wooden coin printed with a tracking number, to allow its movement to be logged online, as well.
Trackables can also be used in races, where a group of geocachers will release Bugs or coins on the same day with the objective to either travel the farthest distance or to score points by achieving specific objectives.
As far as placing a cache, creativity and variations abound, as well. Some containers are small (35mm film canister); while some are big (plastic paint bucket or metal box). It is the responsibility of the owner of the box to maintain it.
"We've set up several geocaches over the years," Syndi said. "We did set up one here at the winery — which is on hiatus because we need to repair the box — in the winery's memory garden, just outside my dad's window. I put it there because he did not believe me when I talked about geocaching."
She says they have never had an issue with any of the geocachers who have discovered the treasure — only 50 a year over the last three years. In fact, it has been beneficial for business. "They look for the cache, discover a beautiful garden, and some end up coming in to taste some of our wine," Syndi said.
As for advice for wineries wishing to plant a geocache on their property, Syndi says locations like a vineyard are probably not a good idea.
"I would not put one anywhere where you do not want someone to be or anywhere where you will wonder why someone is there," Syndi said. "Never set yourself up to be upset with people; that's why we set it in our garden next to the winery."
Besides potentially driving people to a business, some set up caches on private property for other reasons. Syndi says she knew someone who set up a geocache outside their grandmother's window. "She was ambulatory, and it gave her something to do, watching for geocachers."
Regardless of the location, the contents or the purpose, geocaching has proven to be a fantastic way to spend time out in nature with friends, family or by oneself.
"You never know where it's going to lead you," Syndi said. "You may know the coordinates, but you have no idea where you will end up. It may take you to a beautiful view of the valley or a really quiet spot on a river."