Thirsty Pastime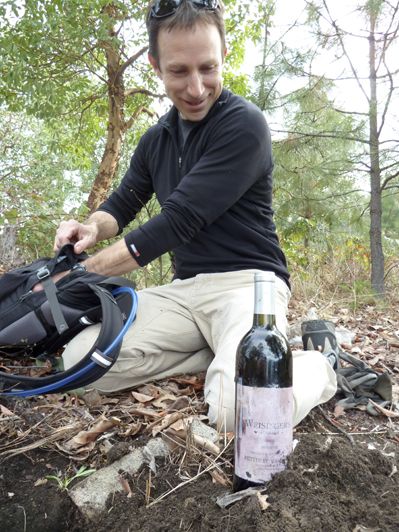 Photos and Story by Janet Eastman
Toss away that thought of building an expensive wine cellar to age and protect your precious vintages. Eric Weisinger has a better idea. He buries bottles in the ground. One at a time. And thousands of miles apart.
Weisinger, you see, is a wandering winemaker. He spends half the year in the Rogue Valley and the other half in New Zealand, making wine and serving as a consultant to grape growers. In between, he creates his own wine and stashes cases of it in his Ashland home, the crawl space under a friend's house and, for a few dozen special vintages, in the woods, on an island, in various countries, on different continents. Years later, he tries to find them using GPS coordinates along with his memory.
"The feeling of locating the bottles, digging them up after having buried them so long ago is a little like when you've lost something valuable for a long time and then one day you find it," says the 43-year-old, who has worked in his family's Weisinger's of Ashland vineyard as well as in California's Alexander Valley, Western Australia and Marlborough, New Zealand's largest wine growing region. "But finding wine is much better than locating car keys or that single sock that disappeared."
For centuries, wine producers have known that fermented grape juice needs to be protected from light, heat and vibrations in order to reach peak flavor. Some producers and collectors go to great effort to build custom, climate-controlled cellars or above-ground wine closets. Old World practitioners who trust the Earth's natural cooling system carve out wine caves in hillsides. No one except Weisinger, however, seems to have been systematically and playfully burying wine, bottle by bottle, in different hemispheres. For 20 years, he has planted his very best Cabernet Franc, Merlot, Cabernet Sauvignon and Malbec in some of the highest peaks in Oregon and Colorado and as far away as Mongolia.
In 2008, he unearthed a bottle of 1997 Petite Pompadour, a Bordeaux-style blend and his first vintage as a winemaker, which he buried in Belize eight years before. "My friends and I drank it that night in the jungle with dinner," he says. "It was great."
He later posted on his blog (http://thetravelingwinemaker.blogspot.com), "In the glass, the wine showed a slight brick halo at its edge, a telltale characteristic of an older wine. The nose was reserved, slightly austere, with a layer of leather and dried fruit. I sipped. I sipped again. The wine was good. In fact, as it began to breathe, it got better and better. Perhaps not something I would be rushing off to critics — '…aged eight years, underground, in Belize…' — but very drinkable."
The unconventional way to cellar wine occurred to Weisinger when his head was in the clouds. He was hiking with friends around the Grizzly Peak summit in 1992; his backpack was filled with food and a bottle of his wine. A thunderstorm interrupted the hike before lunch and instead of taking the bottle down the mountain, he buried it on a rock cliff that shadows the valley.
"It's a beautiful site and requires a good part of the day to reach it if snow on the road doesn't stop me," he says.
The bottle, he believes, is still there. To find it again, he would have to rely on his memory since he didn't draw a map to pinpoint where he left it.
"I've looked for it on occasion while hiking around the peak since, but never with any luck," he says. "There are some treasures that must remain buried."
Since then, the 20 or so other bottles he has buried underground have been marked with stones and the spot captured either with a photo or, lately, coordinates on a GPS device.
Without even trying, Weisinger invented a twist to the high-tech treasure hunting game Geocaching, played by explorers with GPS gadgets looking for hidden containers. Only with Weisinger's version, wine is the prize. Call it eno-geocaching.
Weisinger's Garmin eTrex guides him to within a few yards of where he buried his wine. He then relies on natural markers to direct him. If the wine was left undisturbed by man or beast, he should be able to find the four, foot-long stones he arranged like a compass to point north, south, east and west.
Once, on the back label of a wine he made in 2004, he printed the GPS coordinates then buried a bottle. He says no one seeing the label has yet to ask him what the numbers refer to. "I might do it again someday," he says.
On the handful of occasions that he's dug up his wine, he sometimes takes the bottle home and compares it to one that has been aged in a traditional way. So far, the outcomes have been similar — bottles and corks intact, wine matured and tasting good — so he continues his unorthodox trail cellaring.
Weisinger selects the spots with care. They all take an effort to reach, have stellar views and are places he would like to return someday. "When I find the bottle, I want to be able to open it up and enjoy it right there," he says. He does not dig in Ashland city parks, which is illegal, or in sensitive areas on public land. He finds a natural landmark — an old tree or distinctive cluster of rocks — and digs down about two feet, where the temperature should stay around 55 degrees, despite snow, rain or blasting heat.
He marks the bottle with a message — "When found, please enjoy! Eric Weisinger" — wraps it in protective clear plastic, sets it in the hole and covers it up.
Like a truffle hunter protecting his secret patch, he covers his tracks with leaves and natural debris to make it appear the area hasn't been disturbed by man.
On a recent Tuesday, Weisinger stood on a hill above his family's Ashland vineyard. He was sipping a newly recovered 2002 Petite Pompadour from a stainless steel Indian tiffin cup. "Overall, 2002 was a great vintage to begin with, so whether or not six years in terra firma helped is hard to say," he says, his 11-year-old dog Lucy by his feet. "But, I'd like to think so."
Minutes before, he had crouched over a hole, digging with his gloved hands and then a shovel to expose the bottle. When the shovel made a clinking sound, he knew he had hit glass.
"It's always exciting to dig one of these up," he says, slicing the earth on both sides of the bottle with the side of his shovel to release the bottle. "I feel like Indiana Jones. If I were an archaeologist right now, I would be very happy."
When he pulled out the cold bottle and dusted it off, he could read his handwriting: "Drink well." Near the faded words was "March 11, 2006." He then buried a 2006 vintage of the Bordeaux blend.
The weathered pink label on the 2002 bottle was falling apart, but the wine inside the bottle was preserved. He swirled it again in his tiffin cup, sniffed it, then tasted it.
"One of the eternal gifts about wine," he says between sips, "is that it allows you to experience the past in a way you really can't otherwise."
Later, he took the almost full bottle down the hill to share it with fellow winemaker Gus Janeway, who confirmed that the wine was delicious despite its odd storage.
"I was very surprised, as I figured with its rough treatment it would be off or oxidized or something, but nothing of the sort had occurred," Janeway says. "With its aromas of black fruit, tobacco, and smoke and a still-substantial tannic backbone, polished from eight years in a bottle, it reminded me that one of this valley's real strong points is wine ageability."
Weisinger, a bachelor, says that he's considering giving his nephews the coordinates to his hidden bottles when they turn 21. "If they are into Geocaching, they might like searching for the wine. They can crack open a bottle on the spot to celebrate finding it," he says.
He hopes to bury more on his travels, in between splitting his year to catch growing seasons in both the Rogue Valley and New Zealand. "I haven't seen a spring in six years," he jokes. He says he has too many adventures on his bucket list but hopes to set foot on all seven continents and taste wine in all major wine regions.
"I may go to South Africa this summer," he says, "and if so, I'll probably bury a bottle."
Printed with permission from the Ashland Daily Tidings.