Pick a Pack of Pinots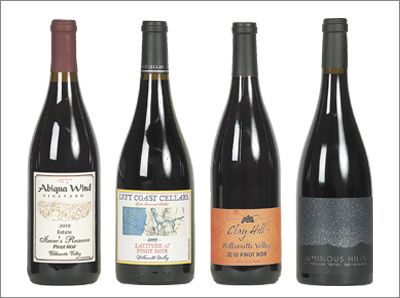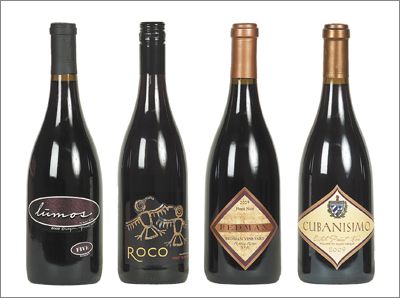 Currently available wines, preferably recently released, are compulsory criteria for wines recommended here. Quantities produced, however, are another matter.
This month's submissions included wines ranging in total production from a high of 57,000 cases to a low of 75 cases. Since the blind-tasting method is, indeed, blind to all but the final preferences, whether production is small or large, doesn't enter into the equation.
As a result, the total production of seven of this month's eight selected wines turned out to be less than 500 cases. Well, 504, actually. But who's counting?
Consequently, they are likely available only at the winery or perhaps a few selected outlets. In other words, time permitting, a pleasant visit to wine country would be in order. Otherwise, a call or e-mail will elicit information as to where preferred Pinots may be purchased.
Either way, we are confident you won't be disappointed. This month's selected Oregon Pinot Noirs — five from the 2009 vintage, three from 2010 — are competitively priced, top quality values. Did we mention food friendly?
Abiqua Wind 2010 Isaac's Reserve Pinot Noir, Willamette Valley • $25 (245 cases)
This New World Pinot displays the delicate elegance characteristic of southern Burgundy's Côte de Beaune. Red berry and cherry mingle with hints of vanilla in a light, bright wine every taster at the table found attractive.
Clay Hill (De Ponte) 2010 Pinot Noir, Willamette Valley • $25 (650 cases)
Enticingly heady, dark fruit aromas escort the palate into yummy, jammy flavors led by black cherry. Full and round in the mouth with youthfully tight tannins still in the process of resolving.
Left Coast Cellars 2009 Latitude 45 Pinot Noir, Willamette Valley • $30 (254 cases)
Layer upon layer unfold ultimately presenting a delightfully complex Pinot in its classic form. Earthiness and minerality, leather and tobacco, pepper and spice. A solid base of fruit underlies, completing the composition.
Luminous Hills 2010 Estate Pinot Noir, Yamhill Carlton • $28 (329 cases)
Intriguing aromas of toasty oak, bread dough and coffee bean carry forward into flavor profiles that reflect the same, with vanilla, yeast and espresso complimented by rusty earth. Lingers long and satisfying.
Lumos 2009 Five Blocks Pinot Noir, Oregon • $24 (504 cases)
Good acidity complements cherry and chocolate, pepper and spice. Round in the mouth and velvety on the palate. A lineup of components that all come together to spell balance and harmony throughout.
ROCO 2009 Pinot Noir, Willamette Valley • $30 (2,750 cases)
Butter and red cherries combine to deliver up-front aroma appeal backed by a rich, creamy mid-palate featuring red fruit. A soft, smooth charmer that pleases from sweet-talking start to no-fooling finish.
Redman Vineyard 2009 Pinot Noir, Ribbon Ridge • $30 (168 cases)
Here's an example of a lighter style Pinot that packs a heavyweight punch. It may not be a big, bold bruiser, but delicate fresh fruit and lively acidity overlaid with hints of leather and cola make for a real winner.
Cubanísimo 2009 Estate Pinot Noir, Willamette Valley • $30 (500 cases)
Another example where balance rules the day, to the point where a complete wine is greater than the sum of its parts. The synergy includes zesty strawberry and floral rose, velvety-grained texture, red fruit, resolved tannins and mustard spice.
The Oregon Wine Press tasting panel has selected the following wines based on overall quality and value within their respective categories. Wine must be: 1) produced by an Oregon winery; 2) priced (retail) $30 or less for reds, $30 or less for Chardonnay, $30 or less for dessert and sparkling wines, $25 or less for remaining varietals; and 3) currently available to consumers. Recommended wines were selected using a double-blind method and a 20-point ranking system for appearance, aroma, taste, balance and finish.