Paulée Prepares Opening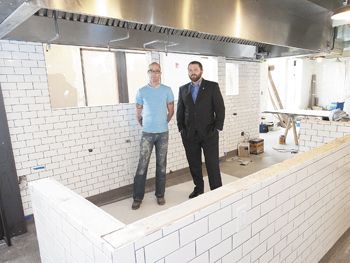 By Molly Walker
Partners Daniel Mondok and Brandon Tebbe are combining their experiences as an executive chef and master sommelier, respectively, into a multifaceted restaurant called Paulée, located at 1410 N. Highway 99W, Suite 102, Dundee, next door to the boutique hotel The Inn at Red Hills. They plan to open in early May.
What drew the pair to Dundee is the opportunity to source much of their products from the local area.
"All of the Willamette Valley piques our interest," said Mondok. "The agricultural aspect of all the wonderful farms, the winemakers and viticulture. It is the next Napa Valley."
The name Paulée stems from an annual end-of-season harvest in Burgundy, which brings together winemakers, cellar workers, farmers and the entire wine country community.
"We're creating a restaurant for the wine community," said Mondok. "The tourists will want to be where the wine community is."
The restaurant will feature two separate dining rooms, one a little more upscale and the other casual, with room for 90 guests.
The dining areas will be anchored around a 10-foot glass-enclosed wine cellar with an intimate chef's table, just feet from the open kitchen for a front-row view of the chefs in action. The décor is described as "farmhouse meets modernist atmosphere" with local wood and natural stone accented by industrial metal elements and clean lines.
Food and wine are passions for both owners, and they have been working at forging relationships with local farmers with plans to source seasonal food. A grow-your-own aspect is also part of the restaurant's future, with a nearby one-acre space destined to be a garden to supply flowers, herbs, produce and eggs.
The menu will be divided into two sections: a full raw bar plus four-course dinners, with all selections also available à la carte.
In addition, there will also be a lounge, catering to both early and late night crowds. Initially, plans are to open for dinner only from 4:30 to 9:30 p.m., Wednesday through Monday and be closed on Tuesdays. Eventually, they want to open for lunch as well.
In addition to lunch and dinner service, Mondok and Tebbe will offer a coffee and pastry shop, opening at 7 a.m., and a small tasting room, which will feature wines from approximately 25 small producers who don't have their own tasting rooms. Flights will be offered from 11 a.m. to 5 p.m.
Both Mondok and Tebbe trace their restaurant roots to their teenage years.
Mondok has been cooking since he was 16, working in California and Nevada before discovering his "new home" in Oregon in 2003. He's worked at The Heathman Hotel and was executive chef at Carlyle before starting his own restaurant, Sel Gris. Most recently he worked at Genoa Restaurant — all are located in Portland.
Tebbe, whose father is in the restaurant business, has been involved with the industry since he was 14 and worked at the Broadmoor Hotel in Colorado Springs in wine and food, both of which he said he loved.
Both owners anticipate they'll be spending long hours in the operation's beginning; and they plan to include their staff as part of regular meals.
"The staff's a really important part of this whole process," said Mondok. "We'll sit down, shoulder to shoulder." The pair is seeking an atmosphere in which both the staff and customers feel like family, embraced the moment they walk in the door.
Mondok said Paulée will have its own signature dishes — but he also plans on recreating at least a few of the Sel Gris favorites — such as a French sweetbread dish called Ris de veau, which he said "made people cry" because they enjoyed it so much.
Tebbe has enjoyed developing the beverage menu. The idea is to bring together the best products of the Pacific Northwest with the finest names in the world. They plan to serve 48 wines by the glass, including Burgundy and New World Pinot Noir, kept fresh with Enomatic preservation, plus 12 local wines on tap.
Speaking of draught, a state-of-the art system will allow for 12 beers on tap, too, half local and half international.
Tebbe also said there would be a full mixology program featuring a signature list with local, seasonal ingredients.
"Comfortable, friendly and local" is how Tebbe describes the business's focus.
"Everything is going to be affordable," he added. "The idea is to provide for the community."
"It's a dream come true," said Mondok. "I'm very excited."
Molly Walker is a reporter for the News-Register.