Fervor to Launch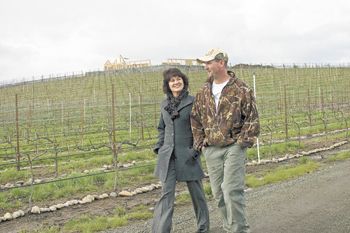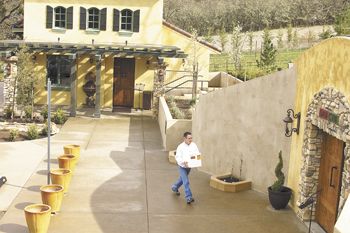 By M. Kim Lewis
This summer, two new wineries will open to the public in the Rogue Valley. Each will have an expansive tasting room and beautifully landscaped grounds overlooking estate-grown grapes. I recently visited both and was immediately impressed with their long, gated drives and substantial size.
DANCIN Vineyards, outside Jacksonville, and Kriselle Cellars & Winery, at the foothills of Table Rock and adjacent to the Rogue River near White City, offer a variety of wines, artisan food and stunning views.
DANCIN Vineyards
In 1996, Dan Marca was a successful commercial contractor near Sacramento when he and his wife, Cindy, took their first viticulture class at UC Davis. It was just for fun.
Two dozen courses later, the couple still couldn't get enough 'learning and field trips.'
Their thirst for vine education led them north to study viticulture at Oregon State University in Corvallis and at Chemeketa Community College's Northwest Viticulture Center in Salem.
Ten years later — with added inspiration from his family ancestry of growing grapes in Sicily — Dan took his love for wine to the next level. In 2006, the Marcas purchased a beautiful, 15-acre property on a gorgeous hillside near historic Jacksonville and soon began planting. They named the estate DANCIN Vineyards —the first three letters of each of their names.
For most of their lives, the Marcas were big fans of California Zinfandel. "It was a great wine grown all around where we lived, and it suited our tastes" Dan said.
It was their wine of choice until one day they tried an exquisite Pinot Noir. It was "love at first sip. There was something very intriguing about its wide range of aromas," Dan said. "The persona of Pinot Noir is a silky subtle smoothness that offers an overall 'wine experience' like none other."
While most winegrowers would prefer a full southern sun exposure, DANCIN Vineyards sits uniquely shaded for up to two hours a day — the hottest time of the day — at an elevation of 1,500 to 1,700 feet, making the estate more suited to cooler-climate Pinot Noir and Chardonnay.
DANCIN wines are made under Marca's direction by well-known winemaker Linda Donovan from Pallet Wine Company in Medford.
They were impressed by Donovan's past winemaking experience at Flowers Vineyard & Winery, an exclusive producer of Pinot Noir and Chardonnay on the Sonoma Coast.
"It helped seal our visionary dreams to make the best Pinots and Chardonnays to come out of the Southern Oregon region," Dan said.
Although the wines are not of Italian origin, the architecture of their tasting room is decidedly Tuscan, with a wine cave that houses both barreled and bottled wines.
On a clear day, tasting room visitors have a stunning view of the top third of Mt. McLoughlin in the Cascade Range to the east and of the Table Rock plateaus to the north. DANCIN actually overlooks Don and Traute Moore's expansive Crater View Vineyards site, well recognized as you enter Jacksonville.
For more information, visit www.dancinvineyards.com.
KRISELLE CELLARS
Prior to investing all his time in making and selling wine commercially, Scott Steingraber was no stranger to "big" undertakings. He was project manager for the construction of the Tacoma Narrows Bridge, completed in 2007 — connecting Tacoma with Gig Harbor, Wash., on the Olympic Peninsula.
So when Steingraber and his father-in-law, Winslow Buxton, combined forces to purchase and plant 20 acres on more than 200 acres of ranchland in 2006 — a river rock-laden property near the Rogue River and Table Rock — it was "not a big deal," just another project to manage…
Steingraber was initially interested in wine as an art form, as a science. He had been making wine for several years in his garage while living in Washington.
"I sourced a lot of Washington fruit year after year, and felt I had been through a lot of the learning curves most winemakers go through in their schooling," Steingraber said. "For this project, I hired well-known second-generation winemaker and consultant, Eric Weisinger, to join our team."
Kriselle Cellars makes a variety of wines, including Viognier, Sauvignon Blanc, Cabernet Sauvignon, Cabernet Franc and Tempranillo. The philosophy behind these wines is not found in the winery itself, but in the dirt. He believes the estate's rich soils are the key to the wines' success.
"Our grapes are all grown on south-facing slopes near the Rogue River," he said. Thousands of years of alluvial deposits and geologic upsets have resulted in soils composed of round river rock and silt."
This low-vigor soil does not allow vines to produce large amounts of fruit, so the plants must struggle. "The resulting grapes have incredibly unique depth and character with focused, intense flavors," Steingraber said.
Scott and his wife, Krisell — they added the extra "e" at the end of the winery name, so people would pronounce it correctly — are preparing for a late summer opening.
Guests will drive uphill to a gorgeous 3,000-square-foot tasting room with a massive tasting bar, commercial kitchen and spacious decks that lend an almost 360-degree view from the Table Rocks to the Rogue River.
For more information, visit www.krisellecellars.com.
M. Kim Lewis is a Northwest writer/photographer who co-owns a wine tour adventure company, www.ashland-tours.com, with his wife, Ginny, in Southern Oregon.