Equinox Extols AVA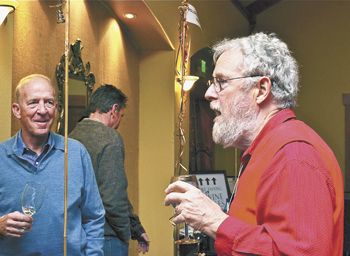 By Karl Klooster
Vernal equinox, the arrival of spring, heralds the rebirth of nature's bounty held dormant by winter's freezing temperatures and soggy skies.
The welcome change of seasons also signals Equinox, the annual Eola-Amity Hills Winegrowers Association event promoting wines grown from grapes produced in this sub-AVA of the Willamette Valley.
Tim and Kari Ramey's Zenith Vineyard, on scenic Zena Road outside Salem, provides a suitable showplace for the vinous showcase. A stately manor with a circular drive and formal fountain bespeaks of what awaits within.
The 4,800-square-foot grand ballroom, with its soaring, timber-accented ceiling, can accommodate up to 400 standing guests. And it approached its limit the evening of March 24, when 380-plus Equinox attendees filed in.
The record crowd sipped wine from 31 producers and sampled edibles from five purveyors, including Subterra Wine Cellar Restaurant of Newberg, national award-winning Willamette Valley Cheese Company and Cascade Baking Company of Salem, as well as Honest Chocolates of McMinnville. Jack and Heidi Czarnecki of The Joel Palmer House fame in Dayton were on hand with their unique The Czar's sauces and Oregon White Truffle Oil.
The participating wineries at the event either operate within the AVA or pour wines made from grapes grown in the AVA. The roster included: Amity, Anthony Dell, Antica Terra, Argyle, Bethel Heights, Bjornson, Brooks, Bryn Mawr, Calamity Hill, Cherry Hill, Cristom, Cubanísimo, Dobbes, Dukes Family, Evening Land, Grochau, Holloran, Kristin Hill, Lewman, Methven, Mouvance, Orchard Heights, Redhawk, Rizzo, St. Innocent, Stangeland, Toluca Lane, Witness Tree, Zenith and Z'IVO.
The differing styles and types from this spectrum of world-class wineries express how far and fast northwestern Oregon, generally, and the Eola Hills, specifically, have come within a few decades.
At current count, there are 101 vineyards in the AVA, encompassing 1,500 acres. That means those toiling with the vine greatly outnumber those laboring over the wine. But the end product offered for evaluation at Equinox convinces this writer it's been worth the effort on both ends.
Wines I considered particularly worthy of note included Cherry Hill's very cherry 2009 Estate Dijon clone Pinot Noir. Meanwhile, John Grochau's 2009 Pinot possessed bigness that belied many of its brethren.
In addition, the 2010 Pinot that Grochau made for Mark Bjornson is the best of the early released bunch I've run across thus far. It's full of fresh, tasty fruit that seems very contented in its youth.
Consistently excellent for almost 40 years, Myron Redford and Vikki Wetle's Amity Vineyards is the embodiment of the Eola-Amity Hills AVA. And it's one of the few that actually lives in the Amity Hills, which accounts for only a fraction of the 38,000-acre outcrop.
Amity makes a heavenly dry Riesling from estate grapes. If properly cellared, it lives a longer and livelier life than Methuselah — at least in wine terms. Would you believe 30 years?
Redhawk released its 2007 estate Pinot later than most, proving the wisdom of waiting. The well-made wine pays off in the bottle, regardless of the slings and arrows suffered across the board from vintage variability.
Then there's Mouvance Pinot. So little wine, but oh so fine. Just 80 cases of Donna Jean 2009 were made. Fortunately, you get the opportunity to taste extremely limited quantity gems like this at an event like Equinox.
The young lads from Evening Land were on hand to meet the onslaught of eager hands clenching glasses in hopes of getting an ounce or two of their precious Chardonnay.
Those among the local wine cognoscenti know that Evening Land chalked up an incredible 97 points from Wine Spectator for its 2009 La Source Chardonnay a couple months ago. So, no, it wasn't being poured at Equinox.
In fact, every bottle of whatever was left from its original 487-case production disappeared into cellars and down gullets the moment word got out, if not before.
Instead, the delightfully tasty, mineral-laden 2009 Eola-Amity Hills Mad Hatter Chardonnay flowed from Evening Land's table. This wonderland wine garnered a more than respectable 91 points from Wine Spectator's gurus, and only 200 cases were made.
Did I mention that Evening Land also makes Pinot Noir? The grapes come from the fabled Seven Springs Vineyard, which the Evening Land partners now own. It's pretty good, too.
If you're inclined to wander over all or any part of its productive, six- by 16-mile expanse, just remember this: There's a lot of good wine in them thar Eola-Amity Hills.