Silver Sparkles for Argyle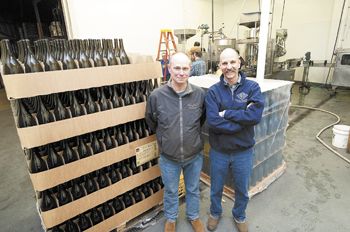 By Karl Klooster
Rollin Soles and Allen Holstein may not have been around quite as long as the pioneers on the leading edge of Oregon wine's first wave, but they caught the curl before it spread across what was still a pretty pristine shore.
When Holstein arrived from California in 1980, just 14 wineries had bonded signs posted by their doorways. When Soles arrived in 1985, following a fruitful stint Down Under, only a handful more were putting grapes into fermenters.
As a result, the two, whose combined efforts have made Argyle Winery one of Oregon's most recognizable and respected names, know first hand what it took to build the industry from an unseasoned fledgling to a full-fledged, world contender.
Soles earned his enology degree at U.C. Davis in 1978 and worked for the Napa Valley's famed Chateau Montelena before going to Australia. His time spent with Petaluma Winery in South Australia's Adelaide Hills proved rewarding in more ways than one.
First, he learned more about making good wine, including the bubbly. Second, he became friends with Petaluma owner Brian Croser, who had founded the well-known winery in 1976. Third, he convinced Croser to back him in an Oregon winery venture.
Sparkling wine motivated both men. Noting Pinot Noir's promise in northwestern Oregon, but that some years didn't get as ripe as others, Soles saw the potential for sparkling production. Plus, he admits to having fallen in love with the place.
He moved to the Yamhill Valley in 1985 and began laying plans to launch the new endeavor. Ready capital from Croser paved the way in obtaining commitments from growers for fruit as well as securing a facility and properly equipping it.
Holstein, who studied horticulture in Kentucky, was drawn to the back-to-the-earth movement. That conviction led him to pursue a PhD at Oregon State University, focusing on a research track in plant mutation.
Before completing the doctoral program, however, he was bitten by the wine bug and landed a job at Erath Winery in Dundee. He took charge of vineyard management, which included everything from new plantings to some of the valley's oldest vineyards.
Soles met Holstein soon after his arrival, and the two quickly connected. In 1986, Holstein agreed to join Argyle. With Croser's support and assistance, they opened the winery in 1987, working from a former nut processing facility in Dundee.
Sparkling wine was their signature from the outset with 20,000 cases produced that first year. That's a respectable quantity for an Oregon winery today. In 1987, no one conceived of such a commitment.
The amount was equaled in 1988 and 1989. "Within three years, we had 60,000 cases of inventory and not a drop yet ready to be sold," Soles said. "That's the reality of sparkling wine. It needs to age on the lees in the bottle before disgorging."
When they finally were able to take the first release of Argyle Vintage Brut to market, the response from both trade and consumers fully met their expectations. Oregon's first winery with a strong commitment to sparkling wine was off and running.
In 1990, grower Cal Knudsen discontinued his partnership with Erath and joined the Argyle team. The addition of his mature, 120-acre vineyard in the Dundee Hills gave the business a big boost.
Likewise, the association with Stoller Vineyard in the early 1990s, which Holstein manages, and the 1996 purchase of Eola Hills land for Lone Star Vineyard, all contributed to Argyle's growth
The Dundee Wine Company is a business name used for various related activities. All this Scottish stuff stems from the legacy of an entrepreneurial Scotsman named William Reid, who founded Dundee Junction in 1887 as a hub for his railroad operations.
Soles said it's strictly coincidental that Argyle was established 100 years after the founding of Dundee. But he is understandably proud of the winery's 25-year milestone.
A quarter-century in business finds them at an annual production of almost 50,000 cases and solid plans for the future. Having acquired 130 plantable acres at the southern end of the Eola-Amity Hills in 2007, total estate and contracted vineyard acreage now exceeds 400.
Still wines, which were made from the first vintage, have become a more important part of the portfolio over time. The Nut House brand for Pinot Noir and Chardonnay was introduced in 1992, bringing another uniquely identifiable name to the Argyle family.
Today, Pinot accounts for about 60 percent of production; sparkling, 35 percent; and the balance is still whites. Emphasis on sparkling may increase when the new plantings come into full production.
Holstein said the higher elevation sites produce the best Pinots for sparkling wine, and the winery's annual output could ultimately top 70,000 cases. Soles said to do that they would have to expand beyond the winery's current 18,000 square feet.
But it sounds as if this will simply be another well-planned and executed step in the evolution of the Oregon winery that dared to do something different and struck gold in a glass in the process.
Not to mention the fact that the Argyle tasting room is arguably the busiest in the state. The stately building it occupies is a Victorian-era house that once served as Dundee City Hall.
Speaking of expansion, when it was apparent a larger tasting room would be needed to accommodate the throngs of thirsty visitors turning into the parking lot off adjacent Highway 99, they decided to enlarge the old Victorian.
That expansion was executed with such attention to architectural accuracy and period detail, it's difficult to determine where the original building leaves off and the new addition takes over.
ARGYLE WINERY
ADDRESS: 691 N. Highway 99W, Dundee
HOURS: Daily, 11 a.m. to 5 p.m.
PHONE: 503-538-8520
WEBSITE: www.argylewinery.com