Tina's No Longer a Teen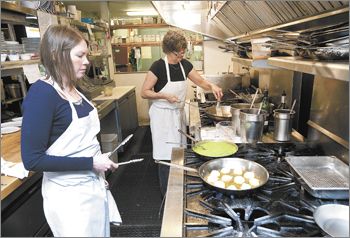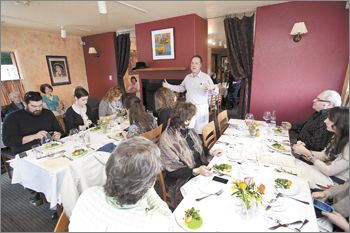 By Karl Klooster
By 1991, Portland could boast a culinary scene that had come into its own. Farther south in Yamhill Valley, however, Nick's Italian Café, on Third Street in downtown McMinnville, was the only restaurant offering fine cucina — or fine cuisine of any kind, for that matter.
In other words, there was a dearth of fine dining in the midst of a rapidly growing wine region — one on the verge of world-class status. And this fact did not escape the attention of David and Tina Bergen, an energetic couple with cutting-edge culinary skills.
David's 10-year co-ownership of Paul-Bergen, a successful Portland catering and retail business, had honed those skills to the point where he yearned to make his personal culinary statement.
Together the Bergens decided to launch a fledgling restaurant venture in wine country. The location they chose had very promising pros, along with a couple of concerning cons.
There was not a more heavily traveled section of Highway 99W than the one traversing the approximately one-mile length of downtown Dundee. And the town's long, narrow strip of commercial real estate hugged the roadside, making for easy vehicle access.
But much of the infrastructure already in place was lacking in substance and eye appeal. The single exception was the Argyle Winery tasting room, opened four years earlier.
As idealistic young entrepreneurs, the Bergens were encouraged by the pluses and made the best of the minuses. Having limited funds, they purchased a small cinderblock building adjacent to the highway and brightened it up as best they could.
Atmosphere might not have been their strong suit initially, but what Tina's lacked in ambiance, it compensated in cuisine. It wasn't long before word spread that Dundee had landed an ascending culinary star.
Pairing great food with local wine and sourcing their fare with farm-fresh ingredients, the Bergens led the way on local and organic before both became mainstream movements.
A reputation for highly innovative and superbly executed cooking attracted droves of appreciative patrons to their doorstep. With success came the ability to enhance and expand their simple little building.
Over time, the couple converted what had originally been a nondescript box capable of seating 16, or so, into a charming and considerably enlarged cottage incorporating many decorative touches
Today, 50 diners can be comfortably accommodated in a pair of dining rooms separated by a warmly welcoming, see-through fireplace. The front room, where private parties and special events are often held, was once the entire seating area.
A handsome wood bar runs across the back of the main dining room. Patrons can comfortably await a table there, libation in hand, or linger over a leisurely after-dinner drink.
Perusing the menu, one immediately notices it is grounded in seasonal fare organically grown. Creative recipes that match flavors with one another, as well as with local wines, have become a mark of Tina's.
Take, for example, these current dinner entrées: braised lamb shank, olive oil-braised coronas, spiced fruit and red wine lamb jus gastrique — which begs for a pure, fruit-forward Pinot — or seared scallops, kumquat-espelette beurre blanc, parsnip-pear purée and tarragon herb salad — where a rich, lively Chardonnay would be perfection.
How about red wine-honey glazed roasted rabbit, truffle butter-braised Savoy cabbage, thyme and roasted sunchokes? Those suggest a full-bodied Pinot with depth of black fruit.
David has become a vegetarian in recent years, so his personal palate has evolved. He has also become more sensitive to food allergies and intolerances, so the menu features gluten- and lactose-free options.
As would be expected from a restaurant that was among the very first to receive a Superior Cellar Award for Best Oregon Wine List from the Oregon Wine Press, Tina's offers some 75 Pinot Noirs and a total of nearly 130 Oregon wines.
At a special lunch to celebrate the restaurant's 20th anniversary, Feb. 24, guests were offered a multi-course menu that incorporated all the features for which Tina's has become so highly regarded.
Three appetizer courses were offered, accompanied by a 2008 Argyle Brut. There were grilled asparagus sushi with briar rose chèvre wrapped in chard leaves, pan-fried razor clams with sorrel mayonnaise and chickpea frites with harissa ketchup.
The three-course lunch consisted of seared sea scallops with spring pea purée and fresh pea salad, carrot cashew crepes with charmoula braised greens and blood orange salad and braised short rib with sautéed fava shoots and beef-fennel gremolata.
Accompanying wines were all Pinot Noirs: 2008 Cattrall Sisters, 2009 Bergen and 2009 Quest.
Everything arriving in threes at this affair, the desserts were almond rhubarb cakes with strawberry limoncello sorbet, chocolate coconut mousse cake and red velvet/passion fruit sabayon doughnut. The mousse cake was gluten-free, as were all the entrées.
The menu was developed and prepared by budding young chef Abby McManigle, under David and Tina's direction.
Those present for this mid-day gourmet gala included several food and wine writers, Yamhill County Commissioner Kathy George and representatives of the Yamhill Community Action Partnership. The agency, which has been serving local area citizens in need since 1980, will be the beneficiary of a series of dinners scheduled at Tina's in the coming months.
The Bergens are major supporters of YCAP's nutrition education program, launched when the agency moved into its new building complete with a commercial kitchen.
I don't know if this is a "pay it forward" in recognition of what the Yamhill Valley has meant to the couple, but what they have given to the community over the past 20 years can best be summed up in saying that dining-wise, Tina's is at the top.
TINA'S RESTAURANT
ADDRESS: 760 Highway 99W, Dundee
HOURS: Dinner: Nightly, 5 p.m. to closing; Lunch: Tues.–Fri.. 11:30 a.m. to 2 p.m.
RESERVATIONS: 503-538-8880 (or online)
WEBSITE: www.tinasdundee.com