A Vine Education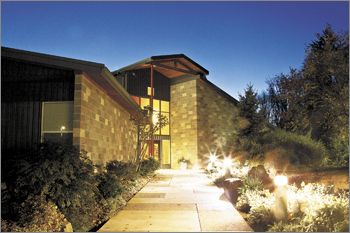 By Jessica Cortell
Want to learn more about how to grow grapes? How to make wine? How to sell wine? There are many excellent educational opportunities in Oregon and Washington.
In 2000, while I was working as the viticulture research assistant at Oregon State University, I recall talking to the head of the Horticulture Department about how they needed to offer classes specific to viticulture. At the time, there was one class on small fruit production, with only one to two weeks devoted to grapes.
Concurrently, people from the industry, led by Lowell Ford, were supporting the development of a vineyard management and winemaking program at Chemeketa Community College.
The Chemeketa program offered their first classes in the fall of 1999 on the main campus in Salem. Instructor Al MacDonald said they planted a few vines on the main campus; however, all the first classes were taught at his personal vineyard.
The first building for the program was constructed in 2002, west of Salem. Officials named the facility Northwest Viticulture Center. Its vineyard was first planted a year earlier and was complete over several years. The vineyard is 8 acres and planted to Pinot Noir, Gamay Noir, Pinot Gris, Pinot Blanc, Riesling, Sauvignon Blanc, Tempranillo and Syrah.
I teach a vineyard practices series, which involves students taking care of the vineyard from pruning through harvest. My class is filled with enthusiastic students who own vineyards or want to enter the industry. Additional classes and sessions are being evaluated for the future.
Demographics in the program range from ages 21 to 65 with equally varied backgrounds. According to MacDonald, approximately 400 students have gone through the vineyard management and winemaking programs since inception. Students can earn a one-year certificate in vineyard operations or two-year (AAS) degrees in vineyard management, winemaking or wine marketing.
With a generous donation from the Erath Family Foundation, a second building was completed in 2009 with offices and a teaching lab. There's also a professional winery on site, used by students to make commercial wines.
Enologist Barney Watson teaches students everything about winemaking, from harvest to bottle. Watson started teaching at Chemeketa in 2004 after teaching and doing research at Oregon State for many years.
Now, OSU has developed its own viticulture and enology program in which students can take several classes specific to viticulture or winemaking to earn a four-year degree in viticulture and enology, or students can pursue advanced degrees. Led by Neil Shay, a new institute was established on OSU's campus called the Oregon Wine Institute, a collaboration between OSU, the industry and the USDA.
As Chemeketa evaluates its first decade of viticulture and enology studies and readies to plan for the next 20 years, a new program has been established farther south.
Directed by Chris Lake, the Southern Oregon Wine Institute was established in 2008 at Umpqua Community College with substantial industry support. Recently opened in March, SOWI's new state-of-the-art facility, named the Danny Lang Teaching, Learning & Event Center after one the center's largest benefactors, is 24,000 square feet, LEED-certified, and houses a variety of educational programs, services and businesses designed to guide students and support growers and winemakers throughout the area. The center includes a partnership arrangement with ETS labs, an event facility and a wine incubator to help artisans plan, launch and market their wineries, saving them significant start-up costs.
Their mission statement expresses long-term goals: "To create sustainable careers, partnerships, industry support, and economic development within the Southern Oregon wine business cluster through education and training."
The program offers one-year certificates and also a two-year AAS degree. The classes are taught in a hybrid format with online lectures and' hands on 'in class labs.
These educational programs, along with others in Washington (see side bar), play an important role in the growth and sustainability of our wine industry. They have the ability to lift the industry to new heights by providing a well-trained workforce, bringing new technologies and ideas to the industry and providing those who are curious a chance to expand their knowledge.
Northwest Schools
OREGON
Oregon State University Viticulture & Enology Studies
Location: Corvallis
http://wine.oregonstate.edu
Oregon Wine Research Institute
Location: Corvallis
www.owri.org
Chemeketa Community College / Northwest Viticulture Center
Location: Salem
www.chemeketa.edu
Umpqua Community College / Southern Oregon Wine Institute
Location: Roseburg
www.sowicellars.com
WASHINGTON
Washington State University Viticulture & Enology Studies
Location: Richland
www.wine.wsu.edu
Walla Walla Community College / Walla Walla Enology & Viticulture Center
Location: Walla Walla
www.wwcc.edu
Yakima Valley Community College Vineyard & Winery Technology Program
Location: Yakima
www.yvcc.edu
Classes/Events
April 14
Spray Program Design Workshop
Chemeketa/NW Viticulture Center
All Day | 503-584-7278
April 17
Effective Spraying of Vineyards
Chemeketa/NW Viticulture Center
All Day | www.owri.org
April 19
Effective Spraying of Vineyards
UCC/SOWI Danny Lang Center
All Day | www.owri.org
May 15
Open House & Barrel Tasting
Chemeketa/NW Viticulture Center
4:30 to 7 p.m. | 503-584-7278
June 7
SOWI/OSU Extension Service Umpqua Grape Day
UCC/SOWI Danny Lang Center
8 a.m. to 5 p.m. | www.sowicellars.com
June 12
SoWine 3: Southern Oregon Wine Marketing and Sales Conference
UCC/SOWI Danny Lang Center
All Day | www.sowicellars.com
June 18–22
American Society for Enology & Viticulture National Conference
Portland Marriott Downtown Waterfront
All Day | www.asev.org