Piquantly Pinot Gris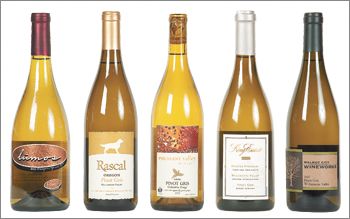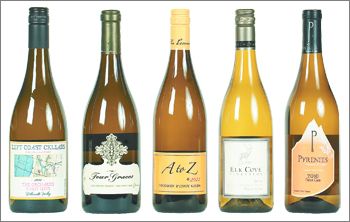 The second most planted winegrape in Oregon has many advocates. It's easy to work with and ready to drink early as is reflected in the predominance of 2010 and 2011 wines among this month's selections.
We found this group of wines to be approachable charmers and crisp, tasty sippers. But we'd like to see more examples that possess the intensity of fruit and depth of character found in the Alsatian cousins they seek to emulate.
Lumos 2011 Rudolfo Vineyard Pinot Gris, Oregon • $17 (1,016 cases)
The term 'elegant' isn't typically seen in connection with Pinot Gris, but this example delivers a polished package combining floral aromas, fleshy fruit, a creamy soft palate and tart zestiness. All in all, a very classy experience.
Rascal NV Pinot Gris, Willamette Valley • $7 (10,000 cases)
Produced by McMinnville's Stone Wolf Vineyards under its subsidiary, The Great Oregon Wine Company, Rascal has a soft, creamy texture with a hint of sweetness complementing fresh, mineral and tropical fruit flavors. In summation, it's a dangerously delicious drinker at a rock bottom price.
Pheasant Valley 2010 Estate Pinot Gris, Columbia Gorge • $20 (196 cases)
Vanillin, burnt butter and a hint of honeysuckle on the nose suggest new oak. Accents of pine sap lend additional aroma interest leading to a creamy mouthfeel where tropical fruit and butter merge in a rich yet lively palate.
King Estate 2010 Pfeiffer Vineyard Pinot Gris, Willamette Valley • $22 (235 cases)
A limited bottling from Oregon's largest winery, this wine has immediately appealing aromas of tangy apple and pineapple. Good acidity brings balance and a bright overall taste impression. Hopefully, its 82,500-case cousin, King Estate's 2010 Signature Pinot Gris, offers similar attributes.
Walnut City WineWorks 2010 Pinot Gris, Willamette Valley • $15 (423 cases)
Good things are going on here beginning with an upfront aroma of rose petal and orange zest. Minerality complements the grapefruit citrus element as a tart, crisp tang lends zest throughout, leading to a long finish.
A to Z Wineworks 2011 Pinot Gris, Oregon • $12 (41,000 cases)
Large production doesn't necessarily mean cutting back to the basic model. A to Z Wineworks may source from around the state and do a lot of blending, yet they come up with a winner that's crisp and clean, laden with lime and grapefruit, finishing long and citrus-fresh.
Left Coast 2011 The Orchards Pinot Gris, Willamette Valley • $18 (1,780 cases)
Even though light-bodied, there's plenty of there, there. Perfumed floral enticement on the nose is followed by fresh, tropical fruit made lively by zesty acidity. A very enjoyable, easy-to-drink wine.
The Four Graces 2011 Pinot Gris, Willamette Valley • $20 (5,000 cases)
In this case, the term quaffability is meant in the very best sense. The wine's light, bright, clean impression makes you want to continue sipping for the satisfaction. Tropical fruit says mango, stone fruit leans toward apricot. Sum total equals tasty.
Elk Cove 2011 Pinot Gris, Willamette Valley • $19 (16,770 cases)
One of the state's leading producers of Pinot Gris, Elk Cove's latest release has the seductive scent of pear leading to a fruity mouthfeel featuring watermelon and lime. Clean and well balanced throughout. $19 (16,770 cases)
Pyrenees 2010 Pinot Gris, Umpqua Valley • $18 (70 cases)
Like its lofty name, aromas and flavors overlap in a cascade of fascinating profiles reaching for the heights on several levels. Grapefruit and lemon zest enliven with citrus. Honeydew melon and spice lend lushness. Butterscotch and cream add richness.
The Oregon Wine Press tasting panel has selected the following wines based on overall quality and value within their respective categories. To the best of our knowledge, they are currently available in the marketplace. Wine must be: 1) produced by an Oregon winery; 2) priced (retail) $30 or less for reds, $30 or less for Chardonnay, $30 or less for dessert and sparkling wines, and $25 or less for remaining varietals; and 3) currently available to consumers. Recommended wines were selected using a double-blind method and a 20-point ranking system for appearance, aroma, taste, balance and finish.