Big Fire Turns 10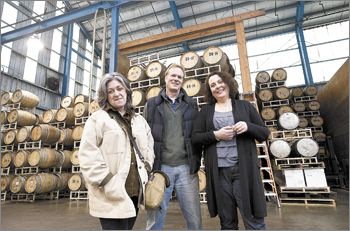 By Karl Klooster
Anyone driving on Fifth Street east from downtown McMinnville can't miss the big building on the north side of the street. It's several stories tall, adjacent to the railroad tracks, has huge roll-up doors and not a single window.
At first impression, it might be mistaken as a manufacturing plant for sailboats — huge ones. The subtle signage decorating the front facade reads "Big Fire. R. Stuart & Co." Hmmm, Big fire, not big boats.
Pondering the mystery of what lies behind those doors could conjure up all sorts of possibilities. Once they're opened even part way, however, multi-tiered racks of oak barrels and rows of stainless steel tanks proclaim "winery" without doubt.
To the already wine-wise, "Big Fire" was the only clue needed. This label from R. Stuart has solidly entrenched itself in the marketplace since its first releases hit the streets in 2002.
As for the "R," it stands for winery co-founder and winemaker Rob Stuart, who acquiesced to all the attention after his wife and their two business partners insisted they needed a frontman around whom to spin the marketing spiel.
They couldn't have asked for a better image. Stuart caught the wine bug at 17 years old and had been immersed in the industry for 20 years before his name ever appeared on a wine label.
Deflecting the possibility of any raised eyebrows in regard to such a tender age, he explained that this enological encounter occurred in England, where the legal drinking age is 18, so he was "almost" legal.
As it happened, his older brother's father-in-law was a worldly Serb who lived in southeastern England and grew winegrapes. Having recently graduated from high school, Stuart embarked on a European adventure, which included a visit to his shirttail relative.
"His name was Jezdimer Miljkovic," Stuart said. "He was a very successful engineer with a fabulous wine cellar. I got to taste great Burgundies, Bordeauxs, Cognacs and Armagnacs. I was spoiled by the best wines."
Four years later, with a degree in biochemistry from Rensslaer Polytechnic Institute in New York, he returned to England. The year was 1976, and Miljkovic had planted 20 acres of new vines that spring.
It turned out to be one of the hottest summers on record, with drought conditions that might have spelled potential disaster for the newly planted grapes. "I volunteered to help him out." Stuart said. "It turned into a summer-long job.
"We went up and down between the rows again and again, hoeing around the vines and dragging lengths of garden hoses behind us, trying to keep those suckers alive.
"Since there are a lot of airborne diseases in that cool climate, it was also my job to strap on a five-gallon backpack sprayer once a week and spray the entire vineyard. But I did get a great suntan out of it. In fact, at the pub, they started calling me the blond Pakistani."
Returning home, he found a position doing biochemistry research at Baylor University in Waco, Texas. He then headed west to learn more practical skill by studying enology at U.C. Davis. With that, the winemaking die was cast.
After completing his studies, he landed a job in the Napa Valley with Hanns Kornell Champagne Cellars, which offered an opportunity to pursue in depth the inner workings of another nascent wine passion.
While in England, he had also been introduced to sparkling wine via the high road. His Serbian host was a fan of Bollinger, one of the grand old houses of Champagne.
When he was served a 1961 Bollinger in a flute glass, he experienced an epiphany of sorts. There would be no turning back after tasting bubbly at its best.
Rob's older brother had moved from Western New York to Southern Oregon, as had four of Stuart's five other siblings. It wasn't long before he followed. A winemaking position at Valley View Vineyards in Jacksonville kept him there for three years.
In 1984, he got an offer to become head winemaker at Staton Hills, a new winery in Yakima, Wash. That proved to be a 10-year stint, during which time he attended the International Pinot Noir Celebration in McMinnville.
It was a fateful visit for the young winemaker whose love for Pinot in both still and sparkling forms would soon be augmented by an even greater love. At that 1990 IPNC, he met a wine rep from Chicago by the name of Maria Czamanske.
Marilyn Webb and Terry Casteel of Bethel Heights Vineyards were catalysts in bringing the couple together. Maria had won a trip to IPNC, which included lodging at Marilyn and Terry's home. They introduced her to Rob.
The two found an immediate mutual attraction and overcame the apparently minor inconvenience of long distance dating to solidify their relationship. In 1992, they were married at the Flying M Ranch west of Yamhill.
Two more years went by for them in Yakima before a call came from Terry. He told Rob that Dick Erath was looking for a winemaker. It wasn't long before the Yamhill Valley became the Stuarts' new home.
Maria's abilities also landed her a spot at Erath, and they settled in to the task of producing and promoting the pioneer winemaker's wines. In the process, they also became acquainted with an energetic woman from Atlanta.
Trish Rogers worked for an Atlanta wine distributor and was doing a fabulous job selling Erath's wines there. In 1999, Erath asked if she'd like to be his national sales manager. She said yes.
From that point forward, a tight trio of colleagues and close friends was formed. It soon became evident that Erath planned to sell his winery. Rob, Maria and Trish began working on their own plan to go into business together.
As a team, they possessed all the skill and experience necessary to run a winery operation. But sufficient capital to get under way posed an impediment. At that point, a fourth partner, Frank Blair, entered the picture.
Rob and Frank had already undertaken an interesting project together. With Erath's blessing, they had used the winery to make a batch of high-end sparkling wine.
A successful Chicago-based investor, Blair favored the bubbly as much as Rob. He also had a high regard for the three people who approached him with a proposal. "Frank was there for us," Trish said.
"We knew we needed a quick infusion of cash flow. The 2001 vintage was one of the largest up to that time. Dick had a boatload of Pinot Noir and Pinot Gris I had made for him," Rob said.
"We bought it, launched the Big Fire label and Trish got most of it placed for us before it was even in the bottle. We sold about 3,000 cases that first year."
That same year, 2002, they also found their new home. The former grain processing and storage building on N.E. Fifth Street stood empty. With a drainage system, insulation and upgraded power supply, it was ready to become a winery.
Their facility in place, the next key element was to secure long-term contracts for grapes. Not owning vineyards themselves, those relationships are crucial, and Stuart has made certain of their strength through mutual respect and benefit.
An additional element in the marketing effort is the R. Stuart Wine Bar on Third Street in downtown McMinnville. Maria said their philosophy is to go far beyond being simply a winery tasting room.
"Our aim is to offer an inviting, bistro-style experience that will attract local people as well as tourists. You can come in alone or with friends, have a glass of wine, an espresso or microbrew and a tasty, creative bite to eat in a casual, relaxed atmosphere."
For the 2011 vintage, R. Stuart is projected to bottle 22,000 cases. As currently configured, the winery's max output is about 30,000 cases.
"We'll be there fairly soon, and we're pondering how much more we want to grow," Rob said. "The final decision hasn't been made yet, but we've positioned ourselves well with Big Fire and our other brands. The future looks quite positive."
R. STUART & CO. WINE BAR
Address: 528 N.E. Third St., McMinnville
Hours: Tues.–Wed.: noon to 6 p.m.; Thurs.–Sat.: noon to 8 p.m.
Phone: 866-472-8614
Website: www.rstuartandco.com