Cellar Awards Go Global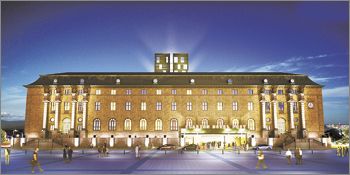 By Karl Klooster
The Oregon wine industry's efforts to spread the word about the state's world-class wines have resonated on faraway shores. And that fact has created the opportunity for the Superior Cellars Awards program to recognize two restaurants well beyond our national boundaries.
Interestingly, our honorees couldn't be farther apart geographically. One is across the Atlantic in Gothenburg, Sweden, which the Swede's call Göteborg — Sweden's second largest city. And the other is across the Pacific in Tokyo, the world's largest metropolis with 35 million residents.
Neither country grows winegrapes or makes wine. Japan makes saké while Sweden makes akvavit or aquavit. But in both countries, a sizable and growing portion of the population has embraced the enjoyment of top quality wine.
Capitalizing on this fact, entrepreneurial restaurateurs in both countries are creating fine dining experiences featuring wines that exude the exotically foreign cachet of Oregon. Oregon? Exotic?
This is something Pacific Northwesterners may find difficult to fathom. To better understand it, simply turn the tables around. Picture a visit to Sweden and Göteborg, which hugs the shores of the North Sea or a trip to Tokyo and the land of the rising sun.
In partnership with the Oregon Wine Board, OWP is proud to present the first-ever global Superior Cellars Award winners.
Clarion Hotel Post Norda Bar & Grill
Gothenburg, Sweden
The Clarion Hotel Post calls itself "a modern hotel firmly rooted in history." Created from the historic post office on Drottningtorget in Gothenburg, the hotel incorporates furnishing and fixtures from the original neo-classical style building.
The new hotel with a proud historic heritage opened Jan. 26, 2012.Within its confines is the Norda Bar & Grill, a dynamic visual experience featuring a large, open kitchen that establishes a connection between diners and the food.
Entrées are accompanied by hearty side dishes that draw inspiration from American-style steakhouses. The grill-focused menu features a daily roast chosen from superior quality meats along with Sweden's traditional seafood served in a rustic fashion.
Following the trend that has swept America in recent years, the menu will focus on local fare with a farm-to-table approach.
Wines are such an important part of the Nordia dining experience, they have been incorporated into the restaurant decor. The Wine Wall is an architectural design element that not only attracts attention but also defines the space.
As well as serving its practical use for display, storage and service, the Wall acts as an arresting visual component. Lighting designers have used imaginative techniques to highlight wine hues, thus creating a uniquely colorful atmosphere.
The restaurant's wine list, an extensive collection offering selections from around the world, features 26 reds and 10 whites from Oregon, making it clear you can find an excellent representation of the Beaver State in Sweden.
The Oregon Bar & Grill
Shiodome, Tokyo, Japan
"Spread the grace and soul of Oregon to all," is the motto of Tokyo's The Oregon Bar & Grill. According to one writer, it's currently one of the city's best-kept secrets but may not remain that way much longer.
Situated on the 42nd floor of the Shiodome City Center Building in a southern section of Tokyo, locals and visitors alike are treated to stunning views to accompany the savory and succulent tastes of our own Pacific Northwest state.
It is designed to replicate an American steak and seafood restaurant serving aged U.S. beef grilled over charcoal and fresh Pacific seafood with Oregon wines. The chefs at the Oregon Bar & Grill traveled to Portland where they were trained by the folks at Jake's Grill.
This instruction took place while Bill McCormick and Doug Schmick were still at the helm of their namesake restaurant chain, so Tokyo has Oregon to thank for that as well. The chain's buyout by Houston-based Lawry's was completed at the first of this year, severing local decisions at that level.
"With love from Oregon", a popular Japanese TV series that aired from 1984 to 1996, served as an inspiration for the restaurant. And a level of authenticity that envisions a culinary visit to the beautiful Oregon coast is what the owners are striving to achieve.
Its Oregon wine selection could be called eclectic. It ranges from the costly but exceptional 2005 Beaux Frères Pinot Noir at 22,000 yen ($263) to a Mystic Wines Merlot at 7,000.
Other oldies but goodies include a trio of Pinots —Domaine Serene 2003 Evenstad Reserve Dundee Hills, Witness Tree 2004 Willamette Valley and Henry Estate 2002 Umpqua Valley.
While the Beaux Frères may be one for the expense account, Mystic Wines Merlot or Syrah offered at about a third the price could be the perfect choice as the sun goes down and the lights come on in Tokyo's most exclusive shopping district.
Remembering that Tokyo is one of the most expensive cities in the world, if you're still thirsty after a bottle of Oregon's best has set your pocketbook back a bit brutally, you can always order a Miller for about 400 yen.