A Greater History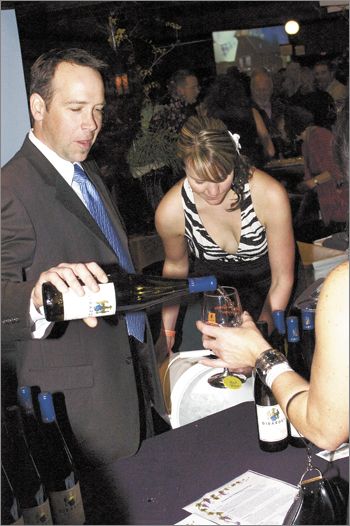 By M. Kim Lewis
Anticipation mounted when I learned all 650 tickets sold out the week of Greatest of the Grape. At $75 a pop, this was no small achievement for a wine and food festival fundraising event.
The night of the event, March 9, hundreds of attendees waited anxiously outside the ballroom of Seven Feathers. They arrived in style as if it were a Las Vegas casino, not one in Canyonville.
I was whisked ahead for an early VIP entry where, as a reporter, I would be one of the first to preview the 28 premium Southern Oregon wineries readying to pour. Against a backdrop of classy décor, 14 gourmet food stations filled with Douglas County's finest chefs, caterers — and even culinary students — were also prepared for the Saturday evening affair. The place smelled great and looked stunning.
Greatest of the Grape is an event that started humbly and has continued successfully for 42 years.
"It is really by far the granddaddy of modern-day wine festivals in Oregon," said Pat Spangler, president of the Umpqua Valley Wine Association and former board president of Southern Oregon Wine Association. "Remarkably, it is the first of its kind on the whole West Coast, including California.
"Back when the Napa Valley was just cow pastures, the rebirth of the modern wine industry 'took root', so to speak, in the Umpqua Valley just up the road near Roseburg."
In May 1970, Paul Bjelland of Bjelland Vineyards and Richard Sommer of HillCrest Vineyards pioneered this unique wine celebration in the Umpqua Valley. The inaugural event included a private "wine-tasting supper" at the Umpqua Hotel followed the next day by public wine sampling and educational displays at the Douglas County Fairgrounds.
The News-Review published a special "Vintage Edition," April 29, 1970, just days before the first Oregon Wine Festival, as the event was originally called. Sommer wrote several of the articles, including one titled, "Why Plant Wine Grapes?" He explained how Oregon was an important wine region despite competition from California. Bjelland and Sommer were visionaries, forging their way into the modern wine renaissance happening on the West Coast, according to Dorothy Williams, event organizer.
Featured chefs at the Greatest of the Grape are asked to create a dish to pair with a wine they selected from two of the 28 wineries; then guests vote for the best pairing. This year, the People's Choice award was given to Rogue Valley's Trium 2009 Cabernet Sauvignon matched with Kobe beef Wellington with Cabernet demi-glaze by Joe Monkey Café of Roseburg. The combination was rich and mouthwatering.
In the wine competition, Abacela 2007 Tempranillo Reserve won the People's Choice in the red category. The white was awarded to Glaser Estate Muscat. Both wines also won gold medals from the professional judges.
The exclusive Platinum Wine Award went to Bradley Vineyards 2009 Riesling, which was paired with the food judges' award for "Best Food," a Szechuan chicken salad in a phyllo cup by Fine Things Catering of Roseburg — it was also by far one of my favorites of the night.
Later in the evening, I chatted with John Bradley of Bradley Vineyards. Having just shared a bottle of his winning 2009 Riesling, I was firmly impressed by his own pioneer story.
"[The town of] Elkton had little to do with the wine industry in 1986 when I planted my grapes," Bradley said. "The German-style cooler climate I found in Elkton, just 30 miles from the coast, seemed ideal."
While Bradley produces only 500 cases a year, he makes it a point to participate in festivals across the state, during which he always attracts new fans. At the 2011 McMinnville Wine & Food Classic, a professional panel of judges chose Bradley's 2008 Pinot Noir as "Best of Show" — it competed against 198 wines.
With a number of pioneers, past and present, the Umpqua Valley looks forward to more impressive vintages and the 43rd Greatest of the Grape, March 2, 2013.
2012 GREATEST WINNERS
People's Choice for Wine & Food Pairing — Winner: Trium 2009 Cabernet Sauvignon paired with Kobe Beef Wellington with Cabernet Demi Glaze by Joe Monkey Caffe of Roseburg. First Runner Up: Abacela 2007 Tempranillo Reserve paired with Marcona Almond-Stuffed Date Wrapped with Serrano Ham by The Mark V of Roseburg.
Judges' Best Food — Winner: Szechuan Chicken Salad in Phyllo Cup by Fine Things Catering of Roseburg. First Runner Up: Furikaki Seared Tenderloin with Bhut Jolokia Sauce by A Couple of Chef's Catering of Roseburg.
Judges' Best Booth Presentation — Winner: Joe Monkey Caffe. First Runner Up: Cornucopia of Eugene.
Professional Judge's Awards for Wines — Platinum: Bradley Vineyards 2009 Riesling. Gold: Abacela 2007 Tempranillo Reserve; Glaser Estate Muscat; Misty Oaks Vineyard 2009 Gobbler's Knob Red Blend; Pyrenees Vineyard & Cellars 2010 Sauvignon Blanc. Silver: Chateau Lorane 2010 Sauvignon Blanc; Daisy Creek Vineyard 2009 Malbec; Delfino Vineyards 2009 Syrah; Henry Estate 2009 Winemaker Reserve Pinot Noir; Sienna Ridge Estate 2008 Riesling; Trium 2009 Cabernet Sauvignon
People's Choice "Best White" Winner: Glaser Estate Muscat. First Runner Up (tied): Becker Vineyard 2011 Müller-Thurgau; Girardet 2011 Estate Grown Riesling.
People's Choice "Best Red" Winner: Abacela 2007 Tempranillo Reserve. First Runner Up: HillCrest Vineyard 2009 Pinot Noir Memorial Cuvée.
Greatest of the Grape Award: Winner: Abacela 2007 Tempranillo Reserve