Bright Lights, Big Q&A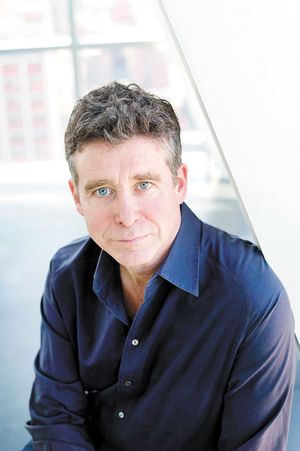 Jay McInerney, born Jan. 13, 1955 in Hartford, Conn., is a celebrated American novelist and wine writer. He studied writing with Raymond Carver and once worked as a fact-checker at The New Yorker.
He achieved fame with his first published novel "Bright Lights, Big City." Released in 1984, the novel was unique at the time for its depiction of cocaine culture in second-person narrative. The book's title is taken from a 1961 blues song by Jimmy Reed.
The novel established his reputation as part of a new generation of writers. Labeled the 'literary brat pack' in a 1987 article in The Village Voice, McInerney and authors Bret Easton Ellis and Tama Janowitz were presented as the new faces of literature: young, iconoclastic and fresh.
His other novels include: Ransom (1985), Story of My Life (1988), Brightness Falls (1992), The Last of the Savages (1996), Model Behavior (1999) and The Good Life (2006). "How It Ended" (2009), a collection of short stories spanning his entire career, was named one of the 10 best books of the year by The New York Times.
McInerney has written for numerous literary and popular publications, including New York Magazine, Vanity Fair, The New Yorker, The New York Times Book Review, The Guardian and others.
Successfully straddling genres, McInerney wrote the screenplay for the film "Gia," for which Angelina Jolie won a Golden Globe. He also wrote the 1988 film version of "Bright Lights, Big City," starring Michael J. Fox.
Since April 2010, he has written a wine column for the Wall Street Journal. From 1996 to 2007, he wrote a monthly wine column for Condé Nast's House & Garden. Many of those columns were collected in "Bacchus and Me" (2000) and "A Hedonist in the Cellar" (2006). In 2006, McInerney won the James Beard MFK Fisher Award for Distinguished Writing.
Both his latest books delve into wine.
The first, "The Wine Questionnaire," was published in February by Assouline. McInerney reworks Proust's handy interview helper in order to ask celebrity oenophiles everything about wine.
The second is yet to be published. On May 8, 2012, McInerney will release his latest wine book, "The Juice: Vinous Veritas." The collection of essays provides a master class in the many varieties of wine, as well as the people and places producing it all the world over, from the historic past to the often-confusing present. Visit www.jaymcinerney.com for more information about this book.
McInerney is the father of two children, Barrett and Maisie, and is married to Anne Randolph Hearst. He divides his time between Bridgehampton, New York, and New York City.
OWP: How did you first get interested in wine?
JM: I first got interested in wine through reading Hemingway, and Evelyn Waugh, in particular, made me feel that wine was a great worldly pleasure. I also liked the fact that my parents didn't drink wine — as a teenager, I didn't want to be like them in any way. Later, while I was writing my first novel, I worked part time in a wine store in Syracuse, New York, and I used to take a bottle home to sample after work, gradually working my way up from the two-dollar Yugoslavian Cabernet up to the five-dollar Spanish Cava.
OWP: What is one of your most memorable wine experiences?
JM: I have more memorable wine experiences than I can enumerate. A bottle of Lancers Rosé on my very first restaurant date would have to be right up there. A bottle of 1990 Jaboulet Hermitage La Chapelle on Sept. 11, 2001, when I thought the world might be coming to an end, was particularly memorable. A 1955 La Mission Haut-Brion served to me on my 40th birthday at a friend's apartment on Park Avenue remains one of the greatest wine experiences of my life.
OWP: What are your favorite wine regions? Producers?
JM: Burgundy is probably my favorite region, though it's far from the most beautiful wine region I've visited. That honor would probably go to Stellenbosch in South Africa. My favorite Burgundian producers include Dujac, D'Angerville, Lafarge, Fourrier, Bachelet, Mugnier and Mugneret-Gibourg.
OWP: What is your overall impression of Oregon wine? Any favorite producers?
JM: I am a big fan of Oregon Pinots. They tend to have a restraint and balance that's often lacking in California pinots. I like Archery Summit, Beaux Frères, Cristom, Domaine Drouhin, Evening Land, Eyrie and John Thomas, among others.
OWP: How does writing a novel compare to writing about wine?
JM: Writing about wine is very different than writing novels, and it's a welcome change of pace. Fiction is tough — I'm trying to reinvent the world and make my version convincing to others. Writing about wine is sheer pleasure. My day job probably shapes the way I write about wine, though — I like writing about the people who make it, and I like finding new metaphors for the experience of tasting great wine.
OWP: What is your approach to describing wine?
JM: Since I was never formally trained as a taster, and since I have always wanted to write for a broad audience, I have tried to avoid traditional tasting language and to come up with new metaphors and similes. I like to compare wines to models, actors, poems, pop songs and automobiles. Somehow, everyone seems to know what I mean when I compare a Chardonnay to Pamela Anderson or a Petite Syrah to a Chevrolet Suburban.
OWP: What wine descriptors do you particularly like and/or despise?
JM: I find specific floral descriptors to be kind of tedious, since I don't really know much about flowers, though I think honeysuckle is one that most of us can identify. Sometimes, though, I think it makes sense to describe a wine as floral, but when a critic compares the nose of Condrieu to a May blossom, they've lost me. I tend to like the way French winemakers, most of whom are still men who have no sense of political correctness, inevitably compare wines to women.
OWP: Which wine writers or bloggers do you follow?
JM: Jancis Robinson is fantastic; I love her website and her books. I think Eric Asimov is doing a great job at The New York Times, although I wish they would just let him do his own thing and get rid of the whole tasting panel concept. Big yawn. Matt Kramer is always fascinating and iconoclastic. Allen Meadows, the Burghound, is indispensable for Burgundy lovers. John Gilman is a real rising star with a great palate. Chris Kissack, www.winedoctor.com, is great on Bordeaux and the Loire.
OWP: Your new book, "The Juice: Vinous Veritas," will be released in May. What's your favorite essay in the book and why?
JM: My favorite essay, by far, is the last one, written specifically for the book. Called "Travels with Lora," it documents my 12-year collaboration with Lora Zarubin, the former food editor of Condé Nast House & Garden, with whom I traveled around the world learning about wine and food.
Visit www.jaymcinerney.com for details about "The Juice" and McInerney's other works.