To Air is Vinous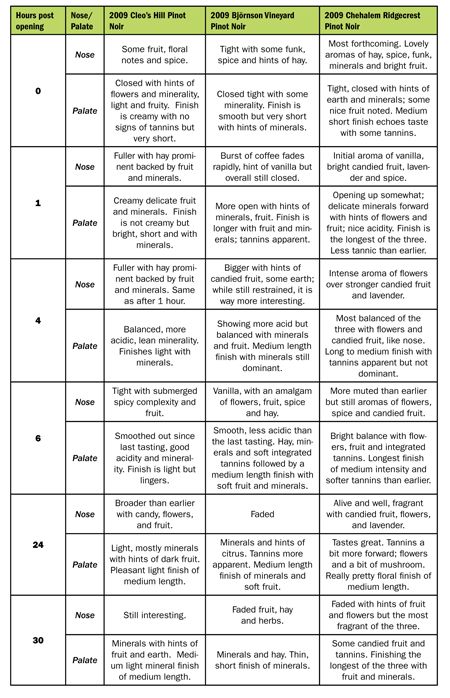 By Neal D. Hulkower
I was given a bud and left to imagine the open flower. A bottle of 2000 single-vineyard Pinot Noir from a prestigious Willamette Valley producer had just been opened and a taste was poured.
The liquid had been sealed in a bottle for over a decade and needed some time to stretch its legs and acclimate to its new, open environment. I vigorously swirled the ounce, or so, in hopes of accomplishing in a few moments what usually takes a few hours … but to no avail. As is typically the case, the last few drops teased my nose and palate, hinting at what was still locked away.
In tasting rooms, economic concerns dictate not only when to open a bottle, especially a rare and expensive one, but also how long to serve one that has been open for a while. Bottles are typically kept a day, two at most. In my experience, bottles that have been open overnight tend to display much more interest the following day. This is the case for whites as well as reds.
At home, I tend to open and decant bottles two to three hours prior to when I plan to serve them. I not only do this for older wines that have sediment, but also for younger ones that require some breathing. But even with this exposure, sips sometimes taken many hours after decanting invariably are the most satisfying.
However, decanting has its detractors. In his classic, "The Taste of Wine," Émile Peynaud insists that exposure to oxygen can be harmful to wine. He writes, "Only bottles which have a deposit need to be decanted, whatever the nature of the deposit and whatever the age of the bottle. Consequently, a bottle which has no deposit can be served straightaway."
Wine Spectator's Daniel Sogg has a different approach with a more balanced perspective. He observes, "Essentially, it's about reference frames. Decanting doesn't alter tannins. But as undesirable compounds dissipate, fruit seems to intensify, which gives an impression of softened structure. It's often the case in wine that the presence of one compound influences the way another is perceived."
While much of the discussion focuses on red wines, Sogg also notes that whites can benefit from aeration. Consonant with my personal experience, he cites German winemaker Johannes Selbach's observations about how much better high-end Rieslings taste the day after opening. I have experienced how, overnight, a dessert Riesling shed the greenness of youth to become a fully complex delight.
At the opposite extreme of Peynaud's practice is the custom in Italy's Piedmont of opening a bottle of Barolo to drink with company and saving a third of it for a later visitor. In his marvelous memoir, "Passion on the Vine," Sergio Esposito shares his experience as the second guest.
"Bartolo pulled out a magnum, one-third full of his 1978 vintage. "'I drank this with a friend two weeks ago,' he said, and he poured me a glass. The wine is probably dead, I thought. You can't keep a wine for that long. But I'll try it. I picked up my glass, swirled it, smelled it. Impressive, I thought. Tight, well structured."
Esposito, bound by tradition to follow the older man's lead, remembers his frustration at needing to wait well over an hour until the winemaker took a sip.
"I put the glass to my nose … abruptly, the wine was no longer what I'd first perceived. I wasn't in a world of recognizable perfumes and sensations. I was in a complex labyrinth in which nothing made sense … this was the magnificence of Bartolo's wine. It was constantly morphing, evolving, impossible to know entirely."
In April 1977, I opened a bottle of 1947 Chambertin from Pierre Ponnelle about 18 hours before it was served. It did not show as well as another I opened in December of the same year and aired for only 2 hours. Could it have been that the wine in the first instance had faded due to overexposure to oxygen?
In 2010, the staff at Château Haut Brion recommended that I decant a bottle of the 1970 just before serving and not in advance. I did so and over the next hour my guests and I enjoyed an olfactory and gustatory kaleidoscopic experience that reminded us why we should drink more aged Claret. While the last drops in each of glasses were certainly among the most enjoyable, I am happy to have followed the advice from the source and not aired the wine in advance. As Sogg sagely suggests: "Generally speaking, discretion is the better part of valor for bottles 15 or more years old."
My wife, Clara, and I conducted the following "gedankenexperiment" to see how three 2009 Oregon Pinot Noirs behaved after opening over a 30-hour period. We selected Cleo's Hill from the Murto Vineyard, Dundee Hills; Björnson Vineyard, Eola-Amity Hills; and Chehalem Ridgecrest from Ribbon Ridge.
Each was opened but not decanted. Samples were poured into Riedel Oregon Pinot Noir stemware and tasted immediately after opening; and then, one, four and six hours later, with additional wine added to the glasses as needed. The glasses were drained and cleaned before sampling again 24 and 30 hours after opening. Each bottle was left open overnight with no stopper. The accompanying table chronicles our assessment of the nose and palate at each of the six tastings.
Ridgecrest, the darkest of the trio, was enjoyable one hour after opening and continued to delight one full day later. Only after 30 hours did it show signs of fading. Cleo's Hill, by far the lightest in color, essentially a dark rosé, surprised us with its staying power and was still interesting after 30 hours. And black cherry-colored Björnson hit its stride after four hours of air but had clearly faded the next day. Because of the acidity and minerality, each complemented our dinners over the two days very nicely and, not unexpectedly, exhibited nuances unnoticed when drunk alone.
So, what can we conclude from all this debate, research and experimentation?
While one should be cautious about opening an older bottle prematurely, I would say that in general, the next time you reach for a young red, be sure to pull the cork well in advance, for not to air is to err.
Neal D. Hulkower is a professional mathematician and avid wine collector and winery volunteer living in McMinnville.