Symposium's Big Move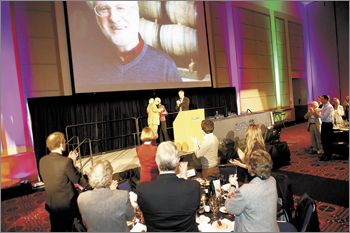 By Karl Klooster
On Tuesday, Feb. 21, I drove to Portland's central eastside for the day to attend the annual Oregon Wine Industry Symposium. The combination trade show and seminar series was strutting its stuff at the Oregon Convention Center for the first time this year.
Previously, the Eugene Hilton Hotel and Conference Center had been home to this major industry event. But increased attendance and demand for more vendor space necessitated the move to a larger facility.
The symposium offers a comprehensive, annual opportunity for members of the Oregon Winegrowers Association to interact with equipment suppliers and service providers — and, not incidentally, one another — all in one place.
The association, a member-based organization that advocates and lobbies on behalf of industry interests, teams up with the Oregon Wine Board, a state agency engaged in wine marketing, research and education initiatives, to sponsor this yearly gathering.
Michael Donovan of RoxyAnn Winery in Medford succeeded Sam Tannahill of A to Z Wineworks in Newberg as OWA president for the coming year, while OWB is being led by new executive director Tom Danowski.
Now in its ninth year, the symposium encompassed viticulture, enology, management and marketing in its jam-packed, two-day schedule. In all, it featured 11 seminars, four major presentations and an awards dinner.
With a new executive director, "What's in the works at the Oregon Wine Board" generated perhaps the greatest interest among the presentations.
OWB, whose mission is to assist the industry as a whole in selling more wine, has assembled a dynamic nucleus of promotional events and activities for the coming year.
They include an immersion tour for Seattle media in March, Unwine'd, a comprehensive industry tasting at the end of April, Oregon Wine Month in May, export events in Hong Kong, London, Japan and Canada and an expanded social networking effort.
A new visual icon for the Oregon wine brand was presented by Oregon Wine Board staff. It gives the wine industry a unified look, creates a system of marks and sets the visual platform for public messaging and a branding campaign.
"Inspired, local and sustainable," the story of retailer New Seasons, was also very well attended. Founded in 1999, the highly successful company boasts a widely admired operating philosophy.
Alternative packaging, cutting-edge viticulture software and production of great wines at a $20 price point also drew considerable interest.
The trade show featured 141 vendor booths spread over about 50,000 square feet — about 20 percent of the center's 255,000-square-foot capacity. When a giant like the annual auto show comes to town, all available space is put into play, so there is plenty of room for growth.
Simply walking around the floor shows what it takes to make this industry tick. An alphabetical listing of products and services on display provides a succinct overview of that encyclopedic array.
There were architects, attorneys, bankers, barrels, bottles, capsules, chemicals, consultants, contractors, corks, excavation service, fertilizer, filters, harvesters, insurance, labels, lab testing, metal fabricators, nurseries, packaging, pipes, presses, print media, pumps, shipping, software, storage, tractors and valves.
Vineyards and winemakers heard expert advice in seminars titled "Botrytis Management in theVineyard and Winery," "Juggling Pest and Disease through IPM," "Tannin: Not just Another Dry Topic" and "Under Cover: Vineyard Floor Management."
These one-liners, by the way, are about as good as it gets for wine-wise witticisms. Humor surrounding other subjects discussed while drinking wine is an entirely different matter.
Marketing and sales people soaked up advice on more scintillating subjects, including "The naked truth behind distribution: What makes a brand successful in the three-tier system" and "The smartphone revolution."
Comments from attendees reflected widespread appreciation for the move to Portland. Northwest Wine Co. co-owner and winemaker Laurent Montalieu declared unequivocally, "Portland is where we should be."
Jeff Meader, general manager of Oregon Wine Services and Storage, said, "The center provides perfect accommodations for the symposium. More space, convenient location. It's obvious that attendance is way up."
In fact, OWB reported nearly 1,300 attendees, a 25 percent increase. This year's vendor count was up 20 percent as well.
Tuesday's Industry Awards Dinner was prepared by guest chef Dustin Clark of Portland's Wildwood restaurant. It was a four-course affair paired with Oregon wines.
Highlighting the evening was the presentation of a Distinguished Lifetime Achievement Award to wine pioneer David Adelsheim of Adelsheim Vineyard. An audiovisual show recounted his 40 years of accomplishment and service to the industry.
A host of sponsors supported the symposium, led by four presenting sponsors — American Family Insurance, Pihl Excavating, TricorBraun WinePak and the law firm Stoel Rives LLP. They were joined by 29 supporting sponsors, including Oregon Vineyard Supply, Northwest Farm Credit Services, ETS Laboratories and Amcor Packaging.
Just a couple years ago, at the height of the Great Recession, gloom and doomers were predicting a broad scale demise, with wineries dropping like flies and vineyards changing hands at dirt cheap prices.
Happily, nothing of the sort has come to pass. As Oregon Vineyard Supply co-founder and past OWB president Kevin Chambers noted, "The Oregon wine industry has proven to be quite resilient."