Lights, Camera, Aging!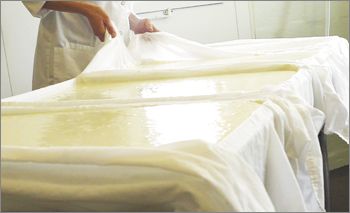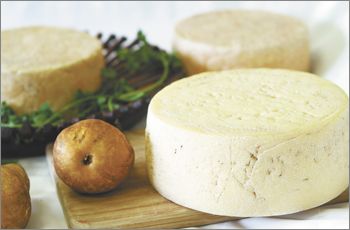 By Christine Hyatt
Last month, I embarked on one of my favorite kinds of adventures, a cheesy one.
Rolling down scenic country roads, I reconnected with old friends and met new ones while filming profiles and tours of nine Willamette Valley creameries — a second trip to Bend and Southern Oregon will follow in April.
The project will culminate in a series of video vignettes profiling the 19 maker-members of the Oregon Cheese Guild and informational segments about serving and pairing Oregon cheese.
The project is the "Know Your Farmer, Know Your Food" campaign, a USDA initiative designed to support and promote the emerging 'eat local' movement and telling the story of the people growing and producing our food.
The trip is a reprise of a similar project I did in 2007, only this time I had to split my time in half because there are simply too many cheesemakers to visit in a week — a enviable problem, no doubt.
There were some remarkable differences in the landscape this time with the arrival of a second wave of producers. In the last three years, eight new licensed creameries have joined Guild ranks. These newer members bring a diversity of vision and style to the mix.
The stories I captured from some of the state's newest cheesemakers were quite inspiring. While a few are mid-life career changers or those looking for a job to 'retire to', there is an emerging 'under-40' club. The paths of many in this next generation were directly influenced by parents in the cheese or food world.
Portland Creamery's Liz Alvis credits her mother, Ohio cheesemaker Jean Mackenzie of Mackenzie Creamery, as her inspiration to begin making goat cheese. Alvis learned techniques and other key aspects of goat cheese production from her mother, including the need to source high quality milk.
To that end, Alvis partners with (and produces cheese at) an award-winning local dairy farm that focuses primarily on genetics and breeding for superior milk. Sharing the responsibility for the dairy and the cheesemaking allows for a somewhat more manageable lifestyle, says Alvis. The possibility of a day off occasionally is important but remains a challenge for farmstead producers.
Farther south in Albany, Francisco Ochoa, owner of Ochoa's Queseria, credits his father and maternal grandparents for his lifelong dream of making cheese. Today, the company produces a range of high quality, fresh and aged handmade Mexican-style cheeses with milk from Lochmead Dairy in Junction City. The products are marketed throughout the northwest under the Don Francisco label, in honor of Ochoa's late father.
On the day I visited, I saw cheesemaking artistry in action as the team of four produced 500 pounds of Queso Oaxaca, an easy-melting string cheese similar to mozzarella.
It was incredible to watch the process of curd being formed, cut, hand stretched and wound into perfect orbs of deliciousness, ready for recipes or snacking. If you visit the storefront shop, don't miss the ancho chile and lime-seasoned cheese curds playfully named "Angry Curds." They are delicious.
Another Oregon success story with paternal inspiration and cheesemaking roots is Mariano Battro who makes his line of La Mariposa aged cheeses at Ochoa's Queseria on the off days. This partnership has helped Battro grow his business. He produces several distinctive aged cows milk cheeses, including Chubut, Cinco Esquinas and his newest product, Pleasant Hill, named after his wife Savannah's Oregon hometown.
Battro learned his craft at his father's creamery in Argentina and came to Oregon in 2005. Realizing that the region was great for dairy, Battro was quick to connect with Jan & Larry Neilson of Fraga Farm. He worked at Fraga for a number of years and continues to make cheeses at Fern's Edge Dairy in Lowell, southeast of Eugene.
This cross-cultural pollination and support among cheesemakers, near and far, has been instrumental in helping the Oregon cheese community refine and improve. Battro's father even traveled to Oregon to teach a class to Guild members and afterward hosted members in Buenos Aires.
Farther north at Briar Rose Creamery in Dundee, Sarah Marcus and Jim Hoffman recently completed a gleaming new facility complete with two aging rooms ready to receive the newly launched line of natural rind, aged cheeses made with milk from two nearby goat dairies.
The daughter of a cheese-loving food writer, Marcus suspected cheesemaking was perfect for her. To learn more, she apprenticed with cheesemakers in California, North Carolina and England for her formal training before relocating to Oregon with Hoffman, her husband and business partner.
The creamery sits just up the road from Torii Mor, Lange Estate and a host of other wineries in the Dundee Hills; and the couple has built a small cheese shop in the front of the creamery, welcoming passing wine tourists to stop by for a savory bite — but if you're seeking something sweet, don't miss their award-winning chocolate goat cheese truffles.
Quail Run Creamery, Oregon's newest licensed dairy, started in a more traditional way, as a family 4-H project. In the early days of the American cheesemaking renaissance, many people found that a teenager's interest led to an abundance of milk that needed to be used, as it was for Scott and Summer Catino of Gaston.
The Catinos, who both work for the local school district, embarked on their cheesemaking path when they fell in love with Nigerian Dwarf Goats. Fully grown, the animals weigh only about 60 pounds and produce ultra rich milk ideal for cheesemaking.
Gianaclis and Vern Caldwell of Pholia Farm, producers of fine aged cheeses using the same breed, advised the Catinos in the launch of their creamery. That sort of support underscores the community-minded ethos of Oregon cheesemakers. The farm produces a range of extra rich fresh chèvre with plans to add an aged product in the future.
No matter how many years I work in this industry, these visits are illuminating, affording a glimpse of what it means to choose the cheesemaking path. Seeing so many new faces in the mix and significant industry growth at a time when many sectors of the economy are tepid bodes well for the future of Oregon cheese.