Winchester Inn Gets 'Best Chef'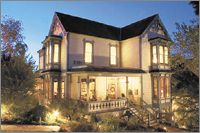 Through Pamela Lanier's B&B Guide (www.lanierbb.com), guests have chosen The Winchester Inn in Ashland as the winner of the 2012 "Best Chef" award for North America.
Lanier, a recognized travel expert and author of nine travel guides in 98 editions, is impressed with The Winchester experience and the Inn's owners.
"Warm, welcoming and full of character and charm, Michael and Laurie Gibbs offer exceptional hospitality and effort to go that extra mile," Lanier said.
Also on the 2012 honoree list was Wine Country Inn in Dayton, which won the website's award for "Best Near Wine Country" for North America.
For more information on The Winchester Inn and Wine Country Inn, visit www.lanierbb.com.