Great Throw, Gullo!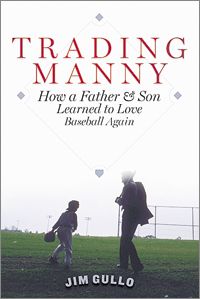 On March 13, Jim Gullo, editor and publisher of www.oregonwine.com, released his first book; but it's not about wine, food or travel. It's about America's first and favorite pastime.
In "Trading Manny: How a Father & Son Learned to Love Baseball Again," Gullo recounts a two-season journey — 2008 and 2009 — to try to answer the questions posed by his 7-year-old son, Joe, about steroids and baseball. The journey brought them face-to-face with players, baseball insiders, former stars of the game and fans like themselves who were also trying to come to terms with the sport's drug scandal.
To celebrate the book and the wine writer who wrote it, R. Stuart & Co. Wine Bar, 528 N.E. Third St., McMinnville, will host a book signing, April 21 at 5 p.m.
"Trading Manny," $23, is published by Boston-based Da Capo Press, a division of Perseus Books. Visit www.jim-gullo.com for more information.