Art of Chardonnay Tasting Notes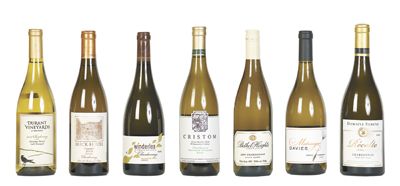 Here are some of the highlights of current or soon-to-be-released wines. This list in no way reflects all the wonderful Oregon-made Chardonnays but acts as a starting point.
UNOAKED
A to Z Wineworks 2010 Chardonnay, Oregon ($14) A sprightly and fun Chardonnay full of personality. Notes of Kiwi, papaya, banana, apple blossoms, candied ginger, verbena and coriander.
Chehalem 2010 INOX Chardonnay, Willamette Valley ($19) Taking its name from the French word inoxydable, meaning stainless steel, this wine is ripe with notes of cantaloupe, pineapple, green apple candy, lemon pound cake and slight savory spices in the zesty finish.
WillaKenzie Estate 2010 Clos Marco Chardonnay, Willamette Valley ($28) Hints of citrus, Granny Smith apples, thyme, fresh herbs, lanolin, sunflower seeds and white pepper entice the taste buds with a crisp minerality that pleases.
OAKED
Adelsheim 2010 Caitlin's Reserve Chardonnay, Willamette Valley ($45) Meyer lemon mingles with under-ripe apple as well as hints of white peach, green pear and fresh herbs on the palate. Bright acidity and beautifully balanced oak shows through with touches of vanilla and spice.
Anna Maria (Valley View) 2009 Chardonnay, Southern Oregon ($22) Aromas entice with poached pears, melon, fresh flowers, honey, lemon bar, vanilla extract and sweet tea, backed by pronounced oak notes on the palate.
Argyle 2009 Nuthouse Chardonnay, Willamette Valley ($33) A lot going on with this wine. Find hints of kiwi, honeydew melon, apple, chamomile, white lily, hay, fresh tarragon, olive oil, honeysuckle and rose.
Ayoub 2010 Chardonnay, Dundee Hills ($45) The nose brings forth fruits of lemon, white peach and golden apple with floral notes of apple blossom and yellow rose. Its approachable palate is alive with bright acids with touches of citrus and fresh churned butter.
Bergström 2010 Old Stones Chardonnay, Willamette Valley ($30) Yellow peach, nectarine, shortcake, yellow roses, chamomile, ginger, white pepper and fennel with a highly enjoyable, long finish.
Bethel Heights 2009 Estate Grown Chardonnay, Eola-Amity Hills ($25) On the nose, there's pear, quince, lemon pith, sugar cookie, yellow lily, fresh herbs, savory spices and toasted nuts. A pretty mouthfeel makes it rich without being heavy. The finish shows creamy buttery oak notes.
Brick House 2009 Cascadia Chardonnay, Ribbon Ridge ($32) Wafting scents of apple skin, Bosc pear, lime, caramel corn, lanolin, white pepper, vanilla wafer and dandelions lead to a richly textured palate with a voluptuous finish touched with hints of herbs and minerality.
Brittan Vineyards 2010 Chardonnay, Willamette Valley ($36) Yellow plum, lemon curd, golden raisin, white cherry and vanilla bean with soft floral notes on palate; subtle tree fruit and toasted almond notes in the everlasting finish.
Cameron 2010 Chardonnay Dundee Hills ($19) Butter baked apples, lemon zest, Bosc pear, candy corn, maple and well-integrated oak combine with pleasant acids and a long, savory finish.
Chehalem 2008 Ian's Reserve Chardonnay, Stoller Vineyards, Dundee Hills ($36) Papaya, banana, white peach, baked quince, apple and lime with a slightly viscous texture and full mouthfeel without being too weighty. Highly present oak integrates well with notes of vanilla and buttered croissant.
Cristom 2010 Germaine Vineyard Chardonnay Eola-Amity Hills ($25) Aromas of lemon zest, mandarin and yellow apples contribute to the layers in this wine. Freesia blossom, white cinnamon with hints of French toast and chamomile add further complexity on the palate.
Domaine Drouhin 2010 Arthur Chardonnay, Dundee Hills ($30) Spiced apples, lemon zest, vanilla bean, Challah bread, white tea and clover honey lead to a rich, creamy texture with marked acidity and a longer than long finish.
Domaine Serene 2010 Evenstad Reserve Chardonnay, Dundee Hills ($55) White peach, candied lemon and apple marry pleasantly with notes of chamomile, butter, yellow and white flowers and vanilla with a long and rich finish.
Domaine Serene 2009 Récolte Grand Cru Chardonnay Dundee Hills ($100) September Release Baked apple, apricot, poached pear, yellow roses, vanilla bean, fresh baked bread and hard caramel candied aromas pave the way to a rich palate with beautiful texture and elegant oak tones.
Durant Vineyards 2010 Lark Vineyard Chardonnay Dundee Hills ($20) Aromas of Bosc pear, quince, honeydew and apple marry nicely with notes of lime zest, candied lemon and hints of dried spring flowers and butterscotch on the palate.
Evening Land 2008 La Source Chardonnay, Seven Springs Vineyard, Eola-Amity Hills ($60) Crispness on the nose with aromas of fresh herbs and flowers, Granny Smith apples, under-ripe green pear, white pepper and vanilla bean. It is elegantly soft on the palate with pronounced roundness and complexity in its long, lingering finish
Foris 2009 Chardonnay, Rouge Valley ($12) Aromatic notes of tree and citrus fruit combine with lilies and spring flowers for a memorable start. Cardamom and chamomile add to the complexity with beautiful richness on the palate highlighted by notes of fresh baked walnut bread, dried herbs and sunflower seeds.
Hamacher 2009 Cuvée Forêtes Diverses Chardonnay, Willamette Valley ($40) Scents of pineapple, baked yellow apple, quince and pear share the stage with hints of tarragon, clover honey and gingersnap. It's mouth-coating, viscosity adds to richness of yellow flowers, honeysuckle, vanilla and butterscotch on the palate.
Ken Wright 2009 Chardonnay, Oregon/Washington ($28) A blend of fruit from both Southern Oregon as well as the Gorge on the Washington side, this wine is rich and full bodied with notes of pineapple, sweet flower nectar, honey and buttered toast.
Lange Estate 2010 Three Hills Cuvée Chardonnay, Willamette Valley ($16)Tropical notes of pineapple and lychee with peach and tropical flowers on the nose. On the palate, hints of coconut and yellow blossoms add to a lasting finish.
Lemelson 2009 Reserve Chardonnay, Willamette Valley ($25) Aromas of pear, nectarine, peach, star fruit and honeydew entice. Notes of vanilla, straw and lemongrass on the palate as well as a long finish adds depth to the wine's irresistible complexity.
Matello 2010 Richard's Cuvée Chardonnay, Ribbon Ridge ($41) Well-integrated oak lingers with yellow flowers, vanilla bean, chamomile tea, Bosc pear, Honey Crisp apple and lemon verbena. It has a pleasant richness on the palate without losing its acidity and a lingering finish with a slightly creamy texture.
Matzinger-Davies 2007 Chardonnay, Oregon ($23) Fresh biscuits, apple butter, pear and caramel corn mingle on the nose while a food-friendly minerality and a touch of nuttiness satisfies the palate. Flinty minerality and savory spice linger in the finish.
Ponzi 2009 Chardonnay, Willamette Valley ($20) Aromas of light tropical fruit dance in the nose while the flavor shows undertones of vanilla, cardamom, yellow flowers and white cinnamon with slight herbal notes in the finish.
Ponzi 2008 Reserve Chardonnay, Willamette Valley ($30) Pleasant oak notes of butterscotch candy marry pleasantly with fruits of baked apples, pears and quince, a touch of lemon meringue, sweet flower blossom, custard, tarragon on the palate finish with a creamy texture.
REX HILL 2009 Dijon Clone Chardonnay, Willamette Valley ($35) Aromas of pear tart, peach make way for a palate of graham cracker, yellow blossoms, honey, vanilla bean and a touch of tropical notes in the finish.
REX HILL 2009 Old Vine Chardonnay, Willamette Valley ($78) Soft delicate notes on the nose include Asian pear, quince, yellow apple and honeysuckle, with a touch of fresh herbs and savory baking spices on the palate and into a highly pleasing finish.
Soléna Estate 2009 ElvenGlade Vineyard Chardonnay, Yamhill-Carlton ($45) Aromas of apple skin, yellow plum and lemon zest integrate seamlessly with herbal notes and hints of wet stone, toasted almonds, brioche and yellow flowers.
St. Innocent 2010,Freedom Hill Vineyard Chardonnay, Willamette Valley ($24) Golden raisin, lemon zest, pear skin, baked apple, pie crust, fresh sourdough bread, carnations, and seashells combine with zesty acids and a delicious richness on the palate.
Winderlea 2009 Chardonnay, Willamette Valley ($30) Lemon, lime, yellow apple and baked spiced pear on the nose combine with a palate of vanilla, brioche, white flowers, thyme and butter. The finish is elegant with a touch of minerality.