Sow, What's New?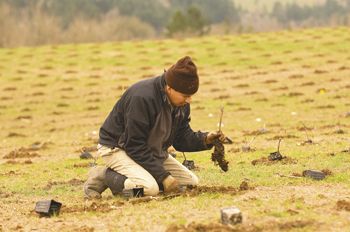 By Jessica Cortell
March is the time for planting. In 2009, with the downturn in the economy, new vineyard plantings slowed to basically a standstill and several large grapevine nurseries went out of business. Average prices for Oregon Pinot Noir grapes reached the highest ever reported in 2008 at an average of $2,600 per ton, only to drop substantially in 2009 to $2,290 per ton due to the "Great Recession." The good news is both grape prices and wine sales continue to improve.
This year, Joel Myers, the Oregon representative for Duarte Nursery, and Ted Thompson, the representative from Sunridge Nurseries, are reporting brisk sales and anticipate being at maximum capacity for production of dormant grafted vines for spring of 2013. The large increases in vine sales are primarily in response to new plantings in California as domestic sales are increasing and newly emerging markets in Japan, China and Hong Kong saw growth of 39 to 42 percent.
New plantings in the Willamette Valley are on the upswing but on a smaller scale than in California or Washington due to the challenging economics of low yields and high production costs in our cool climate. According to Myers, property sales, interest in new plantings and wine sales are increasing while wine inventories and bulk wines supplies are low, creating a long-term demand for fruit.
Myers and Thompson pointed out that the increase in Pinot Noir brands in the $20 to $25 bottle price range is contributing to the accelerated sales in Pinot Noir and is also creating a demand for Pinot Noir grapes grown outside the Willamette Valley. In Southern Oregon and the Columbia Gorge, there is a greater opportunity to produce higher yields and consistently ripe fruit. Smaller quantities of a diverse range of reds are also being planted.
As far as new trends in choices of clones, Myers said people are staying with what they know best. Thompson mentioned the true 828 Pinot Noir clone will be released from Sunridge next year and ENTAV Pinot Noir clones should be available in three to five years. Other Pinot clones being planted include: 943 (reported to have very small berries) and several of the California heritage clones such as Calera and Swan.
Pinot Gris plantings have dropped off while new Chardonnay plantings are increasing. The most popular Chardonnay clones include 76, 95, 96 and 548. Myers mentioned that the California Chardonnay clones are now certified (cleared of viruses). Other white varieties being planted include Viognier, Riesling, Grüner Veltliner, Albariño, Pinot Blanc and Grenache Blanc.
Myers said Duarte Nurseries has almost sold out what they can produce for 2013, so there could be a waiting list. The maximum capacity for Duarte is 12 million vines. Sunridge typically grows 300,000 dormant vines in Oregon and produces four million green vines and 10 million dormant vines in California.
Thompson said Sunridge is still taking orders for dormant vines for 2013, but they could start selling out soon. If you are planning on planting in the next couple years, the best guarantee of getting your vines on time is to place an order now. It is not safe to assume the nurseries will have vines available on the speculation market.
If you are new to vineyards and ordering vines, there are a number of important details to know. First, it is illegal to bring in plant material from other countries in your suitcase. Doing so could put our industry at risk for diseases or exotic pests. Vines need to be imported through an approved process at an import facility and must undergo stringent virus testing and removal before being released to nurseries and the public. Oregon also has quarantines regarding bringing plant material in from other states such as California and Washington.
Luckily, there are new clones that will be available to Oregon growers over the next few years for those adventurous types who want to grow something different from their neighbors.