Yippy Yay for Viognier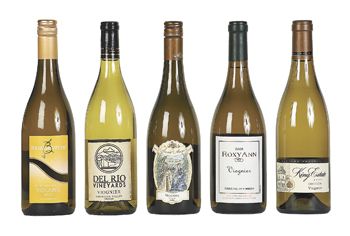 Syrah, the Rhone Valley's big, bold red, is far better known to American wine consumers than Viognier, its opulently rich, mouthfilling white counterpart. But that imbalance may be changing.
Viognier originated in France's Northern Rhone where it goes under the name Condrieu — Gawn-dre-yuh. Under French regulations, the grapes for Condrieu can come from just seven villages, or communes, whose vineyards total about 330 acres.
Though Viognier is a shy-yielding grape that, like Pinot Noir, best displays its delightfully complex flavor profiles at full maturity, it has shown considerable promise in Southern Oregon as well as in the Columbia and Walla Walla valleys.
Winemakers worry about the grapes' tendency toward low acidity, but since most white wines are consumed within a year or two of production, suppleness of style and rich flavor should make up for any lack of liveliness.
Approximately 180 acres of Viognier planted in Southern Oregon are yielding slightly more than two tons per acre. The results, as demonstrated in the following examples, proved quite appealing, not to mention reasonably priced.
RoxyAnn 2009 Viognier, Rogue Valley • $18 (238 cases)
The full-bodied profile for which Viognier is known weighs in big time on this wine while still not overwhelming its flavors. Buttery, burnt oak is a major player balanced by a silky mouthfeel and good acidity. Hints of spice complement the overall taste impression.
Del Rio 2009 Viognier, Rogue Valley • $20 (151 cases)
If low acidity is said to be a Viognier flaw, this example ignored the message. Bright and lively throughout with peachy stone-fruit flavors complemented by an undercurrent of minerality. A dry wine that makes the best of it with lush roundness on the palate.
Anne Amie 2010 Viognier, Oregon • $18 (164 cases)
Young but prepared to please. Upfront, aromas of lilac, orange blossom and gardenia regale the taster prior to offering up zestful flavors that are at once citrus, apple and peach. Though tending toward the slim side, it's stylishly dressed.
Bridgeview 2009 Viognier, Southern Oregon • $18 (200 cases)
A flinty, mineral earthiness wraps around a hint of oak vanillin. Viscosity helps sweet grass, smoke and bell pepper linger in the mouth. But all that flavor still tends toward shyness. So decant this closed-in wine before serving and give it a little time to breathe.
King Estate 2010 Viognier, Oregon • $24 (260 cases)
Here's a gentle giant that starts out slowly before surprising you. Not quite as tightly wound as the Bridgeview, with a little time in the glass this wine builds momentum, then comes on strong, dishing up full flavors led by rich butter and luscious lychee nut.
The Oregon Wine Press tasting panel has selected the following wines based on overall quality and value within their respective categories. To the best of our knowledge, they are currently available in the marketplace. Wine must be: 1) produced by an Oregon winery; 2) priced (retail) $30 or less for reds, $30 or less for Chardonnay, $30 or less for dessert and sparkling wines, and $25 or less for remaining varietals; and 3) currently available to consumers. Recommended wines were selected using a double-blind method and a 20-point ranking system for appearance, aroma, taste, balance and finish.