Nature's Super Pour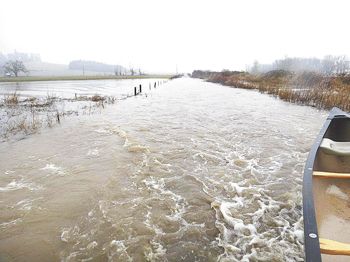 By Mark Stock
Imagining the Willamette Valley during the Missoula Floods was a little easier during a few brief stretches this winter. We never saw lake-like masses of water several hundred feet in depth, of course, but winter storms set some records and closed a few wineries.
December, which seemed to hold its breath for weeks, finally let go just before the New Year, unleashing a slough of torrential downpours that inundated large parcels of Oregon wine country.
According to Greg Jones, climatologist from Southern Oregon University, it wasn't really about going from so dry to so wet, so abruptly. With these rains, Jones said, "It was simply too much and happened too quickly for the system to absorb, so extreme flooding and runoff occurred."
Most catastrophic conditions occurred in mid-January, when a rare event caused heavy snowfall in parts of northwestern Oregon and most of Washington. The temperature shot up overnight and what was supposed to be several days of wintry whiteness turned into a week of extremely wet weather.
Salem experienced 3.3 inches of rain in a single 24-hour period from Jan. 18 to 19. The month at large was a drenching one for the capital, with 10.3 inches of precipitation, about twice the monthly average. And while nearby vineyards are dormant and therefore better protected during the winter months, larger problems loom.
"Any vineyard that has prolonged high water tables runs the risk of problems with vine roots, growth, etcetera," said Jones. Area aquifers struggle more with severe weather, unable to balance out under the pressure of so much falling water. The steepest and youngest vineyard slopes run a risk of eroding under these conditions, but most root systems are deep enough that they have a helpful stabilizing affect.
Lower-set wineries such as Penner-Ash outside Newberg closed for several days with neighboring roads washed out by the rains. Many streets in the valley were impassible, especially those close to swollen rivers like the Yamhill and Tualatin. Nearly 20 rivers statewide reached flood stage on Jan. 19.
Blamed for much of the moisture is La Niña, a sea-born climatological pattern that seemingly carries an entire ocean on its back before dumping it on land. Professor Jones reminds us that La Niña events are more variable and follow a general trend toward the extreme. This winter is the second of a back-to-back La Niña scenario not seen since winter of 1998 through spring of 2000.
Looking forward, with cooler, wetter conditions expected through bud break, one can't help but envision another late harvest.
"My gut feeling tells me that the summer of 2012 will rebound to be closer to normal," Jones said. "These things are always hard to predict, but much of the Pacific Northwest is feeling owed a typical dry and warm growing season. Another vintage like 2008 is not entirely impossible at this rate, especially if the vineyard spring's late and summer follows suit."
What is known is that the last two years have been a climatological roller coaster. The peak was in January with downpours that proved even too much for the resident well-draining Jory soil. But the oddities have been pouring in for several growing seasons, from unusually damp springs to harvests that extend into mid-November.
Mark Stock, a Gonzaga grad, is a Portland-based freelance writer and photographer with a knack for all things Oregon. He currently works at Vista Hills Winery.