A Palatable Primer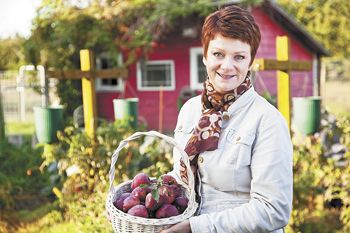 By Wine Press Staff
Diners in the Willamette Valley have numerous options when it comes to fine fare and atmosphere, but eating out every night can make a sizable dent in anyone's bank account and most certainly add inches to most waistlines. For those wanting to learn to make their own culinary creations at home, help has arrived.
Meet Chef Wendy Bennett.
Bennett, who lives on a farm in Dayton, took note of an increased interest in all things agricultural, including winemaking, cheesemaking, organic produce, grass-fed beef and farm-fresh eggs. Embracing the farm-to-fork momentum, she opened Wine Country Cooking Studio in January.
Located in Dundee, above the Red Hills Market, her kitchen caters to local residents and visitor groups, offering detailed hands-on cooking classes for all skill levels and ages.
"We are so excited to welcome the Wine Country Cooking Studio to the Willamette Valley," said Jenna Winkler, meetings and event services manager at The Allison Inn & Spa in Newberg. "This is a wonderful addition to the area, and we are looking forward to having another place to send our guests for a wine and culinary experience."
Classes feature local, fresh ingredients that students prepare using professional utensils in an exceptional culinary kitchen. Bennett uses a light-hearted approach and offers classes ranging from knife skills to sauce preparations to developing "street food" flavors. The average fee is $79 for three hours, with prices based on class content and meals prepared.
Bennett grew up in a restaurant family. From the time she could see over a table, she's been interested in the hospitality industry. She attended Johnson & Wales University, earning degrees in Culinary Arts and Food Service Management, and was trained and mentored by Noel Cullen, master chef and past president of the American Culinary Federation.
In 1988, Bennett captained a six-member culinary team, which earned a gold medal at the IKA Hoga Culinary Olympics in Frankfurt, Germany, as well as 26 medals in Hotelympia, a culinary competition in London. Before graduating, she was inducted into the Golden Key Honor Society by Julia Child.
Bennett has taught countless future chefs as an instructor at Boston University's School of Hospitality and at Le Cordon Bleu College of Culinary Arts. She spent five years as the vice president of academic affairs for Le Cordon Bleu in Portland, prior to opening Wine Country Cooking Studio.
Wine Country Cooking Studio is located on the second floor at 155 S.W. Seventh Street, Dundee. For more information, visit www.winecountrycookingstudio.com or call 503-689-5549.