Fresh-Picked Paperback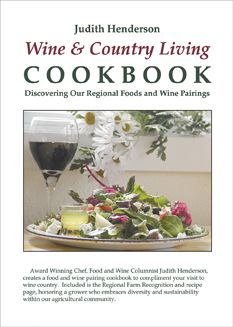 Walla Walla Valley chef and food columnist Judith Henderson has recently published her fourth in a series of eclectic cookbooks, "Wine and Country Living Cookbook: Discovering Our Regional Foods and Wine Pairings."
Throughout the 54 pages, readers will find recipes for appetizers, artisan breads and spreads, soups, stews, organic salads, entrées and desserts exclusively featuring whole foods — her signature since 1972 — and techniques in "nouvelle cuisine," which can be characterized by lighter, more delicate dishes and an increased emphasis on presentation.
Readers can get step-by-step directions on how to make dishes such as Pumpkin Sunflower Pâté, Scallop Curry Corn Bisque and a Slow Food Beef Tagine — to name a few — all paired with handpicked wines.
Henderson encourages home chefs to "live on the edge of the plate," following their global taste buds in search of the best recipes, ingredients and wine. She also champions local growers and small farmers, fostering sustainable communities for future generations.
"We are making progress in how to eat and think about food today, but while the finicky monster lives in us all, there will be need to remind the generations about good nutrition and how to obtain a better way of life," she said.
Henderson owns WildBerries Café in Walla Walla, Wash., and is a member of International Association of Culinary Professionals, James Beard Foundation and a recipient of the 2005 Brown and Foreman Napa Valley Chef of Excellence.
The book is now available in tasting rooms across the Willamette Valley, Washington state and Santa Cruz, Calif.
CHICKPEA FLOUR PANISSE BISCUITS
Recipe by Judith Henderson
Find this recipe and more on Henderson's website, www.chefjudithhenderson.com.
WINE PAIRING: Sauvignon Blanc
INGREDIENTS
1 quart boiling chicken or vegetable stock
2 cups chickpea flour (Bob's Red Mill Garbanzo Bean Flour)
1 tablespoon olive oil
1 teaspoon black pepper
4 cups corn oil
DIRECTIONS
1. Oil an 8- by 8-inch pan; set aside. 2. In a saucepot, add chickpea flour and boiling stock; whisk until well blended. Over medium-high heat, cook mixture until it thickens, about 6 to 8 minutes. Pour mixture into oiled pan, spread out evenly and cool on kitchen counter until room temperature. Cover pan in plastic wrap; poke a hole in top of plastic to allow internal heat to escape; place pan in refrigerator overnight. 3. Next day, remove pan from refrigerator and cut cold raw dough into squares the size you desire. In a Dutch oven, add cold corn oil, and over medium-high heat, bring oil to 350°F. With a slotted spoon, lower cuts of raw dough, one at a time, into hot oil — do not crowd. Cook dough until golden brown and floating. Remove biscuits with slotted spoon, and drain on paper towels. While hot, sprinkle biscuit tops lightly with coarse salt; keep warm until use. To Serve: You might layer other foods on top of the cooked biscuit and top again with a complementary sauce, being sure the entire dish is placed on a heat-resistant pan. Place dish under a broiler to meld foods for a few moments. You can also serve the warm biscuits with homemade farm butter, raw honey, cut fruits and sliced meats. In the photo, you'll see Henderson has topped the biscuit with a tomato confit, topped with sea bass, topped with more confit and finished with melted feta cheese.