On the Cutting Wedge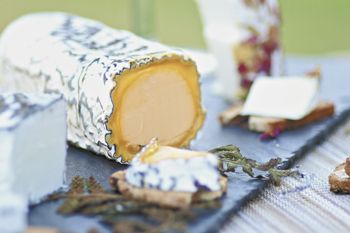 By Christine Hyatt
Cheesemongers field many questions from curious customers every day. One common query is: "What's new?" Cheese lovers are practically hard-wired to discover new and different flavors to expand their palate and grow their taste experience.
Lucky for us, our homegrown Oregon cheesemakers make it easy to satisfy our urge for innovative and truly tasty creations.
Artisan cheese is an incredible canvas to create novel flavors or to re-imagine traditional techniques to invent something inspired and new.
Making handcrafted cheese requires deep knowledge of science and craft. Once you have mastered the basics, there are infinite ways skilled artisans can incorporate slight adjustments to a recipe to make it uniquely their own.
Farmstead cheesemakers, who also raise and care for the animals that produce the milk, can take this equation to the next level. They control the process from 'feed to cheese' and are intimately connected with their land, their animals and the unique properties inherent in their milk source.
Oregon's artisan cheesemaking community has been rapidly expanding. New creameries, such as Oak Leaf in Grants Pass and Portland Creamery near Mount Angel, continue to emerge; while more established makers are hitting their stride.
Here are some of the latest Oregon selections and a few choice updates on up-and-coming cheesemakers to keep your eye on.
NEW CREAMERIES
Portland Creamery was a well-known fixture in the local dairy scene prior to consolidations, which shuttered most of the small, local processors. The recent renaissance of artisan cheese led cheesemaker Liz Alvis to revive the concept of a Portland-based plant.
Alvis learned the trade assisting her mother at McKenzie Creamery, a start-up in Ohio. She moved to Portland in 2008 specifically to make cheese. Though the original idea was for an urban creamery, Alvis located the perfect milk source: a herd of 42 Alpine, Saanen and La Mancha goats on a farm near Mount Angel. To be closer to her milk source, she decided to relocate her operation to the country.
Portland Creamery recently released its new spring flavor, Tarragon Mustard Chèvre, expanding Alvis' offerings, including her flagship flavor, Sweet Fire, a fresh goat cheese topped with a habanero-infused marionberry purée. She also makes a popular goat milk caramel known as Cajeta and is collaborating with Portland's Ruby Jewel on a goat cheese ice cream.
Oak Leaf Creamery got its start in Maine and moved west when cheesemaker/owner Dave Peterson relocated to family farmland in Grants Pass.
Oak Leaf has won raves for 'Holey Swiss" and a natural-rinded blue cheese. Recently, Peterson added a small Brie-style raw goat milk cheese, which is made using thistle rennet. Peterson grows wild artichokes, cardoon, on the farm and brews the flowers into a tea, which coagulates the milk.
Thistle rennet is used in some traditional cheeses in Spain and Portugal, though its use as a coagulant is relatively rare in the US. The aptly named cheese, "Wild Arti-Goat," is made with raw milk and aged more than 60 days.
NEW CHEESES
Exciting new things are ripening at Dundee-based Briar Rose Creamery. With aging space available in the new creamery, founders Sarah Marcus and Jim Hoffman have started producing aged cheeses.
Known for its award-winning chocolate goat cheese truffles and a line of fresh and flavored goat cheeses, the creamery has expanded into a seasonal-ripened cheese made with cow milk from a nearby farm.
Brigid's Cow is a semi-firm, bloomy-rinded cheese produced during the off-season when the goats are dry. Stay tuned for wine-washed and smear-ripened cheeses coming soon.
If cheddar is more your style, seek out the English-style cheddar made by Mariano Battro of La Mariposa based in Albany. Battro learned the craft from his father, a cheesemaker in Argentina. Pleasant Hill is a 4-month-old raw milk cheddar with a natural rind and is named after the Oregon hometown of Battro's wife, Savannah.
With the newcomers to the Oregon cheese scene making quite a splash, our veteran artisans are adding new selections: Foster Lake, a goat Camembert from Fraga Farm (Sweet Home); Tomette Rustique, a natural-rind firm cheese from Goldin Artisan Goat Cheese (Molalla); and Hop Cheddar, a limited-release collaboration between Rogue Creamery (Central Point) and Rogue Ales (Newport).
Perhaps the most surprising, delightful cheese I've recently discovered is the newly released Beltane from Rivers Edge Chèvre in Logsden. This beautifully crafted ripened goat cheese log is a pristine beauty with a flawless, bloomy rind. Inside, it's a walk on the wild side.
The paste is orange-hued from annatto, a flavorless natural plant extract that imparts the orange tones to cheddar, Colby and other natural — and unnatural — cheeses. And the flavor was exactly how a ripened goat should taste: tangy, rich and savory.