Royally Speaking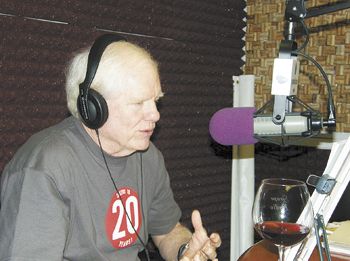 Rusty Gaffney is a retired ophthalmologist who's had a love affair with Pinot Noir for nearly 40 years. When he retired in 2001, Gaffney decided to devote his energy to writing the PinotFile, an online newsletter that was the first wine publication exclusively devoted to Pinot Noir.
Gaffney was first introduced to Pinot in 1970, when a doctor-friend gave him a bottle of Burgundy. After he finished his medical training, and had enough money to buy fine wine, he began to indulge his interest.
He dabbled in many varietals, but it was Pinot Noir that he connected with.
He also discovered that "Pinot Noir is made for drinking with food and when you have the perfect match, the experience can bring you to your knees! Seductive, elegant, and earthy, Pinot Noir unites friends, food and good times into a glorious dining experience."
Gaffney researches Pinot Noir daily through tasting, reading and frequently visiting Pinot Noir-producing wine regions. He also leads wine tours, organizes wine tasting dinners and corresponds on Pinot Noir for the most popular wine podcast on the Internet, GrapeRadio. Additionally, he is involved in an exciting new project, Grape Vision, which is the video-driven offspring of GrapeRadio.
Over the years, upon his encouragement, a number of Gaffney's friends and acquaintances, formerly die-hard Cabernet drinkers, have developed a preference for Pinot Noir. Gaffney says, "They would remark, 'Rusty, you're such a "prince" for introducing me to Pinot Noir.' The moniker stuck, and now my proud title is Prince of Pinot."
Today, he has an enthusiastic reader base throughout the world. "This is in part because I don't score wines, preferring to give some helpful comments that reveal the style and spirit of a wine that lead you on the path of discovery."
"I might be a Prince, but I do not rule the world of Pinot Noir. Explore the kingdom and revel in its diversity. And always remember, 'If you drink no Noir, you Pinot Noir.'"
OWP: How did you get interested in wine?
RG: I never drank wine growing up. Like most families in the 1950s, beer and cocktails were the drinks of choice for most adults. My earliest and fondest memories of wine came during college and had to do with wines that had a little sweetness.
Mateus was a favorite, and, like practically every other college-age person, I had an empty Mateus flask that had been converted into a candleholder. I also downed many bottles of a similar drink, Lancers, which had become wildly popular by the early 1970s. Blue Nun was the wine to order on a date. As I progressed through college and medical school during the 1960s, there was hardly such a thing as a "varietal" wine in California.
My epiphany came in 1970. I was living humbly in a studio apartment. My girlfriend was a flight attendant for TWA. I was working my tail off, but when our busy schedules allowed, I would pick her up at the airport and stop at the market to buy some food and a jug of Spanada on the way to my apartment. Spanada, first introduced in 1970, was one of several wines blended with fruit introduced by E&J Gallo.
That same year I visited a doctor friend who collected wine. He actually had a cellar in his home stocked with fine Bordeaux and Burgundy. I had never seen anything like it in my life. He could tell I was awestruck, and he generously gave me a bottle of Burgundy to take home.
One night my girlfriend and I decided to skip the Spanada and open the bottle of Burgundy. I did not have a corkscrew and had to borrow one from a neighbor. The label was strange and foreign, and I only remember the words Cotê de Nuits, but no other details. The wine was a revelation. It was beguiling, alluring, complex, aromatic and very seductive. We polished off that bottle in no time and so began my love affair with Pinot Noir. My girlfriend and I eventually parted ways, but I discovered the wonders of well-stocked liquor stores, and was bound and determined to pursue my love affair with Pinot Noir.
OWP: What's the major difference between California and Oregon Pinot Noirs?
RG: It is difficult to state a single major difference, as there are several, but most differences stem from climate. The generally cooler, more variable, more unpredictable Oregon climate during the growing season leads to more visible distinctive personality in the vintages of Oregon Pinot Noir compared to California Pinot Noir.
As a corollary, alcohol percentages in finished Oregon Pinot Noir wines are, on average, naturally lower. As a physician who has extensively studied the research on the health benefits of wine, Oregon Pinot Noir often allows more sensible drinking within the confines of moderation.
OWP: Although you are the "Prince of Pinot," why do you also evaluate Chardonnay? Why not Pinot Gris?
RG: Chardonnay is Pinot Noir's cool climate partner and producers of Pinot Noir also frequently craft Chardonnay. Many wineries ask me to review their Chardonnay in addition to Pinot Noir.
My wife enjoys Chardonnay, and over the years I have taking a liking to it as well. One cannot live on Pinot Noir alone, although this is debatable. Sampling and drinking Chardonnay keeps the home fires burning.
I have reviewed Oregon and California Pinot Gris on a limited basis in the past. I certainly enjoy Pinot Gris from The Eyrie Vineyards, Lange Winery & Vineyards, and King Estate. Oregon Pinot Gris, like Pinot Noir to which it is genetically similar, is a versatile food wine, and like Chardonnay, can be Pinot Noir's partner at the dining table.
OWP: What are your thoughts on the 2009 Pinot vintage?
RG: When I first tasted some of the 2009 Willamette Valley Pinot Noirs out of barrel in the summer of 2010, I was impressed at how precocious and gregarious the wines were, especially in comparison to their 2008 vintage counterparts. My tasting of bottled wines has confirmed my initial impression, namely, that the wines offer bodacious early drinking. Alcohols are higher, reflecting a warmer vintage, but unlike another ripe vintage, 2006, the wines have better acidity and freshness. The wines should age nicely, but they will not outlast the 2008 Pinot Noirs, and in general should be drunk now while you wait for the 2008 Pinot Noirs to find their footing.
To date, what is your favorite Oregon Pinot Noir vintage (s) and why?
This is like asking me, "Which child do you like better?" More recently, I would have to say 2007 and 2008, for different reasons.
The 2007 vintage Oregon Pinot Noirs offered challenges, yet adroit winemakers produced wines of elegance, charm and restraint that gained a surprising amount of weight and interest over time. I love the 2007 Oregon Pinot Noirs for their acidity and brightness.
The 2008 vintage Oregon Pinot Noirs early on displayed a combination of perfect ripeness and luscious flavors at modest alcohol levels, combined with impeccable balance that predicted age ability. The only negative of this vintage is that quantities are limited, and many of the best wines need be cellared for at least five years, delaying the instant gratification that pinotphiles have become accustomed to with previous Oregon vintages. Even now, three years after the vintage, the wines are teasingly good, but clearly in need of time to reveal the complexities deep within. The 2008 vintage Oregon Pinot Noirs will age well up to 15 years and beyond.
As far as older vintages, I have had memorable Oregon Pinot Noirs from the 1992, 1994, 1999 and 2002 vintages, with 2002 probably the closest in style to 2008, and my favorite of the four. The vintages of 2003 and 2006 were very warm years and are my least favorite vintages, but even in those years — especially 2006 — there are some nuggets to be found.