Sunny Side Up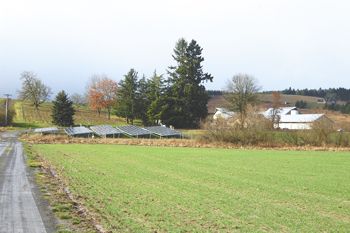 On Feb. 7, Laurel Ridge Winery hosted friends and neighbors at the winery's Carlton facility to celebrate the activation of their much-anticipated 126-kilowatt solar panel system.
The ground-mounted structure is a significant addition to the sustainable practices of Laurel Ridge and will significantly reduce the winery's electricity bill as well as provide an on-site electric vehicle charger.
"We are delighted with the opportunity to be able to make our own energy," said Susan Teppola, owner of Laurel Ridge. "We strive to be good stewards of the land, and finding sustainable sources of energy is a part of that mission."
Laurel Ridge Winery's new solar system and electric vehicle charger were completely financed, constructed and now maintained by Lite Solar Corporation based in Long Beach, Calif. The company offers solar installations free of charge to commercial property owners while also providing discounts on their monthly energy bills.
Nearby Wine Country Farms and Jake Price Stables, an equestrian wine tour company, are currently both under construction for a similar system by Lite Solar.