If the Stew Fits, Eat It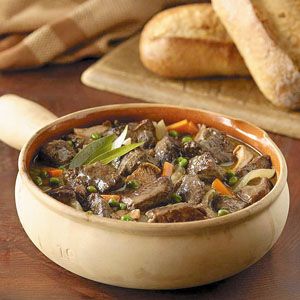 OSSO BUCU
Recipe by Vikki Wetle (Amity Vineyards, Amity)
"This is such an easy cold weather stew that it has become a favorite at our house. Veal shanks are readily available at local meat counters. The bone marrow in the central core of Osso Buco is what gives this dish its rich flavor and glossy appearance. Through slow cooking, the meat becomes meltingly tender. The final sprinkling of the gremolata adds a freshness and zest to the dish that is necessary to counteract its rich flavor. Although made with white wine, this dish pairs beautifully with Pinot Noir." - Vikki Wetle, Amity Vineyards co-founder/owner
WINE PAIRING: Amity Vineyards 2009 Estate Pinot Noir
INGREDIENTS
6 veal shanks (osso buco); ask butcher for equal size
* sea salt and black pepper, to taste
4 tablespoons olive oil, or enough to brown meat
3 celery sticks, trimmed and chopped
6 carrots, peeled and chopped into generous-sized chunks
2 onions, peeled and diced
4 cloves of garlic, peeled and crushed
1 bunch fresh thyme or marjoram, minced
1 bunch flat-leaf parsley, minced
1 15-ounce can quality crushed tomatoes
1 bottle Amity Pinot Blanc
* sea salt and black pepper, to taste
GREMOLATA
1 bunch of flat-leaf parsley, leaves only
2 cloves of garlic, peeled and chopped
* zest of 2 un-waxed lemons
DIRECTIONS
1. Season meat well. 2. Pour olive oil into a heavy-bottomed pan (I use a Dutch oven), and place over medium heat. When oil is quite hot, brown meat on all sides. Remove from pan, and set aside. 3. Turn heat down, and add all vegetables, along with garlic and herbs. Cook gently for 15 minutes, or until vegetables begin to soften. Turning up heat slightly, add tomatoes and white wine (wine needs to completely cover shanks); cook for another 10 minutes. 4. Return meat to pan and cover with lid. Cook in an oven at 375°F for 1½ hours, or leave on stovetop to simmer for about 90 minutes. 5. The meat should be soft and fork tender; and the sauce, rich and glossy. Taste and adjust the seasoning; it will need more salt and a good grinding of black pepper. 6. To serve, spoon meat and sauce onto a warmed serving plate. 7. Top with a sprinking of gremolata, which can be made by tossing together parsley, garlic and lemon zest in a bowl. Note: Traditionally, Osso Buco is served with risotto Milanese, dense arborio rice generously laced with saffron, but the combination of thick sauce and buttery rice can be too rich for some tastes, so I sometimes serve it with potato gnocchi, linguine or even just a leafy green vegetable such as spinach. Makes 4 generous servings.
ALENTEGAN-STYLE PORK WITH CLAMS
Recipe from Deolinda Coelho (Coelho Winery, Amity)
Recipe by David Leite, "The New Portuguese Table Cookbook"
"We served steaming bowls of this savory stew at our recent 'Lucky Rooster' Wine Club Member Portuguese Supper." - Deolinda Coelho, Coelho Winery of Amity co-owner
WINE PAIRING: Coelho 2009 Tradição Portuguese Red Wine
INGREDIENTS
3 pounds boneless pork shoulder butt or pork loin, cut into 1-inch chunks
¼ cup Amped-Up Red Pepper Paste (see following recipe)
1¾ cup dry white wine
6 tablespoons olive oil, or more if needed
2 medium yellow onions, coarsely chopped
3 garlic cloves, minced
2 pounds Yukon Gold potatoes, peeled and cut into 2-inch cubes
* kosher salt and ground black pepper
3¼ pounds small clams, such as Manila or Littlenecks, scrubbed and rinsed
¼ cup chopped fresh cilantro leaves
DIRECTIONS
1. Toss pork chunks with red pepper paste in medium bowl; add wine, and toss again. Cover with plastic wrap, and refrigerate for at least 24 hours, or up to 36 hours. 2. Position rack in middle of oven, and preheat oven to 400°F. 3. Place pork in a colander set over a large bowl to drain, reserving the marinade. Pat the pork dry with paper towels. Heat 3 tablespoons olive oil in a large pot over medium-high heat. Working in batches, brown the pork, stirring occasionally, until browned on all sides, 5 to 7 minutes. Add more oil in between batches, if needed. Using a slotted spoon, transfer pork to a plate. Note: If bottom of pot develops a dark coating, tip in some water between batches and scrape it up. 4. Lower heat to medium; add onion, and cook until soft, about 5 minutes. Add garlic, and cook for 1 minute more. Pour in reserved marinade. Return pork to pot, and cook over low heat, covered, until meat is tender, 1 to 1½ hours. If it looks as if the liquid will burble away, spoon in a bit of water. 5. Meanwhile, toss the potato cubes with remaining 3 tablespoons oil, and season lightly with salt and plenty of pepper. Scatter in one layer on foil-lined baking sheet. Roast, flipping the potato cubes once or twice, until golden brown, about 45 minutes. 6. Discard any clams that feel heavy, have broken shells or don't close when tapped. Raise heat under the pork to high, and stir in clams. Cover, and cook until they open, 7 to 10 minutes. Toss out any that refuse to open. Taste broth and season with salt and pepper, if needed. 7. To serve, remove half the clams from their shells and return them to the pot. Toss out shells. Line bottom of serving bowls with potato cubes, top with pork, clams and broth, and sprinkle with cilantro. Have a large bowl ready for the shells. Makes 6 to 8 servings
AMPED-UP RED PEPPER PASTE
2 tablespoons sweet paprika
2 tablespoons sweet smoked paprika
¼ cup dry red wine
8–10 garlic cloves, to taste
2 Turkish bay leaves, well crumbled
1 tablespoon double-concentrated tomato paste
1½ tablespoons fresh lemon juice
7 sprigs fresh cilantro
5 sprigs flat-leaf parsley
1½ tablespoons fresh ground white pepper
* few dashes of hot sauce, to taste
¼ cup olive oil
DIRECTIONS
1. Combine all ingredients (except olive oil) into food processor and pulse until garlic and herbs are minced. Scrape down any chunky bits from the sides of the bowl. 2. While the motor is running, pour olive oil and continue pulsing, until paste is slick and homogeneous, 1 to 2 minutes. Use the mixture immediately, or spoon into a small glass jar with tight-fitting lid and refrigerate. Paste will keep up to a month in refrigerator.
DOBA ALLA PIEMONTESE
Recipe by Nancy Ponzi (Ponzi Vineyards, Beaverton)
"Nancy Ponzi's Doba alla Piemontese recipe from her cookbook, "The Ponzi Vineyards Cookbook," is a staff favorite and so perfect for winter." - Laurel Dent, Ponzi Vineyards marketing manager
WINE PAIRING: 2009 Dolcetto
INGREDIENTS
2 pounds boneless beef (chuck steak), veal (shoulder) or both
¼ cup olive oil
¼ cup unsalted butter
1 clove garlic, crushed
3 medium onions, thinly sliced
1 bouquet garni (with kitchen twine, tie together fresh sage, bay leaf, sprig of rosemary, celery leaves, a celery stalk stuck with 5 to 6 cloves and parsley)
* pinch of cinnamon
2 cups dry white wine
1 quart beef broth
* salt and pepper, to taste
1 cup whole milk or cream
DIRECTIONS
1. Cut meat into small or large, but somewhat uniform, cubes; set aside. 2. Heat oil and butter in a heavy-bottomed casserole. Brown garlic and remove, taking care not to burn. 3. Add sliced onions to oil and cook until quite tender, not brown. Add meat to oil and onions and brown evenly. 4. Add bouquet garni and cinnamon; then add wine and cook a few minutes to reduce slightly. Add broth; then add salt and pepper to taste. 5. Bring to boiling point, reduce heat, and simmer 2 hours. Check occasionally to ensure there's sufficient liquid. 6. Remove bouquet garni and adjust seasoning. 7 Just before serving, add cream, and reheat. Serve in bowls accompanied with Italian bread. Polenta is a suggested accompaniment. NOTE: This stew can be adjusted to your taste and available ingredients. Use a half-pound of ripe tomatoes, peeled, seeded, and chopped. The liquid can be all wine (red, if you prefer) or more broth. Use other vegetables, such as potatoes, artichokes, peas, carrots or mushrooms, adding them the last 30 minutes of cooking. Butter, cream and restrained use of garlic (note the garlic is removed after flavoring the oil) are typical of Piemontese cuisine.
BAECKEOFFE HOT POT
Recipe by Mike Willison (REX HILL, Newberg)
"So much of what makes a recipe like this work has to do with what we have omitted, done wrong, or plum forgot. In this case, it appears as though my Scottish grandmother had some sort of heated grudge match against Lancashire, England, and would not, as a result, refer to this dish as a Lancashire Hot Pot. In an effort to convince dinner guests that her creation was not, indeed, a Lancashire Hot Pot, she began to add and subtract ingredients in ways that would confound the diners (though rarely convince them), and a gradual evolution had begun. The current iteration lies somewhere between the Alsatian (another hated rival, it seems) Baeckeoffe and the original northern English crockery dish." -Mike Willison, REX HILL public relations/education/events manager
WINE PAIRING: REX HILL 2009 Jacob Hart Pinot Noir
INGREDIENTS
(Marinade)
1 pound beef chuck, cut into 1-inch cubes
1 pound pork butt, cut into 1-inch cubes
1 pound lamb shoulder, cut into 1-inch chunks
2 yellow onions, minced
3 garlic cloves, minced
2 leeks, white and light-green parts only, julienned
1 carrot, cut into 1/8-inch slices
2 bay leaves
2 sprigs thyme
1 ounce Worcestershire sauce
1 teaspoon juniper berries
3 tablespoons minced parsley
1 bottle Riesling
INGREDIENTS (Assembly)
3 ounces olive oil
3 pounds Yukon Gold potatoes, peeled and cut into thin slices
* kosher salt and fresh ground black pepper, to taste
1 bottle Riesling
¾ cup all-purpose flour
5 tablespoons water
1 egg
DIRECTIONS
1. Marinade: Combine meat, vegetables, herbs and wine in a large bowl; cover with plastic wrap and refrigerate overnight. 2. The following day, preheat oven to 350°F. Rub inside of a 6-quart Dutch oven with two tablespoons olive oil. 3. Line bottom of Dutch oven with half the potato slices, and season with salt and pepper. Place meat and vegetables in layers on the potatoes, and season with salt and pepper. Pour in marinade. Cover meat and vegetables with remaining potato slices and season with salt and pepper. Pour in wine until potatoes are covered. 4. Make a paste by combining flour, water and 1 tablespoon oil. Knead and roll into a long rope and place around the rim of the Dutch oven. In a small bowl, beat egg with a small amount of water and then brush onto dough. 5 Slightly loosen the screw of the knob on the lid to create a vent. Place lid on dough and press tightly to seal. Place Dutch oven on rimmed baking sheet and bake for 3 hours. 6 Remove the lid with the pastry, and serve. Makes 6 to 8 servings.
NEW ORLEANS CHICKEN AND SAUSAGE GUMBO
Recipe from Martha Wright (Scott Paul Wines, Carlton)
"The Times-Picayune of New Orleans became a post-hurricane culinary lost and found, with locals swapping old recipes washed away in Hurricane Katrina. A couple hundred of the recipes are collected in a book called "Cooking Up A Storm." Being a native of New Orleans, I had to have this book. The Chicken and Sausage Gumbo is one of my favorites. This is what my family will eat on Mardi Gras." -Martha Wright, Scott Paul Wines co-owner
WINE PAIRING: 2009 Taupenot-Merme Passetoutgrains
(French Pinot Noir-Gamay Noir blend import from Scott Paul Selections)
INGREDIENTS
1 chicken (4 to 5 pounds), cut into serving pieces
* salt
* cayenne pepper
1 cup vegetable oil
1 cup all-purpose flour
2 cups chopped yellow onions
1 cup chopped green bell peppers
½ cup chopped celery
2½ quarts chicken broth
2 bay leaves
½ teaspoon dried thyme
1 pound Andouille sausage, sliced ¼-inch thick
¼ cup chopped green onions, both white and green parts
2 tablespoons chopped fresh parsley
* hot cooked rice for serving
DIRECTIONS
1. Season chicken with salt and cayenne; set aside. 2. In a large Dutch oven, make a roux by combining oil and flour over medium heat. Stirring constantly, cook for about 30 minutes, or until roux is dark brown. Add onions, bell peppers and celery, and cook for 5 to 10 minutes on medium heat until the vegetables are very soft. 3. Add broth and stir to blend well. Add chicken, bay leaves and thyme. Bring to a boil, then reduce the heat and simmer, partially covered, for 2 to 3 hours, or until chicken is fork-tender. 4. Add Andouille sausage and cook for another 30 minutes. Adjust seasonings, and add green onions and parsley. Remove bay leaves. 5. Serve immediately over rice. Make 8 generous servings.
WINTER BEEF BARLEY STEW
Recipe by Wende Bennette (Willamette Valley Vineyards, Salem)
"I grew up in a family with nine brothers and sisters, and my mom was always looking for easy ways to feed her hungry children while still being able to catch the latest episode of Days of our Lives. She and her Crock-Pot were very close and we children benefited from the warm delicious meals that were produced by that wonderful appliance. Winter stew is one of my favorites and is great with homemade warm, buttered bread." - Wende Bennette, Willamette Valley Vineyards ambassador
WINE PAIRING: Willamette Valley Vineyards 2009 Pinot Noir
INGREDIENTS
1 3-pound beef rib eye roast (vegetarian option: Yukon potatoes)
½ cup barley
1 bay leaf
2 tablespoons olive oil
3 carrots, chopped
3 stalks celery, chopped
1 half clove garlic, chopped
1 yellow onion, chopped
1 16-ounce package frozen mixed vegetables (corn, green beans, peppers)
4 cups water
4 cubes beef bouillon (veg. stock optional)
1 tablespoon white sugar
¼ teaspoon ground black pepper
1 28-ounce can chopped, stewed tomatoes
* salt, to taste
DIRECTIONS
1. In a slow cooker, cook rib eye roast until tender (usually 4 to 5 hours on high, but can vary with different slow cookers). 2. Add barley and bay leaf during last hour of cooking. Remove meat, and chop into bite-size pieces. Discard bay leaf. Set beef, broth and barley aside. 3. Heat oil in a large stock pot over medium-high heat. Sauté carrots, celery, onion and frozen mixed vegetables until tender. Add water, beef bouillon cubes, sugar, black pepper, tomatoes, and beef-barley mixture. Bring to a boil, reduce heat, and simmer 10 to 20 minutes. Season with additional salt and pepper to taste. Makes 6 servings.