Wild Romance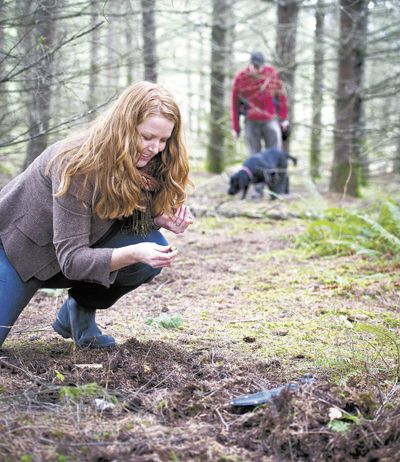 Foraging Foodies Fall for Fresh-Picked Finds
Story By Kerry Newberry | Photos by Andrea Johnson
Wild foods are the current darling on the culinary scene, sharing the spotlight with other hip eats such as fancy donuts, insects and meatballs (according to Huffington Post's 11 Biggest Food Trends of 2011). Foraging features have flashed in national headlines - The New York Times, TIME and The Washington Post - enticing urban readers with a sense of culinary mystique.
The 2011 New Yorker food issue chronicled a foraging adventure with the celebrated chef René Redzepi as he gathered ingredients for his restaurant, Noma, which has twice been named the best in the world. The article was titled "The Food at Our Feet: Why is foraging all the rage?"
"When the top restaurant and the top chef in the world is using wild foods to make that plate exciting, suddenly it has got this snap-crackle-pop appeal like it never had before," said Jennifer Hahn, author of "Pacific Feast: A Cook's Guide to West Coast Foraging and Cuisine." The collection of foraging essays also features more than 50 recipes from top Pacific Northwest chefs, including Greg Higgins, Cathy Whims and Dustin Clark.
"Wild food is not just for back-to-the-landers anymore; it's for high-end eateries and palates that are looking for something really new," she added.
A guide and educator with more than 25 years of wilderness travel experience, Hahn has been foraging for wild foods since her childhood summer vacations, when the family caravanned across North America in a Volkswagen Bug.
"I love to forage; it's really magical," Hahn said. "When you go to look for something like a chanterelle, there's that element of surprise … of finding something you never knew existed in that spot."
Foraging can turn the boy-next-door into your Mr. Big. Dandelion greens, for instance can taste notably bitter, but at the same time "they add a super punch in terms of nutrition compared to say, a romaine lettuce leaf," Hahn said. The greens are full of vitamin E and iron; and with a little finesse in the kitchen, can elevate into unexpected pleasure.
Instead of a dandelion salad, try roasted dandelion root ice cream – a recipe by Ron Zimmerman of The Herbfarm (also found in Pacific Feast). "Dandelion is a weed that lounges in our lawns all over the place and is easily accessible," Hahn said. "It takes the mundane and makes it a culinary magic."
The legacy of wild foods also enchants Hahn. Each plant is part of an entire ecosystem. "As a forager, you become part of an entire incredible network that's been thriving for thousands, if not millions of years," she said. "That's different than going to a grocery store; that's even different than farming; it's as pure as it gets."
Stewardship is key to ensure that whatever you harvest will return year after year. Hahn advocates and teaches newfound foragers to harvest in a way that the plants or the animal can remain for hundreds of years.
"In addition to how it tastes and how to prepare it, is how to perpetuate the dutiful or beautiful plants and animals that we celebrate on our plate," she said.
The Northwest wild foods classes Hahn teaches at Western Washington University's Fairhaven College have peaked over the past few years, and she has noticed the nation's rising flirtation with foraging, especially while writing "Pacific Feast."
"It was just a matter of time- with the whole wave of interest in local food, local farms and products that don't travel a great distance to your plates - the next thing would be wild foods."
Wild foods are as local as it gets.
Plus, foraging whispers adventure, in moss-laden forests, on beaches at twilight, in vast fields and even in the cracks of the sidewalks that we saunter down each day.
"It's like there is a cornucopia of things at our feet and over our heads and at hip level and eye level, that could keep us alive without having to go to a grocery store hardly at all," Hahn noted.
Foraging adds an element of mystery to a meal.
"A forager must walk off the beaten path," writes Hank Shaw, in the introduction of his recently released book "Hunt, Gather, Cook: Finding the Forgotten Feast." The author also runs the award-winning website Hunter Angler Gardener Cook (www.honest-food.net), nominated for Best Food Blog by the James Beard Foundation in 2009 and 2010.
In his book, Shaw reminds the reader that the feast lives all around us. The romance in foraging is reinvigorating our relationship with nature.
"In our modern world, where we spend so much time in front of computer screens, the simple act of getting out into nature in search of a meal, or even just a small part of a meal, becomes an almost spiritual act," Shaw said in an email interview.
Langdon Cook, the Seattle-based author of "Fat of the Land: Adventures of a 21st Century Forager," fell for foraging during other outdoor pursuits: hiking, biking and fishing. He and his friends would discover plants or mushrooms they knew were edible.
"There was a romance to these foods that hadn't yet been popularized. They were little known, off the beaten track," he explained in an interview. "They had flavors and textures that you couldn't get from conventional foods."
"When you're backpacking in the wilderness, 20 miles from a trailhead, and you can scare up fresh foods - fiddleheads or trout or huckleberries, for instance - you've participated in an age-old drama," he added.
"There is nothing better than spending a day with my friends in the woods, getting dirty, tired, wet, and then coming home to a warm kitchen and spending the evening cooking up what we had found, sometimes in elaborate ways, cracking a bottle of wine - or several -and telling stories about our day. That's a good time."
Click here for a couple of recipes from "Pacific Feast: A Cook's Guide to West Coast Foraging and Cuisine."
TITLES FOR TRAIL & TABLE
Fat of the Land: Adventures of a 21st Century Forager
Author: Langdon Cook
Publisher: Skipstone Press
List Price: $16.95
Release Date: March 2011
BLOG
Pacific Feast: A Cook's Guide to West Coast Foraging and Cuisine
Author: Jennifer Hahn
Publisher: Mountaineers Books
List Price: $21.95
Release Date: Oct. 1, 2010
BLOG
Edible Wild Plants: Wild Foods From Dirt To Plate
Author: John Kallas, Ph.D.
Publisher: Gibbs Smith
Price: $24.99
Release Date: June 11, 2010
WEB
Hunt, Gather, Cook: Finding the Forgotten Feast
Author: Hank Shaw
Publisher: Rodale Books
List Price: $25.99
Release Date: May 24, 2011
BLOG

Northwest Foraging: The Classic Guide to Edible Plants of the Pacific Northwest
Author: Doug Benoliel
Publisher: Mountaineers Books
List Price: $16.95
Release Date: March 1, 2011
The Wild Table: Seasonal Foraged Food and Recipes
Authors: Connie Green and Sarah Scott
Publisher: Viking Studio
List Price: $40
Release Date: Oct. 14, 2010
WEB
Pacific Coast Foraging Guide: 40 Wild Foods from Beach, Field, and Forest
Author: Jennifer Hahn
Publisher: Mountaineers Books
List Price: $7.95
Release Date: Oct. 1, 2010
BLOG