Symposium Set for City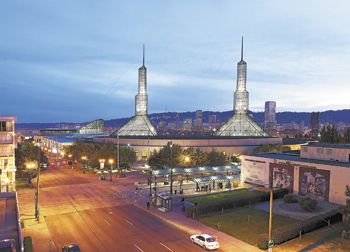 By Karl Klooster
The Oregon Wine Symposium will take over Portland's Oregon Convention Center, Feb. 21–22, marking the eighth anniversary of the Oregon Winegrowers Association's annual meeting.
Since its beginning in 2005, the combination industry conference and trade show has grown in size and significance to the point where the Eugene Hilton Convention and Conference Center proved insufficient to efficiently accommodate all the event's needs.
At the capacious Portland facility, vendor booths and presentation venues will now be in one convenient location, allowing attendees to flow back and forth, as well as interact, more quickly and easily.
In regard to being a "symposium," the term is a perfect fit, both literally and figuratively, for the wine industry. It means "a conference or meeting to discuss a specific subject" and "a drinking party or convivial gathering."
For those who've never attended, wine-oriented congeniality may be an understood aspect of such an assembly, but it is decidedly low key. Industry professionals tend to talk about the wine much more than actually drinking it, particularly in a business setting.
The 2012 Oregon Wine Industry Symposium promises to be, as newly-appointed Oregon Wine Board Executive Director Tom Danowski said, "our biggest … ever."
The schedule is divided into four categories: general sessions, business management, viticulture and enology. Though some deal with technological specifics, others are designed for broader audiences.
The Big Picture: State of the Industry and Vintage Overview; The Naked Truth Behind Distribution: What Makes a Brand Successful in the Three-Tier System; and Inspired, Local and Sustainable: the New Seasons Story are just a few of the sessions guests can choose to attend.
A special offering includes a three-hour Spanish Language Session on Tuesday morning. The subject is vine physiology - en español. Now, that's specific; but it's only the beginning.
All winery staffers can get something from the Symposium as the following subjects demonstrate: Tasting Room Practices for Compliance, Risk Management and Profitability; Case Studies: Producing Great Red Wines Under $20; Botrytis Management: How to Stop Rot from Influencing Your Harvest Date; and Tannin: Not Just Another Dry Topic.
A few sessions require a special ticket. Under Cover: Vineyard Floor Management to Manipulate Vines and Wines moderated by noted vineyard manager Allen Holstein, is one. The Spanish language session is another.
Perhaps the most fascinating session for everyone in attendance takes place from 8:30 to 10 a.m. on Wednesday, Feb. 22. It's titled "Oregon Wine in the Eyes of the World." It promises to pose and ponder some pointed questions: "What does Oregon wine mean to the critics, the wine buyers and wine sellers? What new wine trends and styles are they looking for? What changes do we need make to our wines to sell them in an increasingly interconnected world?
In addition to numerous meetings, wandering around the trade show booths and talking with representatives is an enlightening experience for wine folks of all stripes.
From casks to corks, barrels to bottles, wine presses to professional services, plus suppliers, manufacturers, media and consultants from all over the country will be there explaining their wares and/or services.
Sessions begin at 8:30 a.m. on both Feb. 21 and 22. Tuesday evening's program culminates in the annual grand awards dinner that continues until 10 p.m. All-day activities on Wednesday conclude at 5 p.m.
If you're not already signed up, but are eager to immerse yourself in all things Oregon wine, visit http://symposium.oregonwine.org, and purchase your ticket today.