Pearls of Wisdom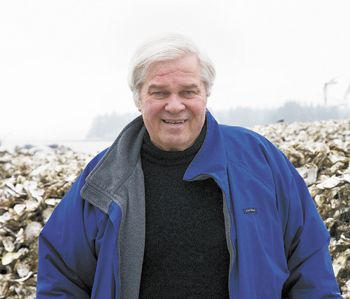 Jon Rowley's career has been a fascinating lifelong exploration and quest to improve the flavor, quality and understanding of fish and shellfish, as well as fruits and vegetables.
After travel to Europe and then attending Reed College in Portland, Rowley began his career as a commercial fisherman in Alaska. In 1981, as an inveterate scholar of the seafood industry, he began consulting restaurants, retailers, seafood companies and other businesses.
Rowley has received national marketing awards and considerable media coverage for programs he has initiated, such as Bruce Gore's "Signature Salmon" and Copper River and Yukon River King Salmon.
Sparked by an Ernest Hemingway passage in "A Moveable Feast" on eating oysters and a subsequent seminal platter of oysters at Le Dôme in Paris, Rowley developed a career-influencing passion for oysters. He does marketing and various consulting work for fifth-generation Taylor Shellfish Farms and has organized restaurant oyster programs and promotions across the country. He produces the Pacific Coast Oyster Wine Competition, "an annual dating service for West Coast wines and oysters."
In addition to his consulting and marketing work for seafood producers and buyers, Rowley works with farmers, restaurants and retailers to improve the quality, flavor and distribution of fruits and vegetables. He is also an accomplished forager of mushrooms and other wild foods.
Rowley has taken a personal interest in reviving American heirloom apples. To give expression to several years of research on heritage varieties, Rowley embarked, with his wife, Kate McDermott, on what turned into a two-year quest to develop the "quintessential American apple pie." Mission accomplished: Rowley and McDermott co-founded Art of the Pie, pie-crafting workshops and blog.
A perceived correlation between organic matter in soil and flavor led Rowley to Seattle Master Composter training, several courses on soil and its ecology, and to the Interbay P-Patch Community Garden where he served as site coordinator. His work at Interbay has been featured in a number of publications, including Christian Science Monitor and Organic Gardening.
Rowley was inducted into the prestigious "Who's Who of Cooking in America" in 1987 for his work improving seafood handling, quality and information. He served as a contributing editor to Gourmet magazine and currently is a contributing editor to SAVEUR. He was the recipient of the Seattle Weekly's first annual Angelo Pellegrini Award and is a member of the Shaw's Crab House's Oyster Hall of Fame in Chicago.
OWP: For the past 17 years, you've organized the Pacific Coast Oyster Wine Competition. What kind of wine is best paired with oysters?
JR: It's maybe more about style than type. Something dry, crisp and clean finishing. Wines that have been Oyster Award winners in the past include: Sauvignon Blanc, Chenin Blanc, unoaked Chardonnay and Pinot Gris.
OWP: What's your favorite oyster?
JR: I love any oyster that is in its season, grown in clean water, that is plump, well-shaped, and beautifully shucked and served cold, glistening in its own juices within five minutes after coming off the knife. That said, if I could choose only one, it would be our diminutive native Olympia. Very special.
OWP: Is there such a thing as seafood terroir? If so, how would you define it?
JR: Definitely. I use the term "merroir." There's something about the water that imbues distinctive flavor or characteristics to a fish or shellfish. The long (Yukon) or challenging (Copper River) rivers that necessitate a salmon producing more oil are good examples.
OWP: Sources say you like to forage for more than fish. What are your favorite finds when foraging along the coast?
JR: I've picked mushrooms for years, and lots of berries and greens. I know a few chestnut spots, too.
OWP: What is (are) your favorite Oregon seafood restaurant(s)?
JR: I'm not up to date. I need to get to Oregon more often. I'm a fan of Higgins (Portland), the original Moe's in Newport, and I love the Blackfish Cafe in Lincoln City. Mother's Bistro (Portland) is good for salmon hash. Dan & Louis (Portland) for the Oregon oyster history and culture. Jake's for crawfish in season. Bell Buoy in Seaside for razor clams.
OWP: February is our Valentine's Day issue and the month for romance. As an expert on the bivalve, what is your take on oysters as an aphrodisiac?
JR: In candlelight on a platter of ice, oysters are very suggestive, romantic, don't you think? There is something about oysters that is conducive to romance … no question. Especially if you believe in the result. Eat oysters in the nude with your beloved … you'll see.
OWP: Any exciting plans or events we should alert our readers to for 2012?
JR: I was involved with the inaugural Allyn Geoduck Festival last summer. It was a hoot.
The 10 equal 2012 Oyster Award winners from the 18th annual Pacific Coast Oyster Wine Competition, www.oysterwine.com, will be announced at the end of April.
I'll be hosting winter nighttime low-tide "Walrus & Carpenter Picnics" at Taylor Shellfish Totten Inlet oyster beds for the ultimate oyster-eating experience (Nov.–Feb.). www.brownpapertickets.com/event/154154
Copper River king salmon season is approximately May 15–June 15.