An Affection for Fresh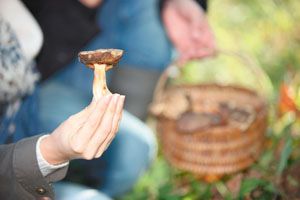 Hilary Berg, OWP Editor
It's February, so ardor is in order here at Oregon Wine Press. While you will find spicy chocolates (Click here) and classic Valentine's recipes (Click here), our focus on romance takes us off restaurant reservation lists and out into the open.
When I was a journalism student at the University of Kansas, one of my favorite reporting assignments was to forage for food on campus.
My professor, Tom Eblen, a 51-year veteran of newspapers, including reporting and editing at the Kansas City Star, wanted to share his spirited passion for freshly found edibles.
On a 45-minute stroll, we unearthed a variety of items. Some I had never considered food. Dandelions - now salad greens had always been weeds best removed with a lawn mower, and sumac was just a red-berried bush - now capable of making a refreshing summertime sipper our teacher/tour guide called "sumac-ade."
More familiar to the majority of us students were walnuts from Marvin Grove, which further research found that the towering trees were planted on the 1,000-acre campus from its beginnings in the 1870s. Eblen also informed us the most effective way to open them was with your car, as in your tires rolling over a securely fastened bag - talk about tough nuts to crack.
We also found beautiful persimmon trees that I had passed hundreds of times, never giving them a second thought, as well as pear trees bearing sweet fruit.
A week after the assignment, my professor's wife, his fellow forager, surprised us with a persimmon chiffon pie made with the fruit we had picked.
Fast-forward to 2012, and foraging crosses my path again.
Writer Kerry Newberry had pitched the story to me more than once. But, for some reason I never bit. I was well aware that foraging had become a popular past-time, but I wasn't sure its connection to wine was strong enough to make it a cover story.
Well, after scratching the surface - digging a little deeper - I was reminded that this was not just a plant story; it was a serious food feature (Click here). And, of course, when food is nigh, wine is nearby.
Oregon's wine regions are abundant with wild food, including the coveted native truffle in white, black or brown. These pungent jewels have turned many locals into treasure hunters. When foragers uncover a patch, it's like a hitting a culinary jackpot (Click here).
While truffles are valuable, for most people, it's not about making a profit; instead it's the primal desire to hunt and gather - minus the rifles and day-glow orange -all kinds of fresh foods.
Again, it is February, the national month of love; so what's foraging got to do … got to do with it?
I can't think of anything more romantic - or more Oregon - than relaxing after a full day of galavanting in the great outdoors, with a freshly found meal, a glass of your favorite Northwest wine and a crackling fire. Of course, you can't forget the rain beating on the windows, reassuring you that your decision to stay in and get cozy was the right one.