OWFBF Winners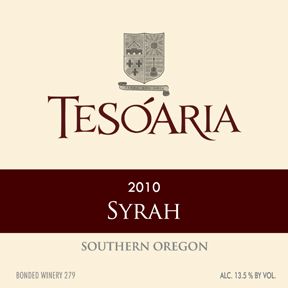 On Jan. 5, four Oregon wine judges evaluated 70 different wines submitted for the Oregon Wine, Food & Brew Festival Wine Competition. The competition took place at the Salem Red Lion Inn, under a blind-taste format, using the UC Davis 20-point scale.
"The judges were meticulous and extremely dutiful in their consideration of each and every entry," said Jill Ingalls, co-owner of the festival. "I am amazed at their knowledge, expertise and dedication to this industry."
The contest was open to all 36 wineries that poured in the 29th annual festival, which took place Jan. 14–15 at the Oregon State Fairgrounds' Americraft Center in Salem.
Along with the wineries, the festival also featured Oregon restaurants and caterers, microbreweries, as well as local artists. For more information about the festival, visit www.oregon
winefoodbrewfest.com.
THE WINNERS
Best of Show: TeSóAria 2010 Syrah
Double Gold: Noble Estate 2010 Muscat
Double Gold: Zerba 2007 Syrah
Gold: Gilstrap Bros. 2008 45 Reserve Malbec
Gold: Methven Family 2010 Gamay Noir
Gold: Zerba Cabernet Sauvignon
Silver: Cardwell Hill 2010 Pinot Noir
Silver: Duck Pond 2009 Pinot Noir
Silver: Eola Hills 2009 Chardonnay
Silver: Gilstrap Bros. 2009 45 Paradise Cabernet Sauvignon
Silver: Noble Estate 2007 Merlot
Bronze: Abbey Creek 2009 Pinot Noir
Bronze: Abiqua Wind 2010 Müller-Thurgau
Bronze: Cubanisimo 2009 Pinot Noir
Bronze: Cubanisimo 2009 Rumba Pinot Noir
Bronze: Delfino 2009 Tempranillo
Bronze: Duck Pond 2010 Pinot Gris
Bronze: Eola Hills 2007 Syrah
Bronze: Gilstrap Bros. 2008 45 Magic Syrah,
Bronze: Gilstrap Bros. NV 45 Passion Dessert Syrah
Bronze: Mark's Ridge 2009 Gewürztraminer
Bronze: Melrose 2007 Blend
Bronze: Orchard Heights 2009 Late Harvest Gewürztraminer
Bronze: Silver Falls 2009 Cheers Sparkling
Bronze: TeSóAria 2008 Blend
Bronze: TeSóAria 2010 Italian Red
Bronze: TeSóAria 2010 Pinot Noir
Bronze: Vitis Ridge 2008 Fab Four Blend
Bronze: Vitis Ridge NV Late Harvest Syrah
Bronze: Vitis Ridge 2010 Marechal Foch
Bronze: Zerba 2007 Late Harvest Syrah/Port