Talkin' Tourism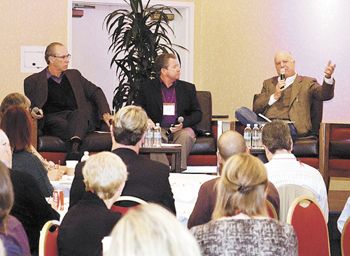 By John Gottberg Anderson
The buzz around North America's first Wine Tourism Conference, held Nov. 16 and 17 in Napa, Calif., wasn't lost on attendees from Oregon.
"This was perfect timing for us," said Suzanne Hankins, executive director of North Willamette Vintners. "It was a great resource for us to build new and stronger relationships, and to learn from folks who have been successful."
More than 200 individuals from 25 states and several foreign countries came to the two-day conference to explore the close relationship between winery success and destination travel.
In addition to Hankins, Oregon attendees included Sue Horstmann of Willamette Valley Wineries, Allison Priestley of the Southern Oregon Wine Institute, Byron Marlowe of Southern Oregon University, Allison George and Sylke Neal-Finnegan of the Washington County Visitors Association, and public-relations executives Vicky Hastings and Lisa Hill.
"For us, this has been a confirmation that we're going in the right direction," Hankins said. "We see so much potential for growth in the north Willamette Valley, as so many of our members are boutique wineries that are just emerging."
Hankins was especially enthused by networking opportunities. "Of the 43 members of our association, 26 are wineries, but the others are mainly lodging and dining partners," she said. "It was nice to share different perspectives with folks from other areas, to get more in-depth information. We found common ground in different scales and contexts."
Caroline Beteta, president and chief executive officer of Visit California, opened the conference by describing her state's strategic marketing plan for the wine industry.
"About 10 years ago," Beteta said, "wine and culinary tourism was merely an activity that some people did (when they traveled). People are now choosing destinations based upon the culinary and vintner experiences they can have. Last year, almost 21 million visitors took trips specifically for wine.
"That's changed our whole marketing position. Wineries and restaurants are part of the overall destination appeal. Especially with the boutique wineries, it's the people there who create a long-term destination clientele."
While California is unquestionably the leader in wine tourism in North America, a Pacific Northwest perspective was presented by Allen Shoup. Formerly the chief executive officer of the Stimson Lane wine group (including Chateau Ste. Michelle and Columbia Crest), Shoup is now the founder and managing partner of Long Shadows Vintners in Walla Walla.
"I think Washington might still be waiting for a great wine region to emerge, had it not been for tourism," Shoup said. "In 1980, Ste. Michelle helped to create a Washington Wine Commission when there were just 13 wineries in the state and we were 70 percent of the industry. Today, there are more than 700 wineries and about 35,000 acres of vineyards.
"Throughout this [time], tourism has been the single most powerful force in helping [Washington wine] grow and prosper. But tourism is often a byproduct."
Shoup advised wine regions to plan now for unanticipated tourism in years to come. "I'm sure Napa regrets that 30 years ago it didn't think about what the traffic problems were going to be today," he said.
Because Washington law allows every winery to have three tasting rooms, Woodinville alone (the home of Chateau Ste. Michelle) has nearly 100 tasting rooms without any central planning, Shoup said.
"There is a lot to be said for standing back, trying to broaden the base of the tourism umbrella while planning for the future," he added. "But you cannot plan well enough and far enough in advance. You need to do it now."
A panel of wine journalists advised that compelling wine, in and of itself, is not enough to create an atmosphere for wine tourism. "You've got to have at least the basics of places to stay and ways to get there," said wine consultant and author Leslie Sbrocco of Thirsty Girl blog.
"Diversity is the key," she said. "You want large producers as flagship wineries that draw huge crowds, peppered with [cult-followed] boutique producers and up-and-comers, so that there's something for everyone."
Michael Mondavi, son of industry icon Robert Mondavi and now the owner of Folio Fine Wine Partners, spoke on the final day of the conference.
"When my father established the Robert Mondavi Winery in 1968, he built a section that was strictly hospitality, with tasting rooms and food to complement the wine," the younger Mondavi recalled. "Yet the problem was attracting visitors. The best restaurant in St. Helena (the nearest town) was A&W Root Beer. For lodging, there were a couple of family motels in St. Helena and Napa.
"But as people came to the wineries, restaurateurs followed, and the rest of the tourism industry grew. It grew with controls that at times were very onerous, but I do think it's better to have controls."
Clay Gregory, president of the Napa Valley Destination Council, explained that local laws prevent restaurants and lodging facilities from being directly attached to wineries. "We're trying to achieve balance between tourism and what's good for the citizens," Gregory stressed.
Mondavi said that in the mid-1970s, as Napa's tourism success was growing, the Mondavi family determined that "it was very, very important to give back to the community.
"There were only two private hospitals here, no community hospitals," he said. "We wanted to make sure people without insurance would have adequate medical and dental care. So we started an annual winery auction program to give money to local community health care."
The Napa Valley Auction, held each July, has been a tremendous success.
"I encourage any of you," he concluded, speaking primarily to winemakers, "to collaborate not just with vineyards and growers, but with the hospitality industry and the entire community. Wine tourism makes people happy."
Dates and locations are under consideration for a 2012 Wine Tourism Conference. The 2011 meeting was the joint effort of MartinCalder Productions of Seattle and Zephyr Adventures of Napa.