Not Home for
the Holidays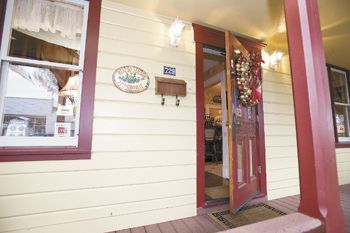 By Mark Stock
Home for the holidays is subject to interpretation, especially in the company of cuisine so wonderful it transports you straight back to the place where you learned to ride a bike. As much joy as cooking brings — in the warm confines of a familiar kitchen — it can be just as blissful to be served, serenaded or even surprised.
While many Oregon restaurants close over the holidays, a few leave their stoves heated, filling their dining rooms with the aromas you grew up associated with late December. In doing so, the atmosphere of these restaurants embodies the spirit of Christmas, offering gourmet gifts — minus doing the dishes.
The following list of upscale eateries are open Christmas Eve and/or Christmas Day. Just be sure to reserve a table early; seats fill up fast for these festive feasts.
PALEY'S PLACE - PORTLAND
If Vitaly Paley can clean up on Food Network's Iron Chef America, he can certainly plug away on Christmas Eve. The chef and staff offer immaculate, albeit pricey, Northwest recipes with outstanding presentation and a sophisticated staff. The Oregon and French-leaning wine list is quite good, and chances are, your waiter will know the perfect pairing for your Dungeness crab risotto or braised elk shoulder.
Open: Christmas Eve • Corkage: $20 (SCA Winner)*
1204 N.W. 21st Avenue • 503-243-2403

THE HEATHMAN - PORTLAND
Francophile's delight, The Heathman has for years extended its hours to serve the hungry masses on Dec. 25. Culinary Director Philippe Boulot and Executive Chef Michael Stanton offer a special prix-fixe menu that day sure to impress your palate; and the hotel's holiday décor will definitely to put you in the holiday spirit.
Open: Christmas Eve and Christmas Day
Corkage: No need (6,600-bottle cellar) (SCA Winner)
1001 S.W. Broadway • 503-241-4100

TORO BRAVO - PORTLAND
By late December, most have tired of the dark days and incessant rain. John Gorham's bone-thawing paella will warm your holiday spirits. Dinner at this North Portland institution has been praised by many a critic, and for good reason: One always leaves happy — can't be said for some of those dysfunctional holiday dinners at home.
Open: Christmas Eve • Corkage: $10
120 N.E. Russell Street #A • 503-281-4464

GRACIE'S (HOTEL DELUXE) - PORTLAND
An oft-forgotten gem, Gracie's strength lies in its unmatched service. The filet mignon and high-end wines may cost something fierce, but the person who sold it to you most likely knows a thing or two about both enology and gastronomy. Dining here is timeless; the classically trained menu and dapper staff says it might as well be Christmas Day, circa 1925.
Open: Christmas Eve and Christmas Day • Corkage: $30
729 S.W. 15th Avenue • 503-219-2094

BEAKER & FLASK - PORTLAND
Don the festive sweater because you'll certainly be sipping a cocktail here. Home of some of the best mixology in the Rose City, Beaker & Flask is as enticing as a winter fire. Equally good is the made-from-scratch menu built on predictable seasonal ingredients prepared in unpredictable ways.
Open: Christmas Eve • Corkage: $15
727 S.E. Washington Street • 503-235-8180
BISTRO MAISON - MCMINNVILLE
Quite possibly the best place for duck during the holidays, McMinnville's standout French eatery is offering both its regular menu and a fixed menu on Dec 24. Chef Jean-Jacques Chatelard is sure to make your holiday meal memorable with a wonderful lineup of local wines, as well as escargot, foie gras, pâte, fondue and mussels. Can you say, "Joyeux Noël?"
Open: Christmas Eve • Corkage: $15 (SCA Winner)
729 NE Third Street • 503-474-1888

THE PEERLESS - ASHLAND
Set in the quaintest of towns, The Peerless offers an in-depth wine list as well as clever entrées by Chef Sam Jackson. The overtly stylish bar screams high prices and plenty of show, but the menu is refreshingly simple. Pair a resident Tempranillo with their lamb meatballs, and you'll be right at home (metaphorically, at least).
Open: Christmas Eve • Corkage: $20
243 Fourth Street • 541-488-1082

HAMLEY STEAKHOUSE - PENDLETON
En route to the Walla Walla Valley, Hamley serves perhaps the best red meat in Oregon. Fittingly, the menu offers big reds and hearty ales to match. Strength is the theme, running through the menu and all the way to the adjacent saddle shop. The food coma Hamley's induces rivals anything your grandmother ever concocted on Christmas Day.
Open: Christmas Eve • Corkage: $15
8 S.E. Court Avenue • 541-278-1100