Smallest Is Best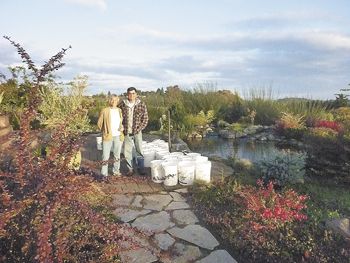 By Karl Klooster
Calamity Vineyard & Farm co-owner Tom Vail is fairly certain his is the smallest bonded winery in Oregon.
He didn't plan it that way. In fact, when he moved to Oregon, he had no intention of getting into the wine business at all.
"Had you asked us prior to 2004 if we would end up in Oregon's premier wine region, growing grapes and making Pinot Noir and Pinot Gris, we would have wondered what was in your water," he said.
The other half of the "us" Tom Vail refers to is his wife, Marion, who joined him over the last seven years in creating what they are proud to call a little bit of paradise in the hills just east of Amity.
They own five acres in the Amity Hills, which shares an American Viticulture Area with the Eola Hills of southern Yamhill and northern Polk counties. Their Calamity Hill estate vineyard covers just over 1.5 acres of their tract.
Amity's northern portion of the Eola-Amity Hills AVA represents only about one-fifth of the total. The AVA stretches 11 miles from just north of Amity all the way to West Salem.
The Vails, who own McMinnville's Cart-Away Concrete Systems, came to the Yamhill Valley from Woodland, Calif.
"We were looking to downsize, to find a place with a favorable environment for our small business and a less hectic pace for ourselves," Tom said.
"We did our research and set up appointments with economic development people in Oregon and Washington. We checked out places like Grants Pass and Cottage Grove, Aberdeen and Longview."
But when they drove into McMinnville and cruised down Third Street, they knew they had arrived.
Cart-Away, specializing in small load concrete batching, had found a new headquarters. And the Vails, who knew not a soul in town, had found a new home.
After moving into the small, but comfortable house in the middle of their newly acquired hillside acreage, they realized this would be a true lifestyle change. Neither had ever lived in a rural area.
"Our homes always had a sidewalk in front and neighboring houses just a few feet away," Marion said. "Now we were 12 miles from the nearest grocery store. We enjoyed gardening and being outdoors, but we had no idea what to do with five acres."
Wanting to be conscientious stewards, they decided to see if they could put their property to better use. They soon learned their land had deep Jory soil, a type known in Oregon for bringing forth excellent wine grapes, particularly those of the Pinot Noir variety.
Elevations ranging from 480 to 530 feet, and favorable evening breezes from the coast, completed nature's positive package and sent them a strong message to plant a vineyard.
They also decided to put in a sizable vegetable garden, plant a grove of olive trees and landscape some of the space around their house. In fact, everything at Calamity Hill has been thoughtfully planned, and is being impeccably maintained, to create a visually arresting environment.
The Vails measure their vineyard in vines rather than rows or acreage. The first planting consisted of 390 Pinot Gris vines. They added 120 more in 2009, bringing the total to 510. The 152 clone they chose originated in France's Alsace region.
Then they planted 1,410 Pinot Noir vines, mixing Pommard and Wadenswil with 777 and 115 Dijon clones. All were grafted to native, phylloxera-resistant rootstocks known for their cool-weather hardiness. The property slopes gently to the north and east. All rows were planted with a north-south orientation.
Once fully mature, the estate vineyard is expected to produce approximately 100 cases of Pinot Noir and 50 cases of Pinot Gris annually. Totals for 2010 were 70 and 20, respectively.
They have no plans to build their own winery. Instead, they are entrusting the winemaking to local experts, whose abilities are reflected in the outstanding wines they have previously made.
The first three Calamity Hill vintages — 2007, 2008, 2009 — were crafted by Panther Creek winemaker Michael Stevenson.
"We were very pleased with what Michael did," Tom said. "But he had to discontinue outside work and focus on the winery's production."
Fortunately, they were able to engage the services of Chris Lubberstedt of Methven Family Vineyards, who produced the 2010 Pinot Noirs — as well as helped oversee this year's vines in anticipation of the 2011 harvest.
And Geoffrey and Lane Crowther, owners and winemakers at Toluca Lane, brought Calamity Hill's Pinot Gris from crush to bottle at August Cellars east of Newberg.
But what's the story with that seemingly self-deprecating name? Why, you might ask, would anyone choose a word that means disaster, catastrophe, or at the least, affliction or misfortune?
As it turns out, the Vails have a sense of humor, with perhaps a bit of promotional acumen mixed in. They want people to ask what made them hit upon the name Calamity.
"The answer is pretty simple, actually," Tom said. "We're from California, and we moved to Amity." Thus, Cal-Amity.
Calamity Hill Vineyard and Farm is open to the public only on Memorial and Thanksgiving Day weekends. However, the Vails maintain a licensed tasting facility in their home and welcome groups of eight or more by appointment at 503-868-7115.
WINERY DETAILS
CALAMITY HILL VINEYARD & FARM

Address: 9779 S.E. Hillview Drive, Amity
Hours: By appointment only
Phone: 503-868-7115
Website: www.calamityhill.com