¡Salud! Shines at 20th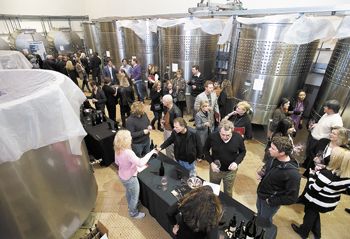 By Karl Klooster
The alliance between Willamette Valley wineries and Hillsboro-based Tuality Healthcare organization has led to a unique program that provides health care treatment and education services to vineyard workers and their families.
Called ¡Salud!, the significance of the name is two-fold: Its meaning in Spanish is "health" and it signifies the fact that most of those it serves are Hispanic. Without these workers, the vast majority of the state's winegrapes would not be harvested.
In recognition of and appreciation for this reality, over the past 20 years members and supporters of the Oregon wine industry have stepped up to make this program a success.
For the 20th annual iSalud!, Friday, Nov. 11, more than 440 contributors congenially crowded all three levels of Domaine Drouhin Oregon's gravity-flow winery high in the Dundee Hills.
The occasion was the "Big Board" barrel auction, kicking off ¡Salud!'s annual fundraising extravaganza, which culminated in a black tie dinner and auction at the Governor Hotel in Portland the following evening.
The DDO event's name is derived from the big boards, or giant projections on the interior walls, which list the winery names and constantly changing amounts being bid per case for the five cases of special cuvée Pinot Noir offered by 42 wineries.
Much of the bidding approached the $2,000 per case threshold, but none exceeded the buyout bid of $10,000 for all five cases of Ponzi Vineyards 2010 ¡Salud! Cuvée, a blend of wines from two distinctive sites: Avellana Estate Vineyard in the Chehalem Mountains and Lazy River Vineyard in Yamhill-Carlton AVA. The wine spent 18 months in oak before being released to the buyer.
Besides the possibility of purchasing one-of-a-kind wines, aficionados make it a point to attend this tasting because it affords the opportunity to sample and compare the Pinot Noirs of numerous top producers from the most recent vintage all in one place.
Although, given time limitations and the logistics of three floors, it would have been a difficult task to taste all 42 wines, it was possible to do justice to a goodly number while still taking the time to chat with winery reps and compare notes with fellow Pinot fans.
This writer was able to swirl, sniff, sip and savor 26 while making cogent if not copious notes. Whereas many observers of the wine scene say it's a subjective subject, there's a great deal of common ground on what's really good.
Particularly pleasing to report about the 2010 vintage were some outstanding characteristics that, in this taster's subjective albeit appreciative opinion, seemed to be widely shared.
In aroma and flavor, varietal character was pronounced. In other words, these were Pinots that smelled and tasted like the variety. A velvety texture with a hint of granularity suffused the mouthfeel. When present, this is a delightfully Pinot-centric attribute.
Being youthful wines, tannins were assertive but already resolving — not harsh, bitter or unduly drying. Dark berry rather than cherry marked the flavor. A hint of black pepper was present. Good balance indicated further benefit from cellaring.
As much as each individual wine has its own variables within any general scheme, the above scenario seemed to be widespread among the wines presented at this year's ¡Salud! tasting. In other words, there is every indication of an outstanding vintage.
Proceeds from Friday's barrel auction and Saturday's dinner auction is estimated at $677,000, topping last year's combined by nearly $30,000.
In addition to its very worthy cause, attendees note that ¡Salud! has emerged as an event much anticipated each year by members of the industry and its affiliates as well as many who are simply Oregon pinot noir lovers.
By all reports, this year's dinner and auction was the height of enjoyment for all in attendance. Topping the entertainment meter were introductions of and pitches for winery lots by other winery owners.
Sort of like show-no-mercy celebrity roasts, on a somewhat toned down but no less fun-filled level. DDO general manager David Millman emceed the mirthful madness, which included bits by such noted humorists as Jason Lett, Ken Wright, Amy Wesselman, David Adelsheim, Jesse Lange, Scott Wright, Bill Sweat and Harry Peterson Nedry
For the edification of the non-wine biz knowledgeable, each of these people own or have significant interests in well-known Willamette Valley wineries, but none has recently appeared at Harvey's Comedy Club in Portland, much less The Improv in L.A.
Watching demurely from the sidelines, Anam Cara co-owner and P.R. maven Sheila Nicholas alliteratively noted that the overall mood reflected the industry's closeness, collaboration and camaraderie.
She said the live auction lots drawing the evening's most attention and audience interaction were getaways — an Argentinian expedition, a
Russian River Valley immersion, a trip to France and sailing in the Sound.
Ladies Night, an all-female extravaganza for eight — including the guests, the winemakers and the chef — was also a big hit, at least for the women; and the purchase of a Salmanzar (9-liter bottle) filled with the ¡Salud! wine of your choice was extremely popular.
Paddle raises added more bucks for the program. Wines, wines, wines were, of course, abundantly up for bid. But there was also a vintage port tasting and bottles of rare old bourbon.
Highlighting the evening at the Governor, the Ponzi family was honored with the event's first-ever Founders Award, with special recognition to Nancy Ponzi for her work as one of the original group of volunteers who made ¡Salud! a reality.