Honey, We're Home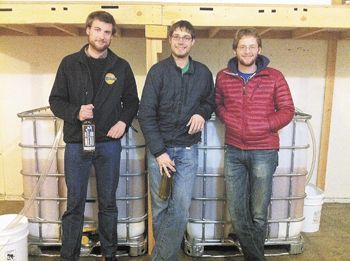 By Hilary Berg
When you think of college students, one of the first things that often comes to mind is alcohol. But, what about honey? Not likely… right?
But for three ambitious University of Oregon students, that's all they think about these days: honey and wine, aka mead.
Last year, Chase Drum, originally from Hood River, met two Simons at the University's Entrepreneurial Club: Simon Spencer, from Portland, and Simon Blatz, from The Dalles. Although all have different focuses in their studies — Drum: physics; Spencer: social sciences; and Blatz: business — the three shared a desire to start a business.
"We all had varying backgrounds in entrepreneurship," said Drum, whose first self-enterprise involved solar renewable energy; Spencer's was web consulting; and Blatz had previously owned his own locksmith company. "After meeting and getting to know one another, we decided we wanted to start a venture together."
They had a few different ideas for businesses. Most were tech-related; but the barriers to that line of work were financially severe. Then Blatz mentioned his mom's success story: Blue Dog Mead.
Valerie Hiveley-Blatz founded the mead company in 2002 in The Dalles. She had seen success in the Portland area but was ready to move on. In late spring of this year, she signed over the business to her son — Drum and Spencer also bought in. The three researched the ancient beverage, which dates back to approximately 7,000 BC, and, of course, sampled the competition.
"About a year ago, I hadn't even heard of mead, so I tried some, and, to be honest, they were too sweet and viscous; they reminded me of drinking Robitussin," Drum said. "But when I tried Simon's mom's mead, it was unlike anything I had before. It had a honey aroma, and the taste was sweet at first — like some white wines — but as I went through the taste experience, it became dry in the finish.
"From the business perspective, we felt it was a unique product," Drum continued. "For the consumer, it is something that is kind of familiar but at the same time, new."
Making it official, the three friends found a 5,800-square-foot commercial facility in Eugene, where the product will be made on a monthly basis. It takes only about 30 days to produce mead, and it can vary with the honey used — wildflower, clover, blackberry, etc. — and additions to the base. For example, Cyser is a blend of honey and apple juice fermented together.
Although Drum, Spencer and Blatz will make traditional mead geared toward wine drinkers, they want to appease their beer-loving peers.
"We are college students who are also big beer fans, so starting in January or February, we hope to make mead that is carbonated or hopped up," Drum said.
Whether you add bubbles, hops or whatever, mead must have honey — and lots of it. Drum would like to keep their sourcing local, but circumstances have led him and his partners to use a quality national producer, Sue Bee Honey of Sioux City, Iowa.
"Blue Dog was formerly based in The Dalles, so the honey came from a distributor in the Gorge," Drum said. "But since we moved it to Eugene, we investigated honey sources in the local area, only to be disappointed." Along with consistency issues, the other roadblock to nearby nectar was affordability. "We are a new company owned by college students, so the price of honey is a big factor," Drum said.
Not a factor is a lack of enthusiasm for their new venture.
"We've had some great brainstorming sessions, and we've come up with some fantastic ideas for products we want to try," Drum said.
Blue Dog Mead recently released its latest bottling in mid-November. You can buy a bottle of the new stuff or previous vintages ($12.99) on their website, www.bluedogmead.com. It is also available at select locations in the Gorge (including Full Sail Brewery), Portland and the Oregon Coast.
As far as the Eugene market, the trio wants to phase out the old inventory before introducing the re-branded beverage to its new college home, or should I say, "home sweet home."
BUSINESS INFO
BLUE DOG MEAD
Address: 254 Lincoln Street, Eugene
Phone: 541-506-1560
Website: www.bluedogmead.com