Man of the Hower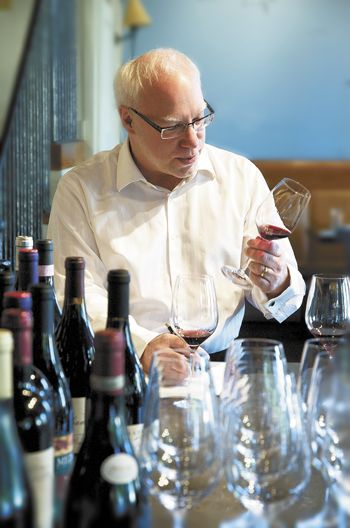 Cole Danehower has been a leading regional wine journalist for more than a decade, reporting on wine regions of the Pacific Northwest.
Among his many accomplishments is Danehower's Oregon Wine Report, which he started in 1999 to give consumers detailed information on the wines, wineries and winemakers of Oregon.
In 2004, his hard work and dedication was recognized when Danehower and the Oregon Wine Report were given the James Beard Foundation Journalism Award. The next year, accolades continued when SAVEUR magazine chose Oregon Wine Report as one of their "Top 100 Favorite Things" in the world of food and wine.
Danehower is co-publisher and wine editor of Northwest Palate magazine. His work on Oregon wines has been published in the San Francisco Chronicle, The Oregonian and Eugene Register-Guard. And he is also the regional correspondent for the nationally distributed wine industry magazine Wines & Vines.
In his spare time, Danehower is also a frequent judge for Northwest wine competitions, including Northwest Wine Summit, Greatest of the Grape, World of Wine, Idaho Wine Festival and Sip! McMinnville Art & Wine Classic.
He is the author of "Essential Wines and Wineries of the Pacific Northwest: A Guide to the Wine Countries of Washington, Oregon, British Columbia and Idaho," published by Timber Press.
Danehower resides in Portland with his wife, Andrea.
OWP: How did you get interested in wine?
CD: You know, I don't really know; I've just always been around wine. My family did not drink wine until we moved to the San Francisco peninsula in 1968, when I was starting high school. Through his work, my father became friendly with a guy named Robert Finigan, who had begun a wine review newsletter (well before Robert Parker). I remember going to the Beltramo's wine shop in Menlo Park with my Dad using Finigan's newsletter to find wines (Finigan just died in October, by the way).
In college, I had a little Hungarian oak barrel in my dorm room that I filled with Ficklin Port, which made me many friends (I still have the barrel).
One of the first things I did after college (1976) was spend a day driving around Napa Valley by myself. I visited Mondavi, Heitz, Christian Brothers and Beringer. A few weeks later, I took a class at Beltramo's, and we visited this guy named Al Braunstein and his redwood fermenters under lean-tos, and I began to learn what a difference place makes in wine at his young Napa winery called Diamond Creek.
Wine remained an ardent hobby through many years of working in marketing in Silicon Valley, until I moved to Oregon, and in 1999 began writing and publishing the Oregon Wine Report newsletter, and I'm still trying to make a living out of wine writing.
OWP: Do you see any new wine trends?
CD: I think there are three important ones right now.
The rise of interest in so-called "natural" wines and sustainably farmed and made wines, which is actually not that new for Oregon, but seems to be newish for a lot of other people.
On a more regional level, I think winemakers are increasingly ignoring political boundaries to make the best wine they can. It is now much more common to see an Oregon winery making wine from Washington grapes. Folks like Ed Fus at Angel Vine, Ron Helbig at Barking Frog and Peter Rosback at Sineann are all based in Oregon but make excellent wines from Washington fruit, and I think this is an encouraging trend for consumers.
The other important mini-trend in Oregon is the slow emergence of international partnerships. Of course, it started with Domaine Drouhin in 1988, but now we see Dominique Lafon of Burgundy's Domaine des Comtes Lafon participating in Oregon through Evening Land Vineyards, and the joint venture involving Jay Somers and Ernst Loosen. These are all valuable validations of Oregon's wine prowess and very exciting for Oregon wine lovers—I hope to see more such international involvement.
OWP: What is your all-time favorite wine and why?
CD: Oh, gee, all-time favorite? Just one? I could say it was the 1968 Charles Krug Vintage Selection Cabernet Sauvignon because that was the first wine I tasted that moved me. Or I could say it was the 1974 Heitz Martha's Vineyard Cabernet I bought when I visited the winery in 1977, not because I knew anything about it but because it was the best thing I had ever tasted and I had to use my dad's credit card to buy it. Or I could say it was the 1996 Baco Noir from Girardet in Roseburg because I met my wife over that wine. I could go on and on.
OWP: What wine writers do you like to follow? Any bloggers?
CD: Many wine writers are good at imparting knowledge in a workmanlike fashion, but far fewer are also accomplished stylists whose prose engages you emotionally. The former I read to learn things and keep current, the latter I read for the added values of engagement and enjoyment.
I think Matt Kramer is a brilliant writer — I'd read anything he's written regardless of the subject. I regularly enjoy Jancis Robinson for her style, opinions and deep knowledge. In a somewhat different vein, I admire the personal storytelling style of Natalie MacLean, and of course the humor and irreverence of Randall Grahm. And do not forget (as is frequently done) previous generations of excellent wine writers: Richard Olney, Gerald Asher and Frank Schoonmaker are great examples of top-notch writing about wine.
Notice I did not include any bloggers. I regularly read, enjoy, and respect many wine bloggers — but the very medium of blogging, for me, seems to preclude depth, narrative development and storytelling — all things I believe mandatory for truly great, not just informative, wine writing.
Northwest Palate covers the entire Northwest wine scene (Oregon, Washington, Idaho, British Columbia). How does Oregon set itself apart from the others?
Oregon's wine culture is unique. We have no truly large wineries — even our biggest are small in comparison to the rest of the Northwest and California. The overwhelming majority of our wineries are individually or family-owned, not corporately owned. Wine is a very personal endeavor in Oregon, driven more by love and zeal than by business plan and hard-nosed dollars and cents. The same can be said for the winegrowers, as well: In Oregon the importance of the vineyard's individuality is highly respected — there are approximately twice as many vineyards here as there are wineries; in Washington, it is the opposite, which means they have much larger size vineyards and a bit less of that personal and individual growing style. In Oregon, wine is all about personality of the vineyard, the grape, the winemaker, the vintage and the wine — which all combine into something bigger than terroir, in my opinion.
I revel in the whole Northwest wine scene; it is quite an exciting wine region, but my heart will always belong to Oregon.
OWP: If you weren't writing about wine, what would you like to write about?
CD: I want to write historical fiction. I love history and would like to recreate the world of, say, 16th century London … or perhaps Medieval Burgundy?
OWP: Any new projects in the works?
CD: Yes, as a matter of fact. Following on the success of my book, "Essential Wines and Wineries of the Pacific Northwest," I will soon be launching a new endeavor called Essential Northwest Wines Quarterly. This will be a digital and print-on-demand, magazine-style publication offering my detailed reviews of hundreds of Northwest wines, along with in-depth profiles and articles on the winemakers, grape sources, vintage details and winemaking decisions — everything an interested wine lover would want to know to make an informed buying decision for wines from Oregon, Washington, Idaho and British Columbia.
Plus, I have two new book proposals out for consideration.