Talkin' Turkey and Wine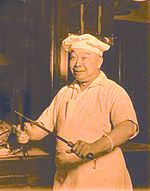 Huber's since 1879. That's the proud statement emblazoned at the entrance to Portland's oldest continuously operating eatery. And it's a tradition that has been carried forward by the same family for 98 of the venerable establishment's 112 years.
When first opened, the restaurant was called the Bureau Saloon. It's original owner, W.L. Lightner, hired Frank Huber, an affable young man, as his bartender in 1884.
Huber soon assumed responsibility for daily operations and, in 1891, he enticed a talented 21-year-old Chinese immigrant named Jimmie Louie to leave another restaurant and become his chef.
During the infamous "Flood of '94," which inundated most of downtown, Louie served steamed clams and turkey sandwiches from a rowboat outside the half-immersed restaurant. From that time forward, turkey became a regular part of their menu.
The restaurant's name was changed to Huber's Café, when he took over in 1895, and moved to its present location, 411 S.W. Third Street, in 1911. Resplendent in mahogany, beveled mirrors and a stained glass ceiling, it became a local showplace.
The very next year, Huber suddenly fell ill and died. Louie went into partnership with Huber's widow and continued to operate under the well-established and highly regarded Huber's name.
Turkey dinners and (according to family legend) free tea laced with illegal liquor helped the restaurant get through Prohibition. After Mrs. Huber's death in 1940, Jimmie partnered with her son, John, and brought in his own nephew, Andrew, to assist him.
By 1946, when Jimmie passed away, he was reputed to have said, 'When you cook 1,000 turkeys, you've learned a bit, but when you've cooked 50,000, you know something about it."
Andrew Louie bought out John Huber in 1952 and his son, James, joined the business in the early 1970s. Along with his younger brother, David, James has managed the business ever since.
He introduced the restaurant's famed Spanish coffee, became an early advocate of Oregon wine and is continuing the 365-day-a-year turkey tradition.
OWP: James, you've been Huber's general manager for 20 years now. And you are known for your personal interest in wine. How did that come about?
JL: When I first began working in the restaurant full time in 1972, we only had a few basic wines and after I'd been there for awhile, I could see we needed to expand our list. More people were becoming interested in wine and asking what we had. But I knew almost nothing about wine, so I signed up for a wine course with Bert Harris, who was Portland's only serious retail wine merchant at the time. He was very knowledgeable and enthusiastic about wine. I got so into it, I volunteered to assist with the tastings and I was able to participate for free. I did it for about three years, between 1976 and 1978. It was a great learning experience and, you could say, the price was right.
OWP: What do you remember about the wine scene at the time?
JL: They were just starting out, as you know. I was kind of feeling my way along at the time, putting in a few things and seeing how they went. We didn't start offering anything from Oregon until the late 1980s. We focused on imported wines, France mostly, some Italy, as well as a few from California, and began to build from there. As I recall, Panther Creek was one of our earliest Pinots.
OWP: How do you select the wines that go on the Huber's list?
JL: We currently have about 47 to 48 selections. So, it's not a really large list. But I think it's well selected and well balanced among types and regions. I try to go to the major trade tasting events in Portland and I take time to talk with wine distributor reps.
OWP: Do you get the opportunity to go to the wine country now and then?
JL: Yes, but mostly the nearby wineries. My time is limited since I work almost every day at the restaurant. But, come to think of it, I'm going to Argyle next week.
OWP: Visited any other wine regions?
JL: I've been to Napa Valley, which is really impressive. But my most memorable trip was when my wife and I went to Italy. We were the guests of Castello Banfi in Montalcino. Now, that was an experience. Tuscany is beautiful and the castle is magnificent. It's from the Middle Ages and dominates an entire hillside surrounded by vineyards. They know how to treat guests. You feel like royalty.
OWP: What are your favorite wines?
JL: Well, I am a big fan of Pinot Noir. But, my personal favorite is Champagne or other really good sparkling wines. We have a dozen bubblies on the list, including Argyle and Domaine Meriwether. You don't need a special occasion to pop open a bottle of Champagne. It makes any occasion special all by itself. We always keep Dom Perignon in stock for just that reason.
OWP: That brings us to turkey. What's your wine recommendation to go with turkey?
JL: Champagne, of course. It goes with almost everything. We love the fact that people come in because they've heard about our turkey dinners. We have a whole turkey package, a 22- to 24-pound bird with all the trimmings, here or to go. I recommend that a bottle or two of bubbly go along with it. In fact, the only time we don't have our special turkey package is at Thanksgiving and Christmas. We'd be overwhelmed.