Mother Calls It Close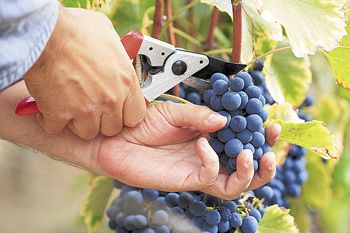 By Karl Klooster
Oregon winegrowers across the state were put on early notice this year that they'd better be on their toes. An unseasonably cool spring indicated ripening would be late and those who didn't make the proper preparations would pay in the end.
Lessons learned in previous vintages — 2007, and most recently, 2010 — dictated remedial steps in the vineyard, including opening up canopies by de-leafing and spraying for powdery mildew.
Harvest in the Willamette Valley almost always begins a couple of weeks after Southern Oregon and the Columbia Gorge, but flowering was forestalled until mid-July across the state this year, signaling the probability of later picking everywhere.
Still, a good fruit set promised higher crop loads, a welcome possibility after 2010, which was severely reduced both by the necessity to drop crop and massive losses because of migratory birds.
When the weather broke in late July, a protracted warm, dry spell lasting almost two months brought heat unit accumulations to near normal, particularly in the warmer areas of Southern Oregon.
However, Northwestern Oregon remained far enough behind going into October to cause concern. Whereas the state's southern regions don't usually experience significant precipitation in early fall, the Willamette Valley often does, and the farther north, the greater the likelihood.
As of Saturday, Oct. 22, when this article was written, rain had been only light and sporadic in the north over the past month, with enough warmth for brix (sugar content) to continue building. Measurements have averaged in the 20 to 21.5 degree range, with pHs at 3.2 to 3.5.
Both figures bode well for balanced if not big wines. Additionally, slow maturation has worked to the benefit of flavor profiles. Even if brix levels don't continue upward, chaptalization, or sugar addition, of up to two percent is allowed in Oregon.
Conversely, if some Southern Oregon areas don't measure high enough acidity levels, they can acidify. Of the numerous tools winemakers have at their disposal, these two can turn an average wine into a good one and a good one into one aproaching greatness.
The Yamhill Valley, where 42 percent of the state's Pinot Noir plantings are located, serves as a bellwether for every Oregon vintage. Public perception of the industry's quality depends on how the variety fares there each year.
Allen Holstein, who manages Argyle Vineyards' extensive plantings in the Dundee and Eola-Amity Hills, as well as those of other prominent growers in the valley, said he planned to pick all but the highest elevation vineyards within the next 10 days.
"Even though sugars are on the low side, flavors appear to be quite good. With a little more hang time, I'm confident we will bring in some excellent fruit. Everything depends on how long the rain holds off."
Laurent Montalieu of NW Wine Company, Soléna Estate and Grand Cru Estates draws from AVAs throughout the valley. He had already brought in 200 tons by midweek from their estate vineyard and was very pleased with the quality.
"Ripening is a bit earlier in Yamhill-Carlton's Willakenzie soil," he said. "Sugars are slightly low, but that's no problem as long as the other components are there. The pHs are good and the grapes taste great. We expect to bring everything in by the end of next week."
Unless the forecast changes dramatically, dry weather is expected at least through Oct. 29. If true, Montalieu will be among those who made the best of a dodgy ending to the Willamette Valley's 2011 harvest.
In the south, it's a different story. In the Illinois and Applegate valleys, René Eichmann oversees vineyards for his family's Bridgeview Vineyards. He expressed excitement about how things were looking.
"We started picking our estate vineyard on Monday, Oct. 17," he said. "It was at near optimal conditions, and we'll be finished by the end of the week. Harvest could easily go on for another two weeks, as we wait for full ripening.
"I just tested our Tempranillo in the Applegate Valley, and it was slightly over 22 brix. We'll wait on it as long as possible and only pick sooner than we'd like if it appears that the weather is going to take a really bad turn.
Our crop loads average well over four tons per acre here, which is obviously quite a bit more than up north. So, we're looking forward to a very good 2011 vintage."
Eichmann said some winegrowers in the Rogue region had dropped more fruit than he has and now are regretting it. Being a bit of a gambler, he's going to play his cards until the end.
As inexact as longer-term forecasting can be, meteorologists currently say Southern Oregon's dry spell will hold for at least a couple more weeks. But growers will have to watch out for frost.
By the time you read this, almost all of the 2011 harvest will be in, and we'll know how it went around the state, including whether or not the main man at Bridgeview had dealt himself a winning hand.