No Leftovers Here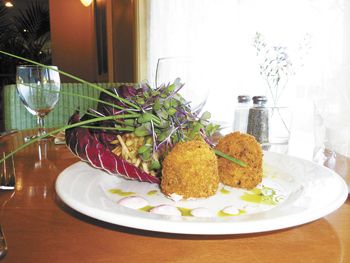 TURKEY THIGH CONFIT
Recipe by Chef/Owner Martin Bleck (Subterra – A Wine Cellar Restaurant, Newberg)
"After tasting so many Oregon Pinot Noirs that were perfectly matched for Thanksgiving food, but personally finding the traditional Thanksgiving meal somewhat lacking, I wanted to take a few steps towards bridging that divide. Step one was to improve the turkey. And what a better way to improve turkey than doing a nice turkey thigh confit? Originally used as a method of preserving goose and duck, confit is the salting of meats and cooking them slowly in their own fat. Since turkeys are so lean, we have to borrow some fat from ducks to get the job done, but the results are fantastic. This will be the best tasting turkey you've ever had." - Martin Bleck
WINE PAIRING: Bernard~Machado 2006 La Cantera Pinot Noir, Chehalem Mountains
INGREDIENTS
4 bone-in, skin-on turkey thighs, approximately 4 pounds
2 tablespoons salt
¼ cup chopped garlic
2 tablespoons chopped fresh rosemary
1 tablespoon dried thyme
1 tablespoon freshly ground black peppercorns
2 pounds rendered duck fat
DIRECTIONS
1. Prepare a salt rub for the turkey thighs. Combine salt, garlic, rosemary, thyme and black pepper. Rub the turkey thighs with all of the salt mixture, on all sides. Pack the turkey into a non-reactive pan, cover with plastic wrap, top with another pan and weigh down with a 5- to 10-pound weight. Allow to cure in a refrigerator for 2 to 3 days. 2. Rinse the herbs and spices off the turkey and place in a roasting pan; cover with melted duck fat. Put into a low oven (275°F to 300°F) and let cook until the turkey is so tender that a skewer put through the thickest part of the thigh can be pulled out with no resistance, about 4 to 5 hours. If the turkey is taking on any color, reduce the heat. Remove the turkey from duck fat, save duck fat for future uses, and do what you will with your turkey confit.

WINTER SQUASH AND PARMESAN RISOTTO FRITTERS
Recipe by Executive Chef David Georgeson (Larks Restaurant/Ashland Springs Hotel)
"I like to serve this recipe with Oregon cranberry aioli and Oregon apple-citrus slaw. We change our menu several times a year to use what is seasonally being grown. Our new menu reflects local fall flavors." - David Georgeson
WINE PAIRING: Anna Maria 2008 Chardonnay (Valley View Vineyards)
INGREDIENTS
2 winter squash, small dice
½ yellow onion, small dice
1 rib celery, small dice
1 tablespoon chopped garlic
1 cup Arborio rice
¼ cup white wine
3½ cups chicken stock
1 cup Parmesan, shredded
½ cup chopped parsley
* salt and pepper, to taste
½ cup flour
2 eggs whipped
2 cups panko bread crumbs
DIRECTIONS
1 Toss the winter squash in olive oil and roast in the oven at 375°F for 15 to 20 minutes. Set aside. 2 Sauté onions and celery on medium-high heat until translucent, add garlic and sauté one minute. Add Arborio rice and toast until caramel color (about 3 to 5 minutes). Deglaze with white wine, until liquid is gone. 3 Add chicken stock ½ cup at a time, allowing the liquid to be completely absorbed before adding the next ½ cup. Continue until all stock is used. 4 Add Parmesan, squash and parsley, stir well to combine; season with salt and pepper to taste. Let cool for at least one hour. 5 Roll out mixture into 1-inch balls; dust with flour, then egg and then panko bread crumbs. Fry in 350°F oil until golden brown. Serves 8 to 10 people.

CORN AND CHANTERELLE SAVORY BREAD PUDDING
Recipe by Executive Chef Derek Ridgway, Bentley's Grill, Salem
"This recipe was conceived to be a side dish to accompany wild game bird dishes, but with a touch of roasted pepper sauce and a bit of arugula, it makes a great starter or light meal as well." - Derek Ridgway
WINE PAIRING: Elk Cove 2010 Pinot Gris
INGREDIENTS
1 cup heavy whipping cream
1 cup half & half
4 eggs
1½ teaspoons salt
5 cups cubed rustic bread, crust removed
2 tablespoons butter
1 cup corn
¼ cup mixed bell peppers, finely diced
2 teaspoons garlic, minced
2 teaspoons Chipotle peppers in adobo, minced
¼ cup chives or scallions
1 cup sautéed Chanterelles
½ cup grated Manchego cheese
DIRECTIONS
1. Mix cream, half & half, eggs and salt. Fold in cubed bread. 1 Melt the butter and sauté the corn, bell peppers, garlic and Chipotle peppers for 2. minutes. You will want them to still be crisp; adjust seasoning with salt. To this add, chives, Chanterelles and Manchego. 3. Divide into sprayed foil cups or nonstick muffin pans and bake at 350°F for 15 minutes. Test and remove when set. Makes about eight 4-ounce cups.

SPICY ROSEMARY TURKEY BREAST
Recipe by Sharon Van Loan & Patricia Lee (Steamboat Inn, Idleyld Park)
"Each of our guests that join us for the Thanksgiving holiday brings a dish that would be part of their holiday tradition — one guest has been bringing his mother's corn casserole for 30 years. Steamboat rounds out the menu by providing the turkey, dressing and gravy. Since many guests enjoy only white meat, in addition to a couple of whole turkeys, we often bake off a couple of breasts. This breast recipe works well as it can be marinated ahead and does not need a dressing to accompany it." - Sharon Van Loan
WINE PAIRING: Abacela Viognier
INGREDIENTS
1 3- to 4-pound boneless turkey breast half
4 shallots, minced
½ cup low-sodium soy sauce
2 tablespoons orange zest (zest the oranges before juicing)
½ cup freshly squeezed orange juice
2 tablespoons olive oil
¼ cup chopped fresh rosemary leaves
¼ cup rice vinegar
2 tablespoons honey
¼ teaspoon dried red chilies
1 tablespoon hot chili oil
DIRECTIONS
1. Combine the last 10 ingredients and place in a Ziploc bag. 2. Remove the tenderloin from the turkey breast and place the tenderloin and breast also in the bag. Seal tightly and refrigerate 4 to 6 hours or overnight, turning the bag occasionally. 3. Remove the turkey pieces from the marinade, setting the tenderloin aside. Place the half breast on a rack set in a shallow roasting pan. 4. Pour ½ inch hot water into the pan and set in a preheated 375°F oven. Bake 30 minutes, basting a couple of times with the marinade. Add the tenderloin to the rack and bake another 15 minutes. (Timing can vary depending on the size of the breast). Any leftover breast is great on a sandwich with cranberry relish. Please note this is for a half breast; double for a whole boneless breast. Makes 6 to 8 servings. Recipe from Steamboat Inn's cookbook, "Thyme & The River, Too" by Sharon Van Loan and Patricia Lee.

CHANTERELLE AND WEHANI RICE PILAF
Recipe by Chef/Owner Jeff Nizlek (Silver Grille, Silverton)
"This is a nice side dish for the Thanksgiving table, combining fall mushrooms and herbs with an aromatic brown rice." - Jeff Nizlek
WINE PAIRING: Domaine Margelle 2008 Pinot Noir
INGREDIENTS
8 ounces (2 cups) chanterelle mushrooms, cleaned thoroughly and dried on paper towels
1 cup Wehani Rice
½ onion, small dice
1 carrot, peeled and cut into small dice
½ fennel bulb, minced
1 stalk celery, small dice
2 cloves garlic, minced
1 tablespoon kosher salt
2 teaspoons fresh ground white pepper
2 ounces oil
2 ounces butter (½ stick)
* fresh herbs, chopped (thyme, sage, rosemary, parsley)
2½ cups hot stock (use cooking liquid released from chanterelles, plus enough stock to equal required amount).
DIRECTIONS
1. Heat a heavy-bottomed pan over high heat with 1 tablespoon oil. When the oil begins to smoke, add the chanterelles so that there is an even layer in the bottom of pan. Allow mushrooms to sear without moving them to insure that they caramelize. Once the mushrooms release their liquid, pour the mushrooms into a strainer, making sure to reserve the liquid. 2. Clean pan and return to high heat, add 1 tablespoon oil and the onions, carrot, fennel and celery and sear over high heat, stirring frequently, until slightly caramelized. Add garlic, salt, white pepper, chanterelles and herbs to pan and stir to combine. Add rice to pan and mix thoroughly with other ingredients. 3. Place contents of pan in a large casserole dish and cover with hot stock. Add pieces of butter to pilaf, cover with foil and bake in oven for 20 minutes at 375°F. Remove pilaf from oven and allow to rest, covered, for 10 minutes. Remove foil and fluff with fork, check for doneness and taste.