Going Whole Hog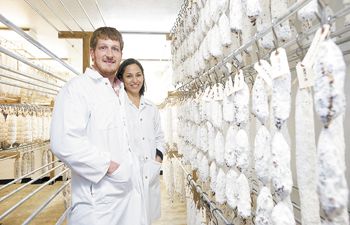 By Karl Klooster
It's been five years since Nick Peirano's daughter Carmen and her then-fiancé-now-husband Eric Ferguson took over operation of McMinnville's most widely known restaurant.
After three decades, Nick relinquished the lead role, confident his successors would carry forward the distinguished reputation he had painstakingly built since 1977 when he first opened his doors on Third Street.
That confidence has proven well justified. Carmen and Eric brought with them not only youthful energy and enthusiasm, but also culinary talents honed by training in Orvieto, Umbria, under the tutelage of Lorenzo Polegri, one of the region's master chefs.
Concurrent with their hands-on experience creating classic dishes in the kitchen of Signor Polegri's Ristorante Zeppelin, the couple visited several salumerias — showcasing of the time-honored culinary art of crafting dry-cured, aged pork products.
While working in the noted San Francisco restaurant Quince, Eric had been introduced to salumi. He became so enamored with both the processes and the results that he promised himself he would one day operate his own salumeria.
Though the world of salumi is associated with salami in a taste-tempting range of variations, prosciutto, pancetta, guanciale, coppa and other cured pork products also occupy a significant place.
Firstly, whereas all salami is salumi, not all salumi is salami. Salami is Italian sausage, high-quality ground pork and selected spices encased and cured. Salumi, on the other hand, although cured and aged, are not ground; and some styles are not encased.
For example, Culatello, called the king of salumi, is a boneless prosciutto recognizable by its pear shape. This delicacy is aged at least 12 months before release. One whole-leg version of prosciutto, averaging 30 pounds, is aged 18 months.
Coppa, aged for three months, is made from the neck muscle and flavored with coriander, garlic, black pepper and juniper. Pancetta, cured rather than smoked pork belly or bacon, comes in several variations and is aged from two to three months.
Carmen and Eric returned to McMinnville filled with new Italian entrée ideas, which they put into place after getting settled in the kitchen at Nick's. The result was a masterful presentation of elegant culinary counterpoints, marriages of simplicity and complexity.
While developing a new menu for Nick's and managing the restaurant's day-to-day operations, the couple made salumi in small quantities, keeping in mind the idea of eventually establishing a salumeria.
"The Italian samuleria owners let us dig in and help make some product," Eric said. "But they didn't share any of the secrets they'd learned over the years. We had to do that on our own."
"It took a lot of experimenting," Carmen said. "Getting the recipes just right and then seeing how they aged was a real process. At times, our storeroom looked like a meat locker, it had so many salamis hanging in it."
Those experiments received rave reviews from patrons, encouraging the couple to continue with the project. Two years ago, with much of the restaurant changes in place, they began pursuing it in earnest.
They started planning what range of products they would offer. And, of course, they came up with the name: Fino in Fondo, which means "Until the End, or colloquially, "through and through," referring to their use of the entire hog.
Award-winning animals were, of course, crucial to the entire plan. As Eric said, "True quality salumi only comes from champion hogs."
But where would they find a dependable source of such prime animals that would be capable of supplying a business projected to process 2,400 pounds of product each month?
After considerable searching around the state, they located a farmer just outside Madras whose heritage Berkshire Yorkshires measure up. They are from a champion line, raised free range with no antibiotics.
Plans were falling into place, but one essential need remained unmet: Nick's kitchen was fine for experimentation and development, but now it was time to secure a processing facility — a permanent home for Fino in Fondo.
In November 2010, good fortune smiled. A building at 777 N.E. Fourth Street, next to the railroad tracks, became available. A mere block and a half from Nick's, its location couldn't have been more ideal.
Carmen and Eric opened for business on Oct. 27. As with their hands-on preparation of all salumi, they are the ones behind the counter serving the public.
Fino in Fondo offers six classic versions of salami: toscano, gentile, calabrese, sopressata, finocchiona and tartufo. To find out what ingredients are in each and their flavor profiles, drop by for a sample.
Other salumi include four variations of pancetta, coppa, lonza, and culatello. The most coveted of prosciuttos, culatello is not released until at least a year of dry aging. Fino in Fondo's initial inventory will not be ready for another seven months.
Retail prices range from $16 per pound for a two-month aged pancetta to $40 per pound for the still-aging culatello. Average cost will be in the $30 range. Wholesale accounts will also be developed and inquiries welcomed.
Those who have savored a paper-thin slice of any top-quality salumi know a little goes a long way. It's a gustatory experience that in some ways can be equated with wine. As you slowly chew, bursts of intriguing flavor are released reflexively urging continued mastication from which more nuances emerge. Afterward, there is a lingering aftertaste of spice and succulence.
As Fino in Fondo states in its promotional literature, "...every bite is a taste of Italy, so that every bite is its own miniature moment of glory."
BUSINESS DETAILS
FINO IN FONDO
Address: 777 N.E. Fouth St., McMinnville
Hours: 10 a.m. to 7 p.m., Thurs.–Sat.
Phone: 503-687-1562
Website: www.finoinfondo.com