Over the Hill at Amity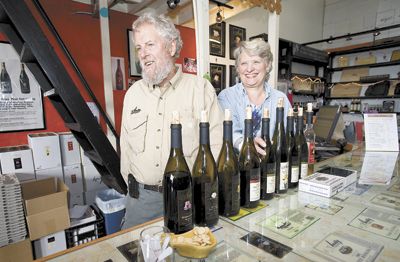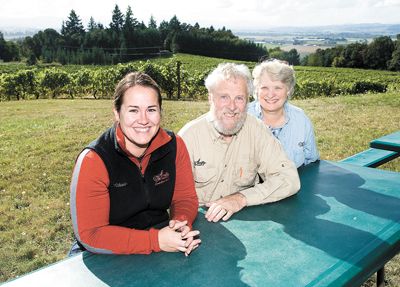 By Karl Klooster
On a recent Thursday afternoon, with the 2011 harvest fast approaching, Amity Vineyards co-owners Myron Redford and Vikki Wetle sat at a picnic table affording an unimpeded view to the southwest across their Amity Hills vineyard.
Past the 14 acres of estate vines, high clouds on a dry day allowed the wine-wise couple to see a broad swath of the Yamhill Valley's expanse, culminating in the foothills of the Coast Range.
It was Thursday, Oct. 13. Typically, weather prospects for the coming couple of weeks were uncertain. Predictions of rain, clearing, resumption of rain and clearing again were changing almost daily.
Redford sized up the situation this way: "I learned early on not to panic about bad weather and pick too early. I've always waited through late-season rain and let 'em hang until they're ripe. And it's always paid off, except for 1984."
That single sodden season has been the only complete washout of the 37 seasons he has seen since arriving in 1974. With help from his mom, Redford and Janis Checchia acquired the hillside land and five acres of vineyard planted by Jerry and Anne Preston that year.
At the time, he was among a handful of intrepid pioneers given slim odds of succeeding. Over the years since, he has been an active and involved participant in and important contributor to the industry's growth.
He has mentored many budding young winemakers who have moved on to successful careers and even more interns from foreign countries and other parts of the U.S. who have returned home to make solid contributions to their own wine industries.
Like Lett, Erath, Adelsheim and Ponzi, Redford was on the cutting edge. Almost everything he did was experimental, untested.
There was no guidebook pointing to the right path, no manuals providing step-by-step instructions. He made it up as he went along.
To be sure, those early stalwarts met regularly to discuss, argue, compare notes and ponder before returning to their respective vineyards and wineries to put some of the collectively considered ideas into practice.
Redford was as adventurous and innovative as any of them. He made a successful Beaujolais Nouveau-style Pinot Noir in 1977, taking a calculated risk on something that had never before been done before in Oregon and only a few times in California.
In 1980, his first Pinot Noir releases garnered regional gold medals. In 1987, he was one of the key players in the launch of the first International Pinot Noir Celebration. In 1988, he released the first "true" American Beaujolais from Gamay Noir grapes.
Redford and Wetle met in 1980 when Wetle, then a nurse, visited the winery to participate in one of the final harvest parties. She said Redford's mother invited her to stay for dinner, and she never left.
The harvest party has been an annual tradition since 1978, and now centers on a small block of estate Riesling, which ripens later than anything else.
This year, the couple is projecting the picking and party will take place on Saturday, Nov. 12. That would match the latest previous date.
The most challenging year in recent times was 2005," Redford said. "One of the wettest springs ever, then rain and cool temperatures right at harvest, put us in a tough spot. But then the weather changed late and we brought in ripe, well-balanced fruit.
"It has turned out to be terrific. This is another example of the fact that if you give Pinot Noir a few years of bottle age, the rewards will be well worth your time and patience."
Redford adheres to organic practices in the vineyard, which he continues to oversee directly. Day-to-day winemaking duties are handled by his protégé, Darcy Pendergrass, who let the wines make themselves with minimal manipulation and limited oak contact.
Redford recalled, "When I first started out, I adopted the philosophy of one of Napa Valley's great early winemakers, Louis Martini. He said, 'I want to taste where the wine was grown, not the container in which it was aged.'"
Long-lived Riesling, in styles ranging form bone dry to lush dessert, have risen to share the spotlight with Pinot Noir. Newer on the scene is a stylish, richly flavored Sauvignon Blanc. The winery also produces a classic, dry Gewürztraminer
When asked about future production plans, Redford said, "10,000 cases. "That's the maximum our winery handles well and that is what we're aiming for on an ongoing basis."
Ongoing, meaning that Redford and Wetle intend to keep on keeping on. This is what they love and this is what they intend to do for the foreseeable future.
"We're in 18 states and about eight foreign countries," Wetle said. "On Oct. 23, our Willamette Valley Pinot Noir and estate Riesling are going to be served to the president of South Korea at a dinner hosted by Hillary Clinton."
In other words, life is good. They may not be hobnobbing with the glitterati, but their wine is.
They've got their trip down — so much so they can take a trip or two now and then.
Did I hear, Hawaii? Aloha, anyone?